Planning Tool Kit
Plan your travel most appropriately. Find out how you can make your travel time memorable.
Comfortable clothing, closed-toe shoes, hat, sunglasses, camera, sunscreen, and insect repellent.
Sunrise is the best time to go hot air ballooning, as the light is soft and golden. However, sunset can also be a beautiful time to fly. Winter and spring season is known to be the best time of year.
The experience of floating through the air in a hot air balloon is truly unique. You will get stunning views of the surrounding landscape, and you will feel a sense of peace and calmness.
Top Hot Air Balloon Rides all over the World

Have you ever dreamt of being a bird? Ever imagined soaring through the clouds, feeling weightless and free? If not then this is it!!

Hot air balloon rides are like a dream come true experience for many of you. This is the moment when you experience stunning views of the surrounding landscape and a truly unique perspective of the world. Let's come out of this wonderful imagination and make it real.

There are so many countries offering Hot Air Balloon Rides from which you can see for miles in every direction, and you get a bird's-eye view of the landscape. We have curated the best places to experience it, stay tuned till the end!


Cappadocia, Turkey: Drifting over Fairy Chimneys
Cappadocia offers much more than fairy chimneys; its geology includes valleys, caves and underground cities that make for incredible geologic formations to admire from a hot air balloon ride over Cappadocia! Hot air balloon adventure rides give visitors a magical opportunity to gaze upon this unbelievable scenery from above and feel as though they are floating weightlessly among its fairy chimneys and other rock formations - truly an experience worth experiencing!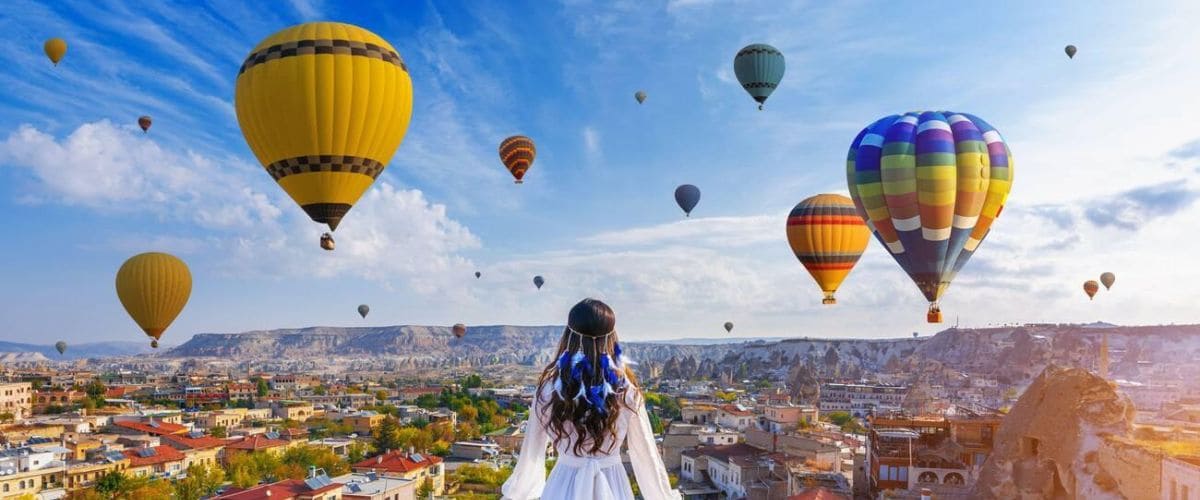 Cappadocia offers hot air balloon rides twice every day: sunrise and sunset. While sunrise rides tend to be the more popular choice, with their golden light bathing the fairy chimneys beneath you; sunset rides also can provide stunning panoramas that give way to an explosion of colours in their landscapes.


Serengeti National Park, Tanzania: A Safari in the Sky
Serengeti National Park in Africa boasts one of the world's most stunning and diverse wildlife reserves. Home to an extraordinary assortment of creatures such as lions, elephants, giraffes, zebras and wildebeest. What makes a hot air balloon ride over Serengeti so captivating is its unpredictability when it comes to wildlife spotting; who knows when lions will hunt or bathe or elephants bathe while bathing while giraffes graze; who knows maybe even rare beasts that wouldn't appear on traditional safari tours - anyone?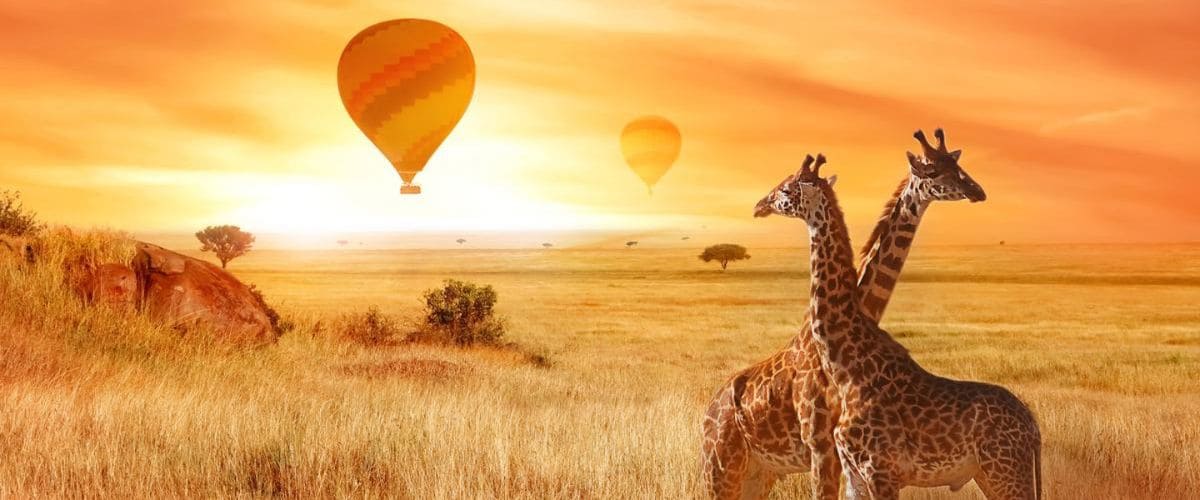 If you are looking to get amazing views of Africa then you must prefer the sunrise slot for Hot Air Ballooning. Check the Hot air balloon price once before you visit.


Bagan, Myanmar: Temples and Pagodas in the Clouds
Hot air ballooning offers
the ideal experience for religious devotees - what better way to take in Bagan's temples and pagodas than from above! Hot air ballooning provides a popular method to view its numerous temples and pagodas; from high above you'll enjoy bird's-eye views that reveal intricate details as well as the vastness of complexes; plus breathtaking vistas such as Ayeyarwady River landscape and hills beyond!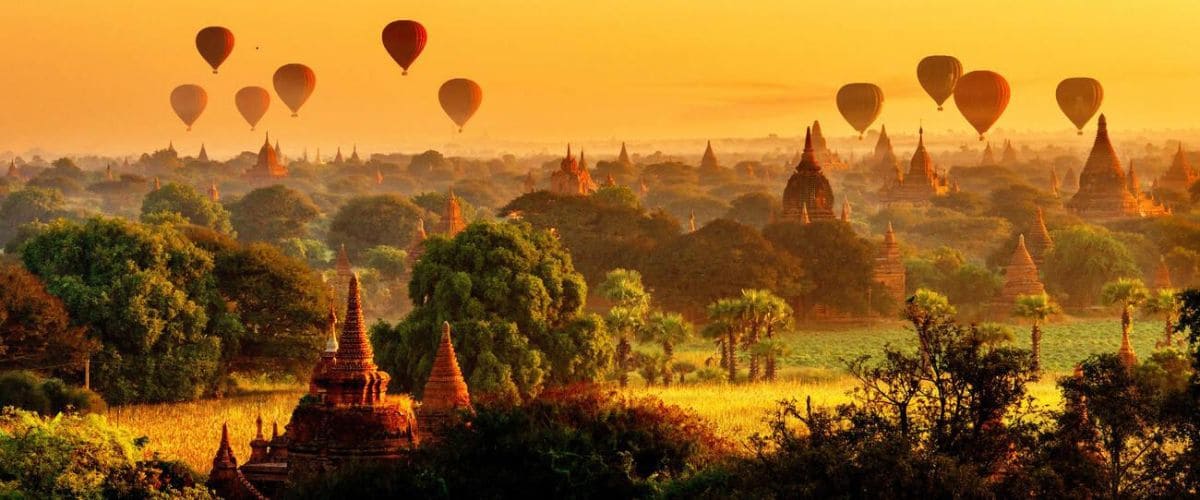 Bagan is an amazing place to learn more about local culture and traditions, from its friendly residents who welcome visitors with open arms. Here you can visit local villages, learn traditional handicraft techniques, or sample some delicious regional cuisine!


Napa Valley, California: Toasting to a Sunrise Balloon Flight
After devotees, we have something for wine lovers also. Napa Valley is a world-renowned wine region, and a hot air balloon ride is a great way to see the vineyards from a bird's-eye view. You can see the rolling hills, the vineyards, and the surrounding mountains.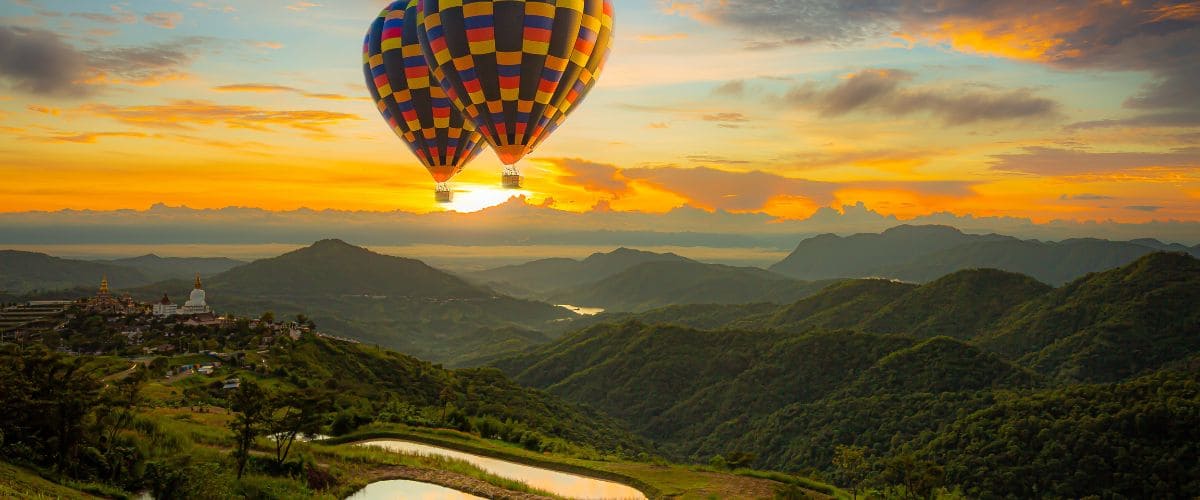 Many hot air balloon companies in Napa Valley offer packages that combine a balloon ride with wine tasting. This is a great way to experience the best of both worlds. You can start your day with a sunrise balloon ride, and then enjoy a delicious wine tasting in the afternoon.


Queenstown, New Zealand: Southern Hemisphere Scenic Flight
So all the queens and princesses, along with kings and princes, Queenstown in New Zealand has the depth of lakes and heights of mountains to take a deep breath by keeping aside your kingdoms. Hot air ballooning over Queenstown offers remarkable vistas of the surrounding lakes and mountains. You can see Lake Wakatipu, the Remarkables mountain range, and the Southern Alps. This experience will take your breath away.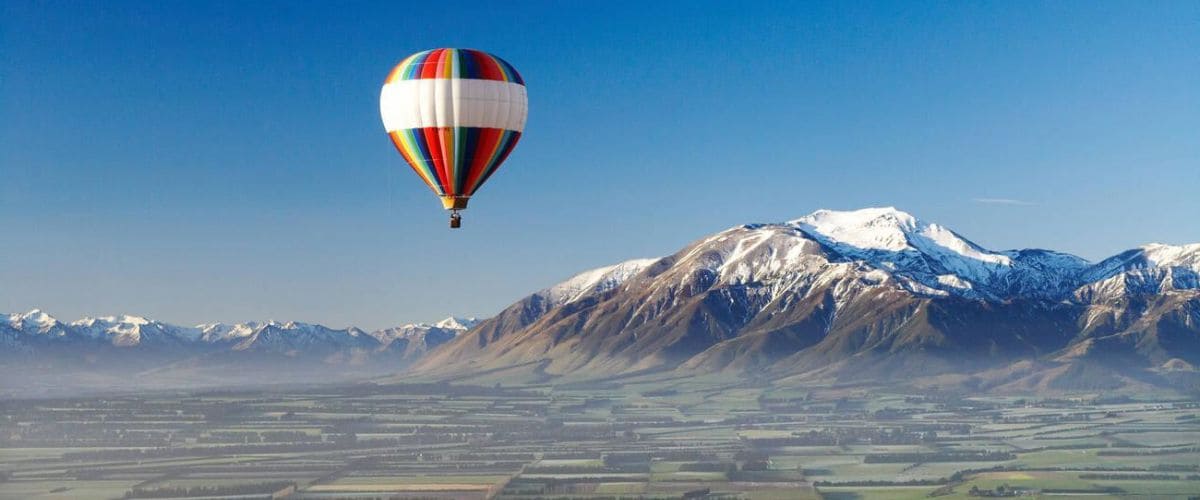 Hot air ballooning in Queenstown can be enjoyed year-round, but it is especially magical in the winter when the mountains are covered in snow, and the lakes are frozen.


Sedona, Arizona: Red Rocks and Desert Delights
Sedona is famed for its captivating red rock formations sculpted through millions of years of erosion. You haven't ever experienced the positivity this place has. Some say Sedona also hosts many energy vortexes believed to be powerful healing sources; hot air ballooning over Sedona allows passengers to connect directly to them; plus you get stunning aerial views over Verde Valley and Mogollon Rim! You should take charge of comparing the packages if you are taking some or if not then you can also check the Hot air balloon Sedona price on their official website.
Bora Bora, French Polynesia: Floating over Paradise
Bora Bora, located off of French Polynesia's west coast, is known for its crystal-clear waters and charming overwater bungalows. Hot air ballooning over Bora Bora provides the opportunity to view its extraordinary beauty first-hand from above.
Hot air ballooning in the South Pacific presents some unique challenges. The weather can be unpredictable, and the winds can be strong. This means that hot air balloon flights in the South Pacific are often shorter than flights in other parts of the world. There are a number of luxury hot-air ballooning experiences available in Bora Bora. These experiences typically include a champagne breakfast or lunch, and they offer stunning views of the island.
Dubai, UAE: A Skyline of Wonders
Dubai is known for its modern skyline, which is home to some of the tallest buildings in the world, such as the Burj Khalifa. Dubai is also home to the Dubai Desert Conservation Reserve, which is a vast desert area. Hot air balloon ride Dubai, is a great way to see the contrast between the city's urban landscape and the desert landscape.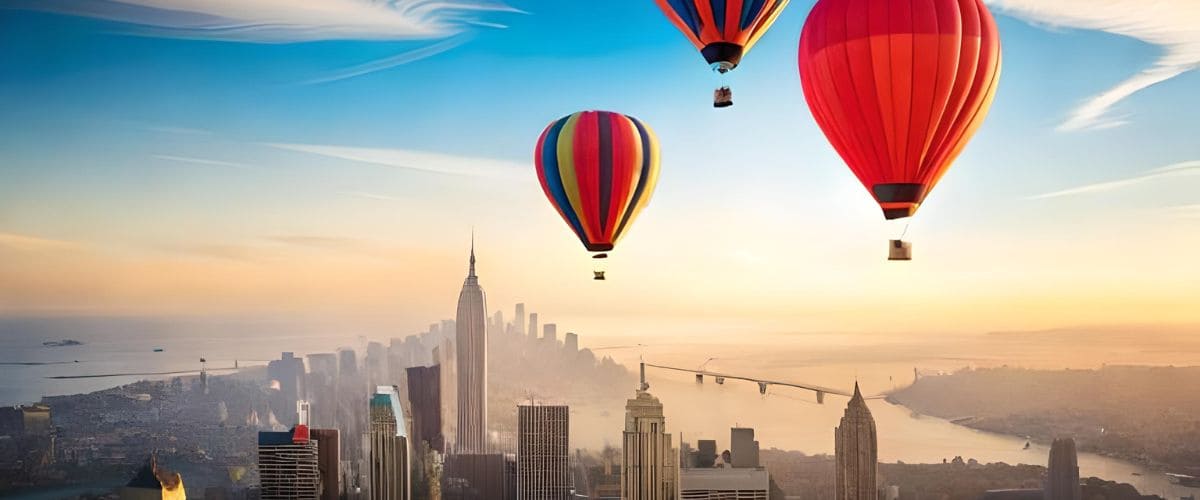 In Dubai hot air balloon adventure rides are of two types, one will make you experience stunning views of Burj Khalifa Dubai, and another one offers stunning views of the Dubai desert at sunset. If you are a couple or a family who want a more exclusive experience, then you can take a Private Hot Air Balloon Ride.


Tips to Remember
If you are considering taking a hot air balloon ride in any of the above places, I recommend doing your research and choosing a reputable operator. You should also be aware of the safety measures that are in place. With a little planning, you can ensure that your hot air balloon ride is a safe and enjoyable experience.
Booking flights in advance is necessary to get rid of last-time hassles, especially in the peak season. Hot air balloons totally depend upon the weather, make sure you are checking the weather forecast before you book your flight. Winters are proven as the best weather to experience Hot air ballooning.
At the End…
No matter if you are someone in your teens or a person in the 90s, this activity is for all ages and from all walks of life. You should know that Hot-air ballooning is a relatively low-impact form of tourism in comparison to other activities. This activity never gets involved in polluting the air or disturbing the animals. At last, try choosing operators following sustainable tourism practices.
After all the information, we would like to draw your attention to the Next Holidays. We have the best deals on all the activities you need to book. From Hot air balloon rides to sky diving and zip lining, everything you will get at the best price. Grab the deal now!
Recent blogs
Share causes
Contact
Take a NEXT step towards your NEXT HOLIDAY with our easy-to-understand portal at an affordable price. Got any queries? We are here to solve everything for your adventure.
Location:
1210-1211, The Regal Tower, Business Bay Dubai, U.A.E.
Email: