Planning Tool Kit
Plan your travel most appropriately. Find out how you can make your travel time memorable.
The best time to visit Dubai is from November to March when temperatures are mild and pleasant. This is also the peak tourist season with high hotel rates and crowded popular attractions.
Visitors can explore Dubai's scenic beaches, go window shopping, and stroll through markets and parks. They can also visit museums, take a walking tour of old Dubai, and watch the dancing fountain show at the Dubai Mall. Star gazing is also a popular free activity in the City, particularly during clear nights.
Visitors in Dubai can experience luxury shopping, indoor skiing, theme parks, desert adventures, and stunning skyscrapers like the Burj Khalifa. They can also visit museums, go on a dhow cruise, enjoy water sports, and relax at the beaches. The City offers a vibrant nightlife, delicious international cuisine, and a unique mix of modern and traditional cultural experiences.
Dubai is a city that never ceases to amaze its visitors. With its towering skyscrapers, luxurious shopping malls, and man-made islands, Dubai is a destination that should be on everyone's bucket list. Whether you're a first-time visitor or a returning traveller, there are plenty of "must-visit places in Dubai" that you don't want to miss.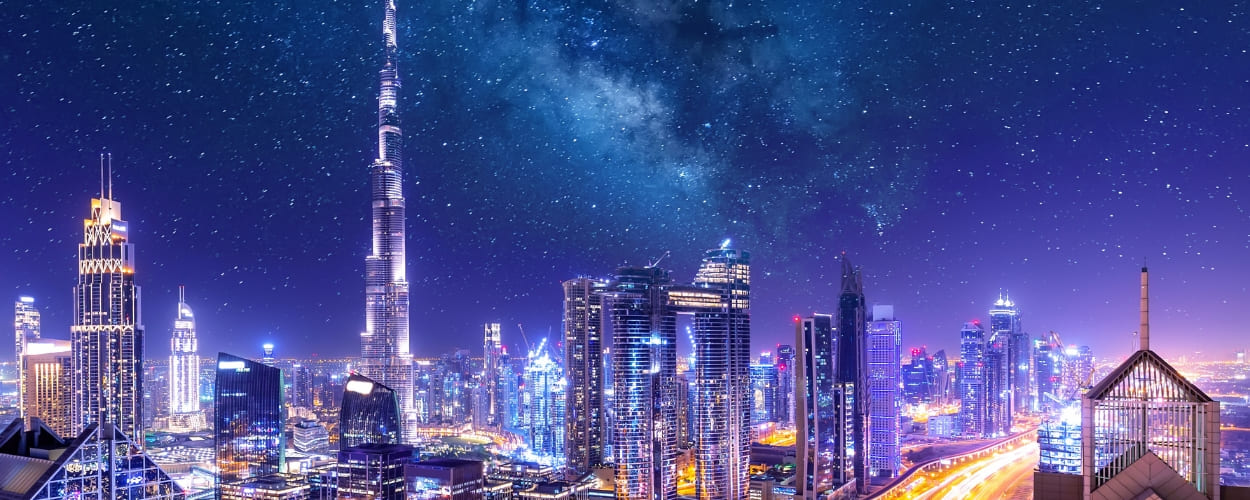 Dubai is a modern metropolis that offers a unique blend of history, culture, and adventure. From towering skyscrapers to sprawling deserts, this City is home to some of the world's most iconic tourist destinations. If you're planning a trip to Dubai with your family or kids during the summer, there are plenty of amazing places to visit that will cater to everyone's interests.
Dubai Tourist Places for the Whole Family

Dubai is known for its endless entertainment options, making it the perfect destination for families. From world-class theme parks to interactive museums, there's something for everyone in this City. Here are a few "Dubai Famous Places" that are ideal for families: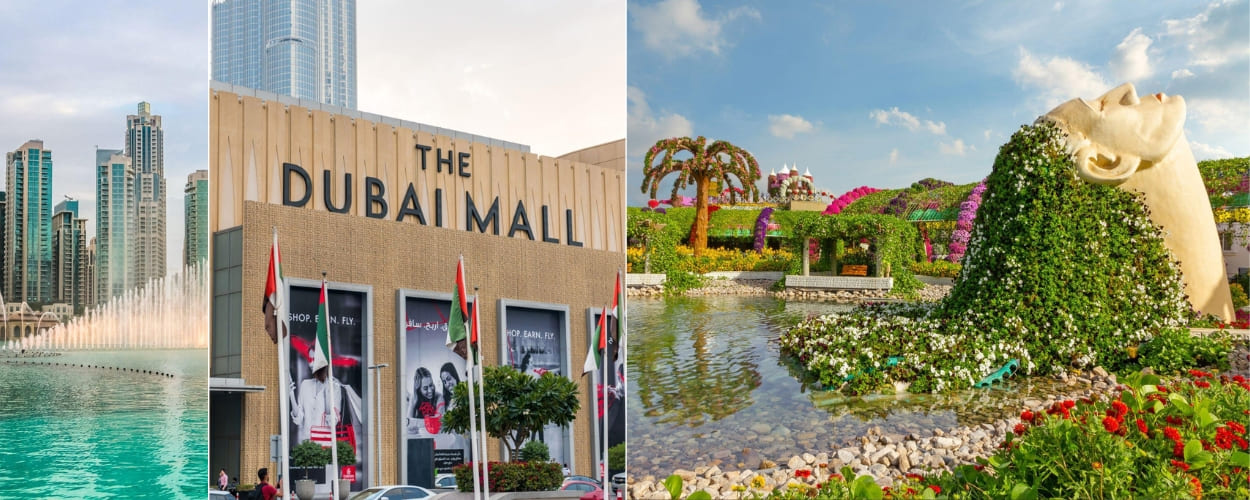 Dubai Miracle Garden:

Around 45 million flowers and plants may be found at the stunning outdoor attraction. With a surface area of 72,000 square metres, it is one of the world's largest flower gardens and is situated in the centre of Dubai. A model of the Burj Khalifa, an Emirates Aircraft A380, and a floral rendition of the Dubai Miracle Garden itself are a few of the most striking exhibits.

Dubai Fountain:

The spectacular Dubai Fountain is a water feature that is situated in the city's centre. It is a breathtaking display of water and light that hypnotises onlookers with its choreographed fountain motions.

Dubai Mall:

In the centre of Dubai sits the sizable shopping and entertainment complex known as Dubai Mall. With a floor space of more than 12 million square feet, it is one of the biggest malls in the world.
Dubai Tourist Spots for Kids

Dubai is also a fantastic destination for kids, with many exciting attractions explicitly designed for them. There are plenty of "must-visit places in Dubai" that will keep kids entertained for hours. Here are a few "Dubai Tourist Places" that kids will love: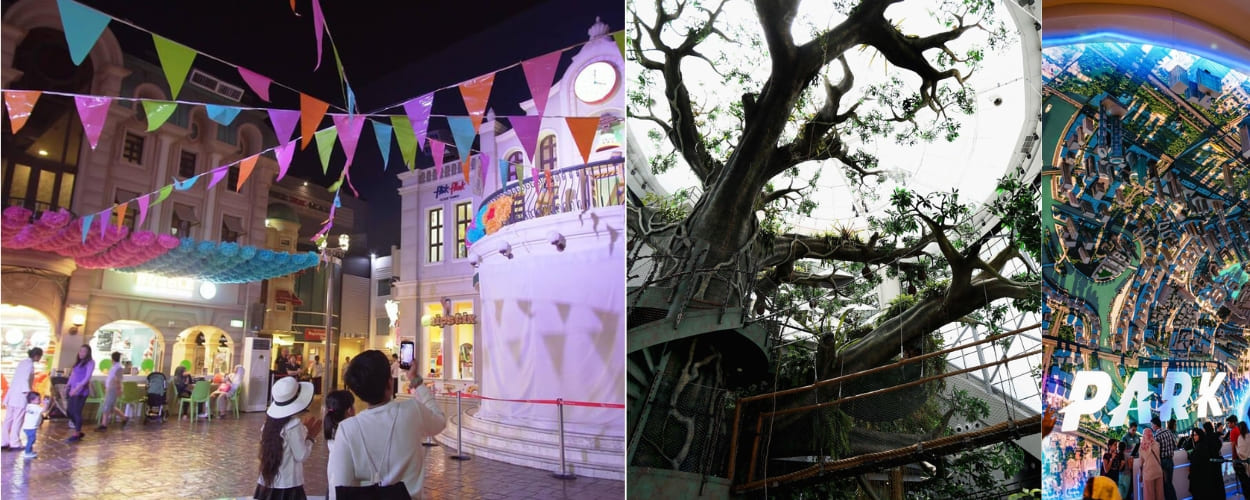 VR Park:

A virtual reality entertainment facility VR Park Dubai is situated in the centre of Dubai. One of the biggest VR parks in the world, it offers a variety of virtual reality activities for people of all ages.

KidZania:

Dubai is home to KidZania, a cutting-edge and engaging entertainment complex. It is an original and thrilling location created especially for kids, offering a secure and immersive setting for them to explore and learn through role-playing activities.




The Green Planet:

More than 3,000 plants and animals, including sloths, monkeys, and tropical birds, are housed in this biodome The Green Planet. The goal of the biodome is to give guests an engaging and instructive experience by letting them explore and discover various plant and animal species in a natural setting.
Places to visit in Dubai for free

Discover Dubai's Culture and Heritage:
Get a taste of Dubai's rich cultural heritage at Al Shindagha, where you can see exhibits of traditional crafts and demonstrations of pearl diving - all for free.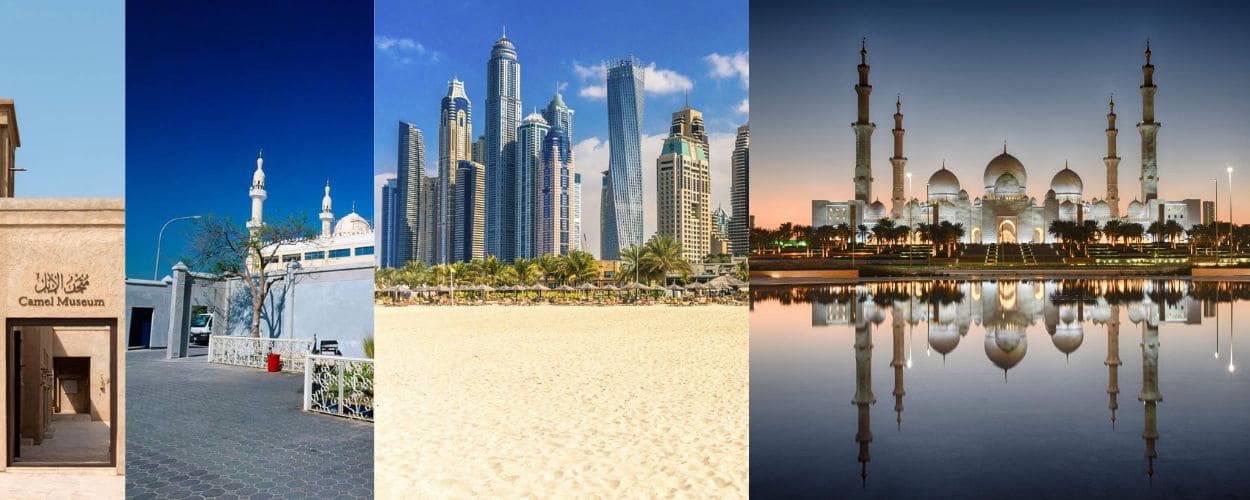 Are you craving knowledge? For a history lesson on hump day, head over to the Camel Museum in Al Shindagha. Consider reading the sections on camel anatomy, camel racing, and the relationship between camels and Arabian people. Moreover, don't miss the theatre for some literary presentations!
You must practise your cardio. Go for a run along the 14 kilometre Jumeirah Beach Corniche, a free beachfront with all the amenities. Use the jogging path to work up a sweat, cool off in the showers, and unwind in the covered picnic spots.

Are you prepared for a true battle in the desert jungle? Hundreds of labourers from Bangladesh, Pakistan, and India congregate every Friday to see Pehlwani wrestling, which is open to everybody.
At St. Mary's Catholic Church, one of Dubai's oldest churches, you can find spiritual contentment. It has been supporting a varied Catholic community since 1967. Also, if you want to participate, new registrations for the catechetical year take place every Friday in August at the catechism office.

Last but not least, make sure to visit

Dubai's Great Mosque

. With Quranic inscriptions, soaring minarets, and realistic interiors, it is an excellent example of traditional Islamic architecture. It's definitely a place to add to your worship agenda because the feelings are so tranquil and spiritual.
Places to visit in Dubai in a week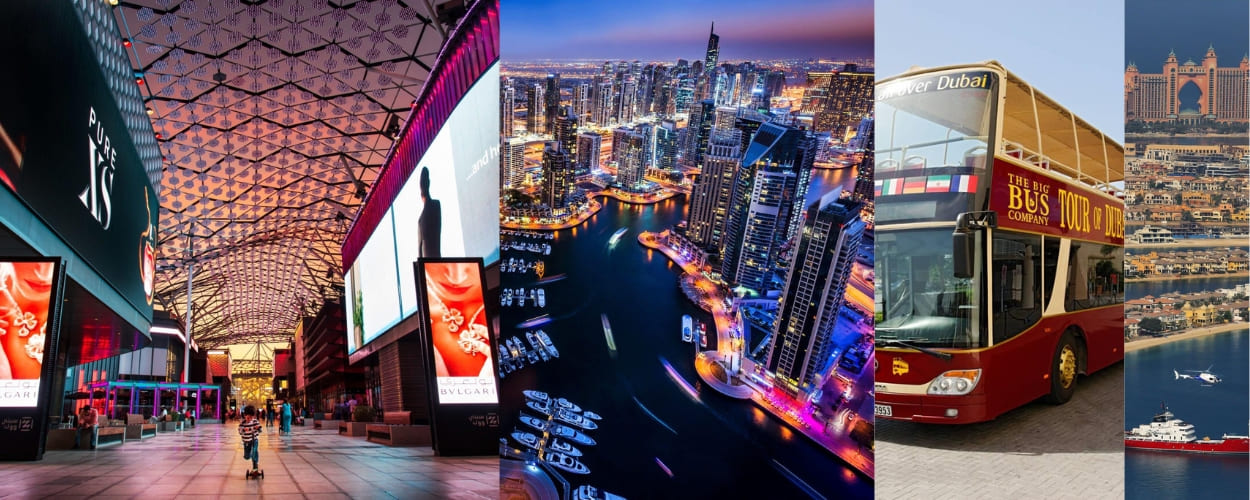 Dubai Palm Cruise Tour: The Dubai Palm Cruise Tour is a must-visit for those seeking to explore the unique man-made archipelago of Palm Jumeirah. This one-hour cruise offers breathtaking views of Dubai and the iconic Palm Jumeirah while providing an informative commentary on its history, current projects, and future vision.

Hop-on Hop-off Big Bus: The Hop-on Hop-off Big Bus Dubai tour is another fantastic way to discover the City. Taking a journey down Sheikh Zayed Road, the City's main thoroughfare, offers a comprehensive look at Dubai's diverse attractions and landmarks. The hop-on hop-off option provides the flexibility to tailor the tour to your interests, and with three routes to choose from, you'll get the most out of your time in the City.

Dubai Marina: Dubai Marina is an artificial canal city located in the heart of Dubai. With its stunning skyscrapers, picturesque marinas, and upscale shopping and dining options. The area is home to a variety of residential, commercial, and recreational spaces, making it a hub of activity both day and night. Visitors can take a stroll along the marina promenade, relax on one of the many beaches in the area, or admire the modern architecture and stunning views.

SWITCH Restaurant: Once you've worked up an appetite from shopping, head to SWITCH Restaurant to try their special Camel edition menu. From burgers to camel spaghetti or camel milk drinks, you will want to experience this Arabian Gulf delicacy. Every trip to Dubai is complete with trying some camel products.

LEGOLAND Dubai: At LEGOLAND, you can tour the LEGO Factory to learn how bricks are made before you hop on the LEGO Technic Twister or create and race your own LEGO car. Finally, make your way through the maze of a miniature LEGO city built with 20 million LEGO bricks to form some of the Middle East's most iconic landmarks.

Dubai Creek: Dubai Creek is a historic waterway that winds its way through the heart of the City. This natural inlet was once the centre of Dubai's fishing and pearl diving industry and has since been transformed into a hub of commerce and culture. Visitors can explore the creek on a traditional dhow boat, take in the view from one of the many waterfront restaurants, or visit the historic districts of Deira and Bur Dubai on either side of the creek. The creek is also home to several museums, including the Dubai Museum, which showcases the City's rich history and cultural heritage. The Dubai Creek also offers a unique shopping experience at the famous souks, including the Gold Souk and the Spice Souk, where visitors can find traditional Arabian goods and trinkets.

City Walk:

City Walk is a popular shopping and dining destination in Dubai, offering a vibrant atmosphere for visitors. There's something for everyone here, with a mix of high-end luxury stores, international fashion brands, and local boutiques. The outdoor area is also home to many lively cafes and restaurants, where you can enjoy a delicious meal or grab a coffee while taking in the sights and sounds of the City. Additionally, there are plenty of green spaces and outdoor seating areas, making City Walk the perfect place to relax and unwind after a day of shopping or exploring.
Unique places to visit in Dubai

Al Bastakiya Quarters: The Al Bastakiya Quarters, also known as the Al Fahidi Historical Neighborhood, is a must-visit during your time in Dubai. Take a walk down its narrow cobblestone streets and admire the old houses made of black coral. Be sure to grab a traditional Arabian breakfast tray and chat with a local store keeper to learn about life in Dubai beyond the glamour.

Dubai Coffee Museum: A distinctive cultural institution that honours the development and legacy of coffee culture in the United Arab Emirates is the Dubai Coffee Museum. The museum showcases the art, science, and culture of coffee through a range of exhibitions and displays.The museum's displays give visitors a thorough picture of the development of coffee from its Ethiopian roots to today's global consumption.

ArtBus Tour: Art enthusiasts should check out the ArtBus Tour, which takes you on a journey to Dubai's various art galleries, art centers, and art studios. The bus itself is a work of art, with commissioned artists showcasing their artwork on its exterior.

Alserkal Avenue: Alserkal Avenue in the bustling financial district of Al Quoz is a hub for the underground art scene in Dubai. With over 35 galleries, there are plenty of creative spaces to explore, including The Fridge, where you can listen to Cuban jazz, or the Appetite Cafe, known for its organic coffee and pastries, surrounded by vibrant artwork.

Meydan Stables:

For those interested in horse racing, Meydan Stables is a must-visit. During the horse racing season, which runs from November 1 to April 12 each year, there are nine domestic racing events with entertainment, dining, and behind-the-scenes access to the stables. Start your day with breakfast watching the horses train, then head to the stables to see them take a dip in the horse pool.
In conclusion, Dubai is a diverse and exciting city that offers a range of activities and attractions for families, kids, and summer visitors. Whether you're interested in theme parks, cultural experiences, or outdoor adventures, there are plenty of "places to visit in Dubai" to choose from. So pack your bags and get ready for an unforgettable trip to this dynamic City!


Recent blogs
Follow Us on :
Contact
Take a NEXT step towards your NEXT HOLIDAY with our easy-to-understand portal at an affordable price. Got any queries? We are here to solve everything for your adventure.
Location:
1210-1211, The Regal Tower, Business Bay Dubai, U.A.E.
Email: