Planning Tool Kit
Plan your travel most appropriately. Find out how you can make your travel time memorable.
It's great to visit Dubai at any time of the year, but the best time is during spring (March-May) and fall (September-November) when the weather is mild.
Scuba diving, flyboarding, surfing, snorkelling, banana boat riding, parasailing, kite surfing, donut riding and Yas Waterworld in Dubai. Know more about a few in detail below.
Never forget to carry your swimsuits or lighter clothes if you are visiting any water sports. Remember to carry sunscreen or wipes as the weather in Dubai is quite hot.
Desert terrain might not seem like the ideal location for water sports, but that's exactly what Dubai has to offer! Yet Dubai has managed to offer water sport enthusiasts plenty of places and experiences that allow them to discover water's depths: underwater kayaking tours, long-route Kayaking adventures and much more are available throughout its metropolis - promising an adventure-filled water experience for every kind of aquatic adventurer!

Water Sports in Dubai activities are very popular tourist draws. Thanks to its warm climate and crystal-clear waters, Dubai makes an ideal location for these activities, offering numerous water sports options suitable to different interests and skill levels - perfect whether you are new or experienced at watersports! We have curated some fun times for everyone's watersport needs, so there's plenty of choice out there.

Why choose Dubai for watersports?

Warm Weather in Dubai: Due to Dubai's warm year-round temperatures, water sports enthusiasts can take part in aquatic adventures regardless of when they visit. On average, temperatures average 25 degrees Celsius (77 Fahrenheit), reaching up to 40 Cdeg (104 Fdeg).

Clear Water: The Persian Gulf is known for its clean waters, making it perfect for water sports such as snorkelling and scuba diving. Visibility in these waters can reach 30 meters (100 feet), providing ample opportunities to observe marine life up close.

Great Variety of Water Sports: Dubai provides an abundance of water sports activities ranging from jet skiing and parasailing to kitesurfing and scuba diving - something suitable for every skill level and interest.

Professional water sports operators: Dubai boasts many professional water sports operators that provide safe and dependable services so that you can safely enjoy watersport activities without needing to be concerned for your own well-being during an adventure. This allows for an enhanced water sports experience!

Water Sports in Dubai Are Affordable: Water sports activities in Dubai can be relatively economical when compared to similar offerings elsewhere, making them an excellent option for budget travellers.
5 Major Water Sports in UAE
1. Yas Waterworld: An Aquatic Fantasy World

Yas Waterworld is Abu Dhabi, UAE's largest waterpark located on Yas Island which also houses Ferrari World and Yas Marina Circuit. Boasting over 40 rides, slides and attractions that appeal to families as well as thrill-seekers alike.

Yas Waterworld timings: (Saturday-Thursday) 10 AM to 6:00 PM; unplug 1:00 PM to 10:00 PM on Friday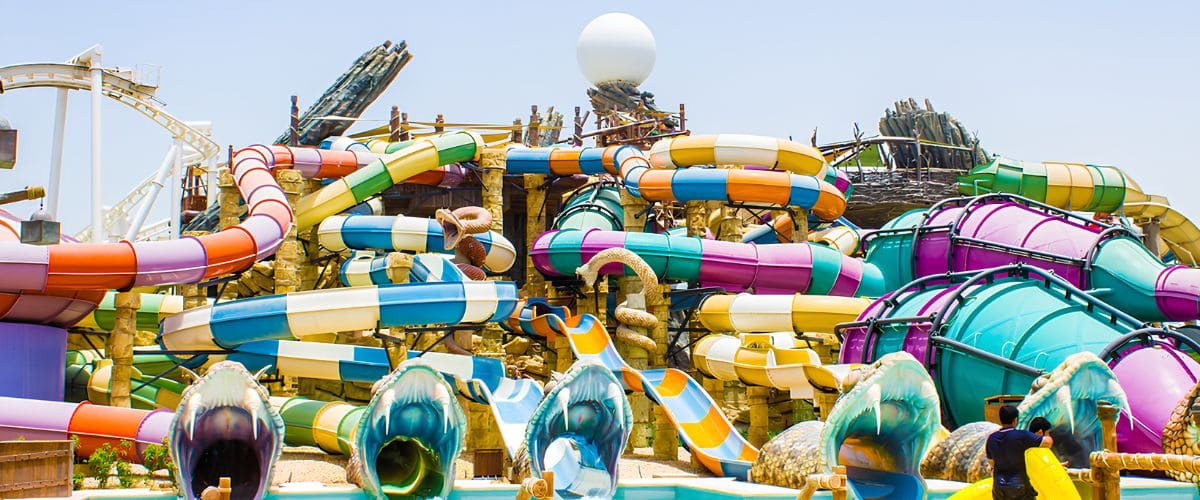 Water attractions and activities:

The Leap of Faith: As one of the tallest water slides in the Middle East, The Leap of Faith drops you from an elevation of 25 meters at speeds up to 80 kilometres per hour (50 miles per hour).

Bubbles Barrel is home to one of the world's largest sheet waves - perfect for bodyboarding and surfing alike!

The Rapids: Experience white water rafting through rapids and waterfalls on this adventure-filled ride!


Visit Yas Waterworld: Tips for visiting this theme park:

Buy tickets in advance online to save both time and money, arrive early to avoid crowds, wear comfortable clothes that don't mind getting wet as well and bring towels, sunscreen and hats with you for maximum efficiency! Lockers are available to you as storage solutions, while it is wise to note any height and age requirements before engaging in any rides and attractions. Take frequent breaks under an awning in order to stay cool during your visit and ensure maximum enjoyment!

Yas Waterworld offers visitors a great way to stay cool in the heat while having loads of outdoor fun in the sun. Offering rides, slides and attractions suitable for everyone's interests there's sure to be something fun here at Yas Waterworld!


2. Soaring High with Water Jetpacks

Water jetpacks are personal watercraft powered by high-pressure water streams to propel riders forward through the air. Although relatively new as an activity, this sport has quickly gained in popularity thanks to its exhilarating experience. When using one, riders will first be strapped onto a board before being given training from an instructor on how to operate their jetpack before being let loose onto an aerial platform and set free into flight!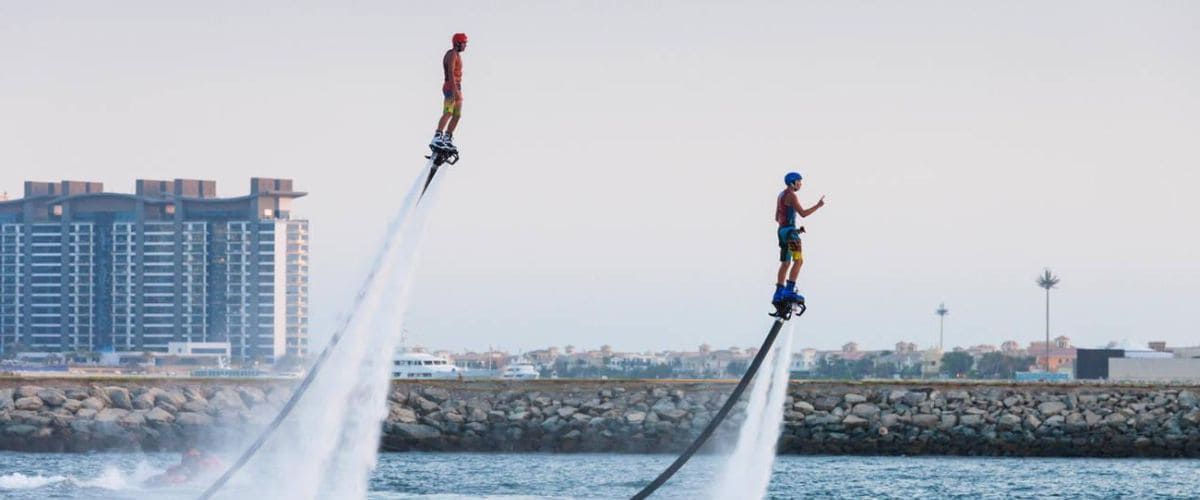 Experience the power of water like never before on an unforgettable water jetpack experience! Fly through the air, perform tricks, and reach speeds up to 50 km per hour (31 miles per hour) as part of this truly exhilarating ride that is certain to leave you craving more! Don't miss this incredible ride, which promises an exhilarating adventure you won't soon forget.

Prices for water jetpack rides depend on both the company and duration, though you should expect to spend approximately AED 500 for a 30-minute experience.

Are you seeking an unforgettable water sports experience? A water jetpack could be just what's needed! Soaring through the air powered by water is truly extraordinary; an experience you won't soon forget.


3. Dubai Dolphinarium: Offering An Unforgettable Aquatic Encounter

Dubai Dolphinarium is an essential visit for anyone interested in dolphins. As one of the region's largest indoor dolphinariums, its shows and interactions will entertain and educate visitors of all ages. Dubai Dolphinarium offers enough to entertain you:

The Dolphin Show: This show is among the most beloved at SeaWorld Orlando and showcases tricks and stunts performed by dolphins. They jump through hoops, balance balls on their noses and even paint pictures! Both educational and entertaining at once, these spectacular displays illustrate the intelligence and playful side of these aquatic mammals.


The Seal Show: This show showcases seals performing tricks and stunts to entertain audiences of all ages. They can jump through hoops, balance balls on their noses, and even play basketball! Don't miss this great family entertainment show.

The Bird Show: This show showcases exotic birds performing stunts and tricks. Birds fly through the air, play with balls, and perform somersaults - making this show an engaging way of learning about Middle Eastern birdlife!

Dolphinarium Dubai ticket price depends on the show you are choosing according to your needs and preferences.


4. Snorkelling: Underwater World

Snorkelling in Dubai is an unforgettable underwater experience in the Arabian Gulf, boasting clear waters and varied marine life - the ideal environment for snorkelling enthusiasts looking to discover this area's riches. There are multiple snorkel spots across Dubai where visitors can go.

Dubai offers many excellent snorkelling spots. Some of them include:

The Palm Jumeirah: Home to an array of coral reefs and marine life, this artificial archipelago makes an excellent place for snorkelling. Dubai Marina: Another man-made harbour boasting coral reefs and marine life makes Dubai Marina another excellent location for this popular activity.

Fujairah: Situated on the east coast of UAE, Fujairah is known for its tranquil waters and breathtaking beaches - providing the ideal place for snorkelling enthusiasts seeking something off-beat! If this appeals to you then Fujairah would make a fantastic location.

Shark Island: Situated off of Dubai and home to many sharks and rays, Shark Island provides an exciting adventure when snorkelling or scuba diving. If you want an adrenaline boost this island provides.

Here are a few offers available for snorkelling in Dubai:

Snorkelling with Dolphins: On this tour, you have an opportunity to snorkel alongside dolphins in their natural environment. Snorkelling With Sea Turtles: Join this tour for the chance to swim alongside sea turtles as well.

Snorkelling in Dubai Marina: Enjoy snorkelling the crystal-clear waters of Dubai Marina for this tour, followed by one in Palm Jumeirah around its man-made archipelago of Palm Jumeirah.
When selecting a snorkelling tour in Dubai, it's essential that your budget, interests and experience level are taken into consideration. Tours exist for all skill levels so there will surely be one suitable for you!


5. Flyboarding: Sky or Water

Now you need to figure out whether you are in the sky or in water. Flyboarding in Dubai is an exhilarating, unforgettable water sports experience and should not be missed! Flyboarding, one of the newest watersports offerings available today, allows participants to fly through the air while performing tricks at speeds reaching 50 kilometres per hour (31 miles per hour).

Flyboarding ticket prices in Dubai depend on which offer is selected; tickets may be bought either online or from water sports activity providers.
Planning Your Water Sports Adventure
Choose an optimal time of year: For watersport enthusiasts in Dubai, November through March is generally considered ideal when the climate is both mild and sunny; however, you can indulge in water sports all year long in Dubai!

Do your research: With so many water sports activities offered in Dubai, it's essential that you do your homework and select those best suited to you. Plan ahead for peak seasons like Christmas when activities can sell out quickly! Book early when possible to secure participation: Activities may sell out fast.

Wear the Right Clothing and Footwear: When venturing outdoors in any form of weather conditions, ensure to bring along comfortable clothes that won't mind getting wet if necessary. Furthermore, consider packing sun protection such as sunglasses to stay out of harm's way from UV radiation.

Bring sunscreen and a towel: SPF protection is vital during Dubai's hot, sunny summer months, especially if heading out on the water. Stay aware of weather conditions: Dubai weather changes quickly so it's essential that you understand any possible differences before setting out on your adventure on the seas or rivers.

Listen and follow instructions of your instructor: Taking note of what the instructor instructs is important to ensure your safety and enjoyment during any activity.

Statement to End

Water sports in Dubai offer a stimulating experience for water sports enthusiasts of all levels. Boasting warm year-round temperatures and clear blue waters, Dubai makes an excellent spot for water sports activities of any kind.

From jet skiing and parasailing to flyboarding and scuba diving, Dubai provides many exciting watersports activities for visitors of all kinds to try. No matter whether you prefer an adrenaline rush or a more relaxing experiences - Dubai will have one suitable to your tastes! You don't need to look for places to have fun anymore, as Next Holidays has your passport to everyday adventure. Check out the deals now!

Recent blogs
Share causes
Contact
Take a NEXT step towards your NEXT HOLIDAY with our easy-to-understand portal at an affordable price. Got any queries? We are here to solve everything for your adventure.
Location:
1210-1211, The Regal Tower, Business Bay Dubai, U.A.E.
Email: