Planning Tool Kit
Plan your travel most appropriately. Find out how you can make your travel time memorable.
The best time to visit Ferrari World Abu Dhabi is during the cooler months from October to April.
Experience the world's fastest roller coaster, Formula Rossa, and enjoy other thrilling rides like Flying Aces, Turbo Track, and the immersive 4D ride, Speed of Magic.
The unmissable rides at Ferrari World include Formula Rossa for ultimate speed, Flying Aces for historical flight experience, and Turbo Track for a unique vertical climb and zero-gravity sensation.
Ferrari World Abu Dhabi Rides:The Thrill of Speed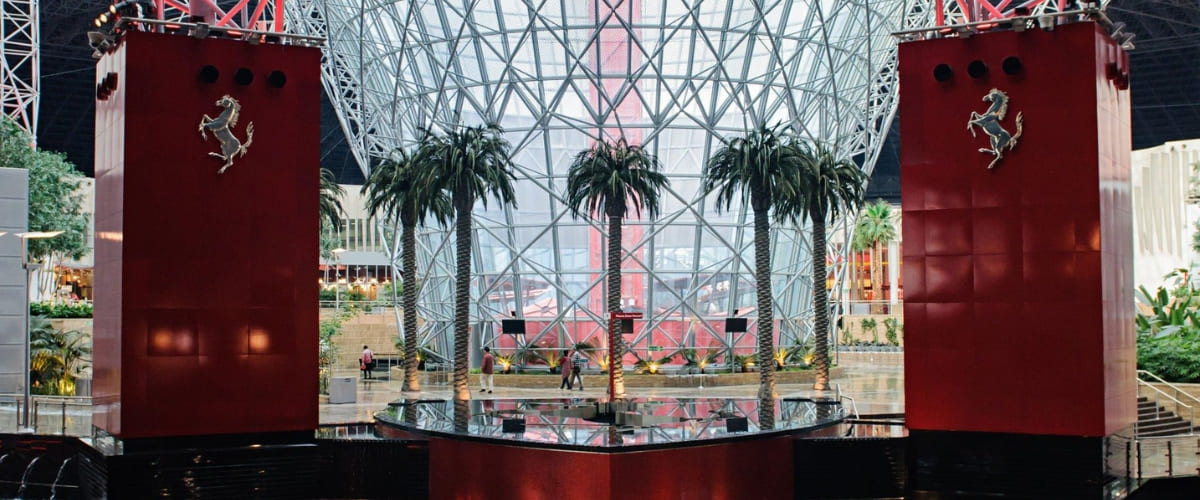 The amplified landscape of thrill is waiting for you to make you experience the electrifying Ferrari World Abu Dhabi rides. Here you will witness how fear can be overcome and danger can be tamed with the exhilarating adrenaline rush. In this theme park in Abu Dhabi, the high-speed attractions make everyone curious to try and you don't have to worry at all as these rides are fully safe.

Ticket to Ferrari World Abu Dhabi takes you to the kingdom of amusement where speed lovers will definitely be amazed. You do not always need the roller coaster that drops you from a certain height, a ride with lightning speed is all about the thrill that you want to experience. And to add more to your excitement this park is the first in the world branded by Ferrari. This place is a complete package of fun for the family.

Situated right in the capital city of the United Arab Emirates, this park has 37 amazing rides and attractions for people of all age groups. Ferrari Rides in Abu Dhabi is filled with back-to-back surprises that are a delight for you to experience. In Abu Dhabi theme park, high speeds are safely harnessed within intricately designed machines.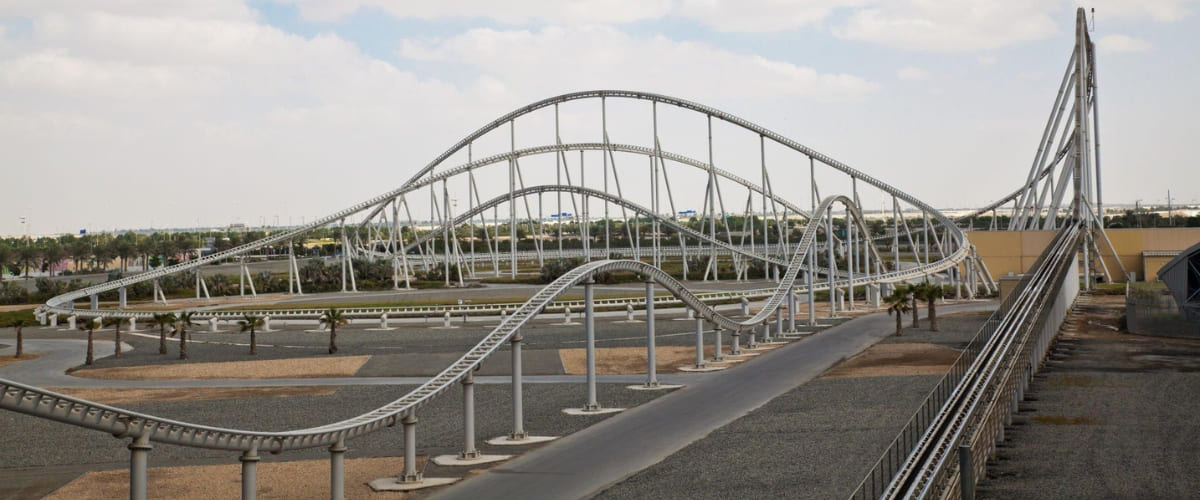 The top Abu Dhabi roller coaster ride is Formula Rossa, the world's fastest roller coaster and one of the top Ferrari World abu dhabi ride, is not merely an attraction but a blast at a speed of 240 km/h in just 4.9 seconds. This is on the bucket list of every travel addict who can't resist but hop on to. This speed definitely awakens the child resting within us.
If you are having second thoughts regarding this ride then please ignore it, because you will definitely regret the denial of this ride. You don't have to worry about your safety as despite its speed and intensity, Formula Rossa is a safe ride. The International Association of Amusement Parks and Attractions (IAAPA) has certified this ride and it has also been praised by critics, with many calling it one of the best roller coasters in the world. So, get on this and feel that adrenaline-pumping that leaves you breathless.
This four-seated ride in four cars each can accommodate 16 riders per train. Once you reach the zenith, the world turns into a blurry picture giving you a taste of absolute freedom. As you are all set to go on the Ferrari Roller Coaster Abu Dhabi, here are a few tips to follow. For your comfort wear clothes and shoes that you can move around in easily. And don't forget your sunscreen and sunglasses to be safe in sunlight. Lastly and most importantly be prepared to experience some G- forces.
Flying Aces: A Flight in History's Wings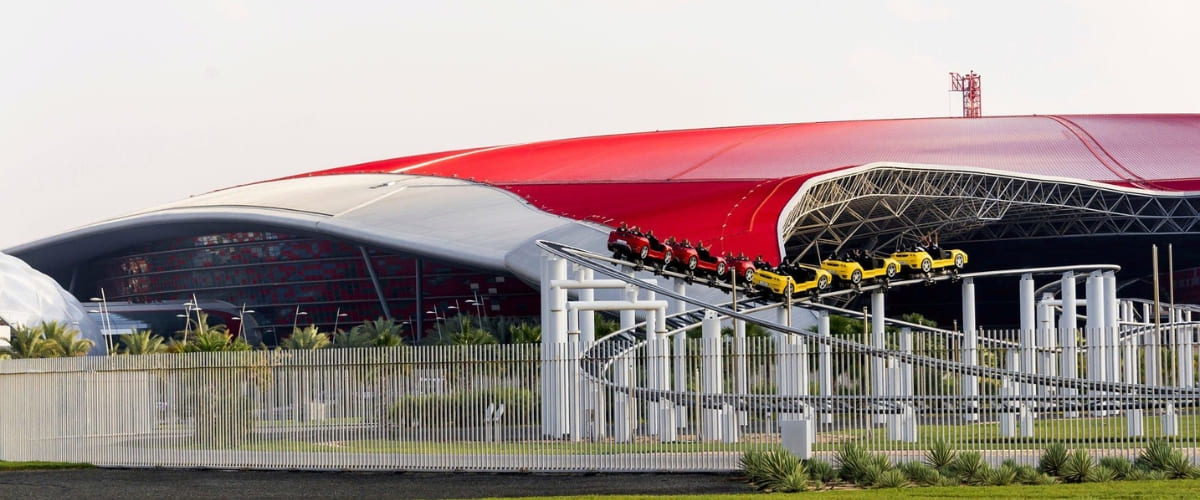 The ride was inspired by the legend "Aces of Aces" aviator, Count Baracca. This 63-meter-long ride has an incredible 51-degree incline. You can't even imagine the adrenaline rush you will experience when you move at a speed of 120km/h on the world's highest roller coaster loop. This ride will literally turn your world upside down in just a span of a few seconds but nothing to worry it will be back to normal.
Flying Aces is a thrilling ride that is undoubtedly not for the faint-hearted but yup gather some courage and get on this because you are at Ferrari World Abu Dhabi, a dream come true for many. The 63-meter-long ride with an incredible 51-degree incline and the real fun is when the train descends for the main drop at the maximum speed. Right after the drop the train enters a 52-meter which is 171 ft non-inverting loop. And then you reach the heartline roll when the train takes you through several banked turns and hills before entering a heartline roll near the end of the ride. When the heartline roll ends then enter the final brake run. Several banked turns and hills will surely make your stomach churn.
Fiorano GT Challenge: The Racing Pulse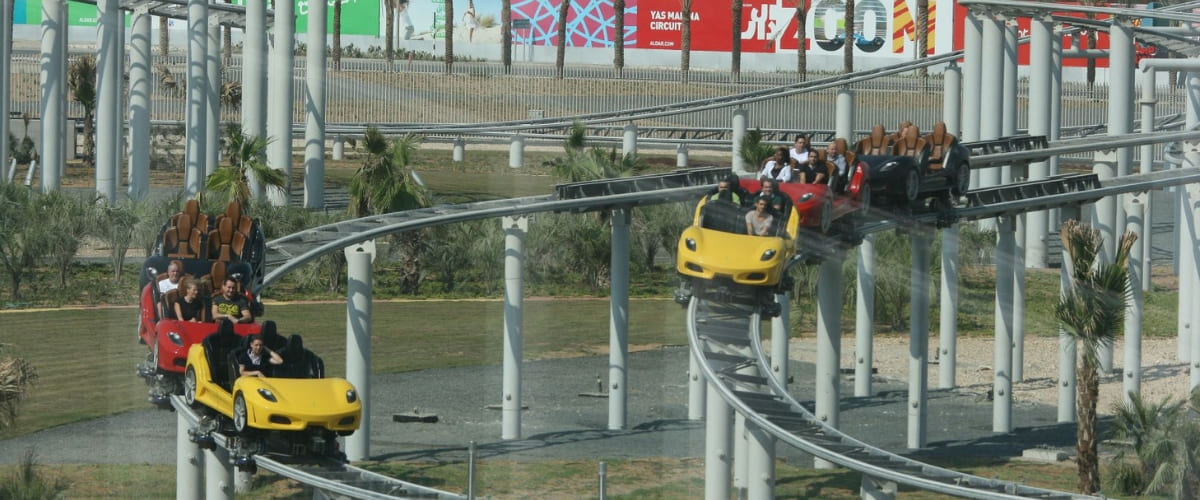 If you want to challenge your reflexes then Fiorano GT Challenge is for you. In this ride, two F430 spired-shaped cars move along parallel tracks. It is a racing launched roller coaster from Maurer Rides that has been operated at Ferrari World Abu Dhabi in the United Arab Emirates since 2010. This ride is located in the Racing Pulse zone of Ferrari World, which is themed after the Fiorano circuit, Ferrari's test track.

The ride is all about the thrill and it doubles the fun when the rides appear to collide with each other adding more adventure to your visit to the Ferrari world Abu Dhabi Roller Coaster. The dual tracks are designed for the rush, punctuated by the launch of speed that turns the world into a blur. This ride will definitely reminisce a scene from a thrilling Hollywood movie.

Fiorano GT Challenge is more than just a ride, it's a mirror reflecting our most profound impulses on a racetrack, blurring the line between man and machine. The roar of the engine and the whir of the wind will be a mindblowing experience that one should go through while in roller coaster ride.

Turbo Track: Vertical Voyages and Zero Gravity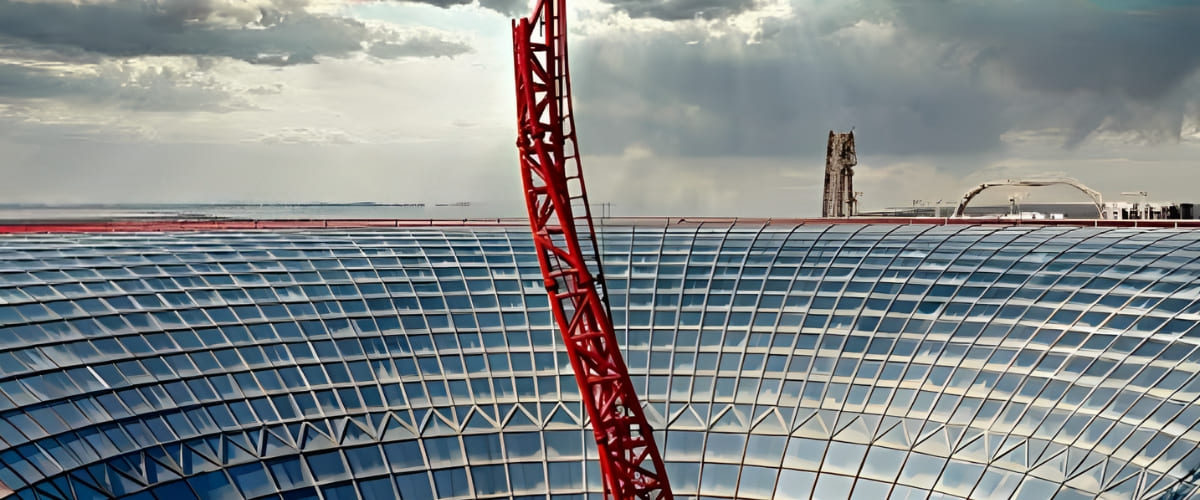 Imagine a moment, a sliver of time, where the universe's rules momentarily pause. Gravity momentarily abdicates its throne as if playing a cosmic prank and hands the reins to thrill. This ethereal sensation, found at the pinnacle of Turbo Track, one of the most adrenaline-pumping Ferrari World rides, is a direct challenge to the laws of nature.
In an audacious display of human engineering, Turbo Track takes thrill-seekers on an exhilarating vertical climb, and for a fleeting moment at the zenith, you hang in zero gravity. It is a still point in a spinning world, an interlude where time and space lose their reign. There's an element of absurdity to it, as the track defies convention, shooting upwards and rushing back as if playing a high-stakes game of chicken with the sky.
The experience unfolds as a metaphor for our innate, somewhat stubborn quest for achievement, knowing well that what goes up must come down. Yet we climb, we reach, we soar. And in that moment of suspended gravity, we revel in the thrill of possibility, the exhilaration of defying the norm, and the sheer joy of the ride.
In this upside-down, inside-out ballet of physics and fun, Turbo Track redefines the thrill ride. It's a stark reminder of our constant duel with the laws of the universe - sometimes we free fall, and sometimes we defy gravity, if only for a heartbeat. But isn't that what makes the ride worthwhile?
Bell' Italia: A Ride to Italian Wonders
This ride is especially for children and takes them through the amazement of Italian architecture. The drive is an attraction in itself as it will be on a small Ferrari 250 California, circa 1958. The fun part is it goes through all the miniatures of iconic landmarks of Italy, like the famous Leaning Tower of Pisa, coastlines, the canals of Venice, including the Colosseum, and the well-known race tracks.

The drive around mini Italy in a small Ferrari is a treat to the eyes as you tour through Italy's wonder in this riding tour to Ferrari World Abu Dhabi. This made-in-Italy zone of Ferrari World is 250 meters (820 ft) long with a duration of five minutes ride that gives a whole glimpse of Italy. To take you to Italy, the ride is complemented with special effects of wind, mist, and sound that create a realistic atmosphere of Italy and it is narrated by a Ferrari racing driver Felipe Massa.

Bell' Italia is a unique ride that also is educational and can be enjoyed by everyone. In between all the thrilling rides if you are looking for a relaxing and scenic ride then Bell' Italia is definitely a perfect choice for you.

Scuderia Challenge: The Simulated Sensation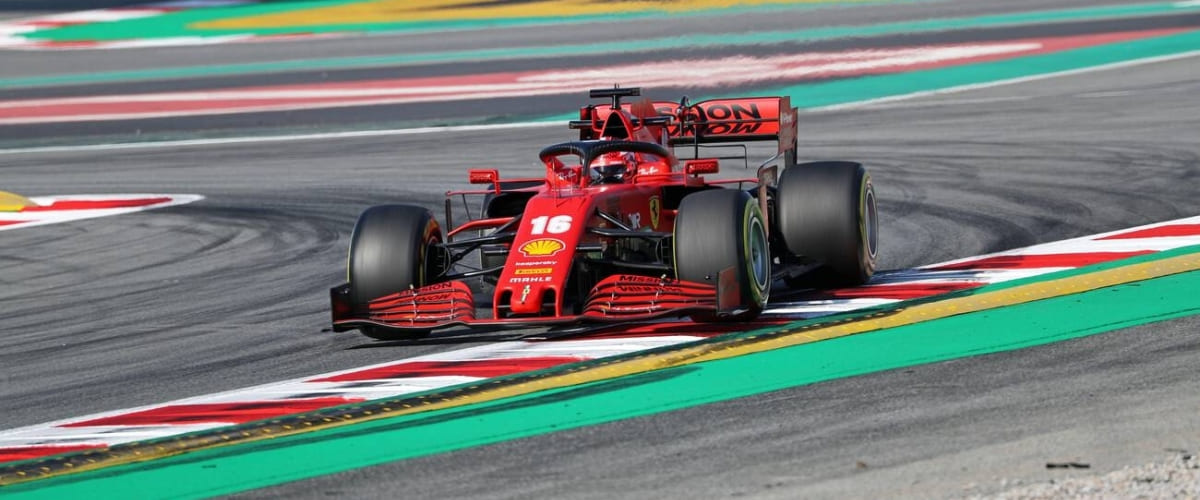 Fans of Virtual Race game? Then this one is surely for you. Scuderia Challenge at Ferrari Ride Abu Dhabi is an exhilarating and timed experience that you need to sign up for in advance. The simulator is located in the Racing Pulse zone of Ferrari World, which is themed after the Fiorano circuit, Ferrari's test track. The simulator uses state-of-the-art technology giving riders a realistic driving experience and with that, it also uses a featured surround sound system that immerses riders in the race. The seats move and vibrate, and the visuals are incredibly lifelike. One should be of or above 12 years of age and 4.6 ft tall to be eligible for the Scuderia Challenge.

The whole becomes the reality which is often on an extended vacation in a world increasingly steeped in the virtual world. It's in this context that we approach the Scuderia Challenge, one of the unique Ferrari World experiences. And the Scuderia Challenge is a great way to experience the thrill of racing a Formula 1 car without having to leave the ground. The most exciting part of the Challenge is the top three riders every day win a prize. It's also a fun way to challenge your friends and family to a race.

Karting Academy: Chase and Overtake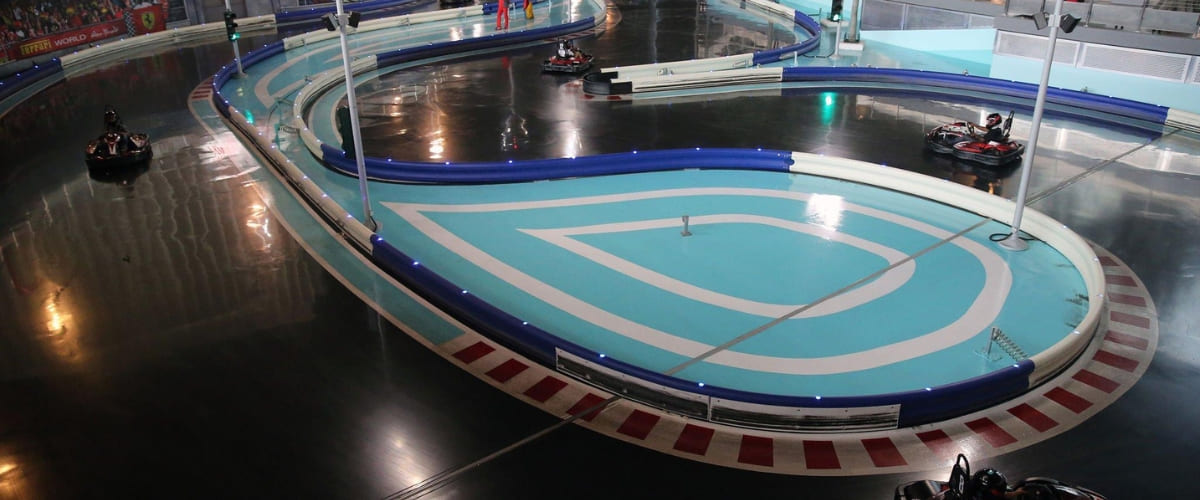 Hey! Are you looking for a fun and exciting way to race? Then the Karting Academy is a must-try for you. Indulging in Chase and Overtake at Ferrari World Abu Dhabi is all about family fun on your visit to Abu Dhabi that can not be missed. It's an indoor electric go-karting experience that's perfect for everyone, from beginners to experienced racers.

The karting track is 290 meters (951 ft) long and has a maximum speed of 45 kilometers per hour (28 mph). So you can race around the track at top speed and feel the thrill of the chase. And don't worry about the pollution as the karts are electric so they don't create any noise and air nuisance. You will be driving the environmentally friendly karts so drive without any hesitation. There are some height and weight restrictions for the kart that need to be considered before purchasing the tickets online.

It is a great way to experience the thrill of racing without having to worry about the fear elements and indulge in a fun way to enjoy with your friends and family and challenge them to a race.

Speed of Magic: Immersed in Illusions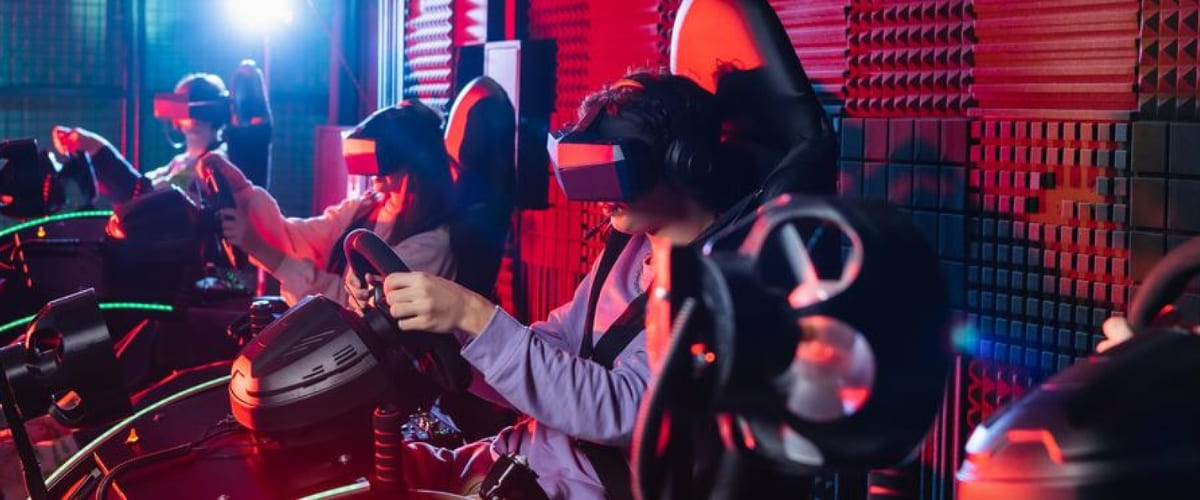 So by now, you might be thinking that Ferrari World Abu Dhabi is all about speed and thrill, but then Speed of Magic comes to amaze. In the beginning, the ride looks like any other roller coaster with the level of children but then the surprise starts, and with the fast turn of events it becomes something that is different from what you have imagined.

It's a 4D dark ride that takes you on a journey of the history and development of the roller coaster, which shows the initial stage to the current status of the most successful racing teams in the world. This ride will transfer the rider into another world of creating a multi-dimensional tapestry of experience. In the whole immersive play of illusions, reality takes a backseat, and riders find themselves in the artificial and the authentic, surrendering to the magic of manufactured reality.

A futuristic city is set in this ride that will take you on a wild ride through the world of Ferrari. You'll be boarding a stimulator that will take you through iconic Ferrari cars, meet famous Ferrari drivers, and cherry to the top, You will be racing against the Ferrari on a virtual track. The exciting part is following a virtually animated character flying at high speed in various exotic locations. The rises and lows in the ride give butterflies in the stomach leaving an exciting impression on you forever.

Mission Ferrari: Storytelling at High Speed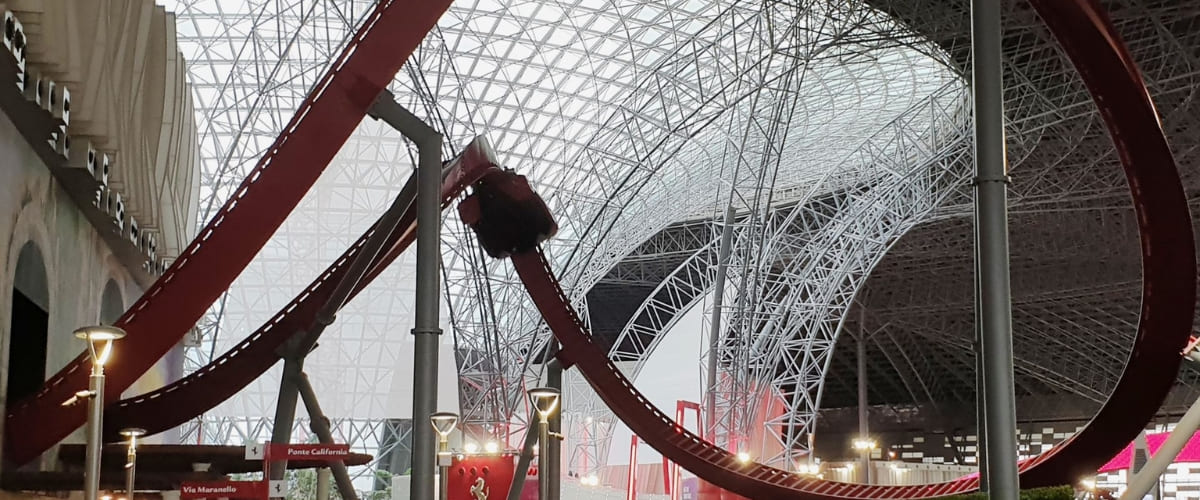 Storytelling has come far from the humble book or the bard's song. In this case, it's a winding track with a Ferrari. Not only does it leave you breathless, but it also leaves you in anticipation of what comes next because the ride is filled with unexpected turns.

This ride is a 4D interactive theater that takes you on a journey through the world of Ferrari. It's here, in the rattle of rails and the rush of the wind, that one finds a new form of storytelling, setting hearts and minds racing in unison.

The whole experience at Ferrari world is divided into four chapters that will take you right into the real enthusiasm and these are:
The first one is The Dream which tells about Enzo Ferrari's dream to create the ultimate racing car.

The next is The Legend which is the success story of Ferrari in Formula One Racing. Moving on The Passion chapter tells the story of Ferrari's commitment to innovation and excellence.

The last chapter is The Future which shares the future goals of Ferrari and how dedicated they are to pushing the boundaries of automotive design and engineering. Throughout the experience, you'll be surrounded by special effects, including wind, rain, and fog, so you'll feel like you're really there. And you'll interact with the experience through a variety of ways, including touchscreens, motion sensors, and even your own voice.

Wrapping Up

In this final act, the curtain falls on the Ferrari World Abu Dhabi stage. It's a place where engines roar louder than lions, gravity is more a suggestion than a law, and safety is promised amidst the screams. This finely-tuned orchestra of paradoxes creates a grand spectacle that captures the complex human yearning for controlled danger and the thrill of fear.
From the roller-coaster rise and fall, adventure of speed, and virtual reality, the visitors get the adrenaline-driven show. The Ferrari World Abu Dhabi is a complete pack of fun, joy, and excitement that surprises you with every next ride. To avoid any kind of inconvenience, it's better to visit Abu Dhabi between the months of April and May or September or October. The pleasant weather in Abu Dhabi is winter which is between December to March. Although the seasonal events in Ferrari World generally influence the trip plans of many visitors, you can also keep this in mind.


Recent blogs
Share causes
Contact
Take a NEXT step towards your NEXT HOLIDAY with our easy-to-understand portal at an affordable price. Got any queries? We are here to solve everything for your adventure.
Location:
1210-1211, The Regal Tower, Business Bay Dubai, U.A.E.
Email: