Planning Tool Kit
Plan your travel most appropriately. Find out how you can make your travel time memorable.
The best time to visit Dubai in September is from the middle to the end of the month, when the weather is cooler and less humid.
Visit the Dubai Museum. Take a walk or bike ride in Dubai Creek Park. Watch the Dubai Fountain Show. Explore the Spice Souk. Visit the Dubai Heritage Village
The tallest building in the world, offering stunning views of the city. A beautiful garden which opens in September only. A thrilling experience that takes you into the desert for dune bashing, camel riding, a traditional barbecue dinner and many more
Best Things To Do in Dubai

You must have heard a lot about heat in Dubai. But September is the month when you will experience a little rainfall, which makes it a good time to visit the city's beaches and outdoor attractions.

A city like Dubai offers something for everyone, making it the perfect destination if you're looking for a place to visit. From family-friendly activities to adrenaline-pumping adventures, there are so many things to do in Dubai.

A visit to the city's historical landmarks or an exploration of the city's natural beauty will be a memorable experience for everyone. So, whether you're looking for things to do in Dubai this weekend on a budget or just want to experience the city for a reasonable price, check out this guide, which will help you find the perfect free activity for your next visit to Dubai.


Enjoy the Vibrant Nightlife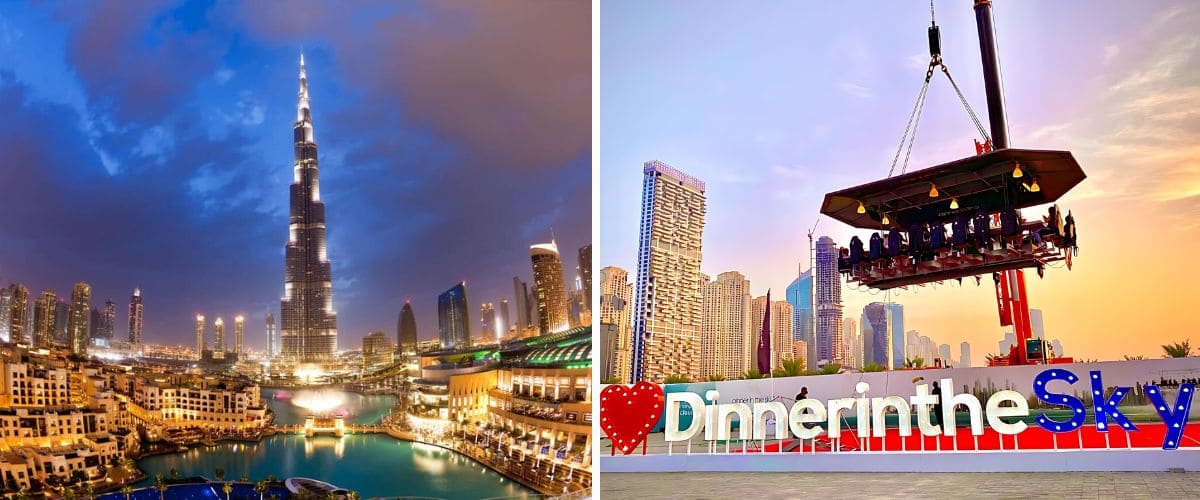 Burj Khalifa- The World's Largest Building

When the sun goes down, nightlife in Dubai with lots of excitement and lights comes up alive. The very first thing that you can do in your night adventure is to gaze at the amazing night view of Dubai from the top. Yes! I am talking about the tallest building in the world, Burj Khalifa. You just need to book a ticket to the Burj Khalifa SKY experience and enjoy 360-degree city views.

Glow Garden
Don't get confused when we say garden. This is not just a garden but an addition of excitement to your nightlife list in Dubai. This garden closes down in the month of July and reopens in the month of September. Dubai Garden Glow is a World of Imagination that expertly combines distinctive art and themes from around the globe to create an amazing concept.

The "largest glow-in-the-dark garden" in the world, Glow Park is constructed of thousands of recycled luminous fabrics and millions of energy-efficient LED lights. It has the "biggest" dinosaur park, which features more than 120 animatronic Dinosaurs. Glow Graden offers the polar climate in the middle of the desert named Ice Park.
Dinner in the Sky
It's time for another best thing to do in Dubai this weekend, which is a dinner. Like what? Just a dinner? Not just a dinner, but dinner under the beautiful sky. You can enjoy authentic food in the sky in Dubai.


Weekend Getaways and Special Events
Museum of the Future

Weekends are full of thrills, so why not use them to learn about the future? We have only heard about a museum telling about the history of a place, but this museum has something very different for you. This museum has the future of the world. It is open from 8 AM to 8 PM, from Saturday to Thursday. It is closed on Friday.

Dhow Cruise
Nothing can be more exciting than experiencing lights, stars, and calmness all around. Dhow cruises are a great way to experience Dubai from a different perspective if you want to find activities to do in Dubai at weekends. You'll get to sail past the city's skyline and enjoy the views of the Burj Khalifa and the Palm Jumeirah.


The Dubai Fountain/Events
When it comes to the best things to do in Dubai for free, the Dubai Fountain Show, is an experience that is highly recommended if you are visiting Dubai. This choreographed water fountain show takes place every evening at 6:00 PM, 7:00 PM, and 8:00 PM, and it's absolutely mesmerizing. There are over 6,000 lights and 25 water jets shooting up to 500 feet in the show, which is accompanied by music.
Desert Safari Dubai
If you are an adventure fan, then one of the most adventurous things to do in Dubai is go on a desert safari and enjoy the sand dunes, camel rides, and traditional Arabic food. Desert Safari is a great way to experience the desert and learn about Emirati culture. You will be taken by a 4x4 vehicle into the desert, where you can go sand dune bashing, camel riding, and sandboarding. You will also be able to enjoy a traditional Arabic barbecue dinner under the stars.

Dubai Creek Park

If you're taking a bike ride, be sure to start your ride at Dubai Creek Park. But if you are taking a walk, be sure to stop by the Spice Souk. This should definitely be present in your list of the best things to do in Dubai this weekend.
Thrilling Adventures
Hatta Mountains
Hey adventurer! A low budget can never affect your love for adventure. Just an hour away from Dubai, the Hatta Mountains are waiting for you with stunning views of the surrounding desert landscape. The highest peak in the Hatta Mountains is Jebel Hatta, which is 1,250 meters tall. But wait, fun is fine, but remember that the Hatta Mountains are home to a variety of plants and animals, including date palms, acacia trees, gazelles, and snakes.
Jebel Hafeet
Another destination on the list of adventurous things to do in Dubai is Jebel Hafeet. It is located in the Hajar Mountains and offers some of the best rock climbing in Dubai. There are a variety of routes to choose from, ranging from beginner to expert. The most popular routes are located on the south side of the mountain, and there are also a number of routes on the north side. The tip is, if you're a beginner, it's a good idea to start with one of the easier routes and don't hesitate to get help from guides.

Museum of Illusions
Moving on to adventure? The Vortex Tunnel requires you to balance while walking on a rotating cylinder, the Ames Room requires you to walk from one end to the other, and the Upside Down Room presents an adventure. Thrilling than ever, right? There will never be a time that you feel like letting your weekend in Dubai go, and the Museum of Illusion Dubai will be a turning point for your weekend in Dubai.

Cultural and Historical Exploration
Dubai Heritage Village
Visit the Dubai Heritage Village, as it is a great place to learn about the history and culture of Dubai. It is also a great place to take a break from the hustle and bustle of the city and experience a more traditional way of life. The Dubai Heritage Village is open from 9 AM to 6 PM, from Saturday to Thursday. It is closed on Friday. There is a souvenir shop in the village where you can buy traditional handicrafts and souvenirs. The village is located in Al Shindagha, Dubai.

Relaxation and Leisure
Jumeirah Beach Residence
You can visit the biggest beach in Dubai, JBR (Jumeirah Beach Residence). It is an open beach in Dubai where some parts are designated for hotels. You can also rent beach toys and water sports equipment and a lot of fun stuff like Waverunners and Jet Skis. September is a great month to visit the beaches because the weather is a bit cooler.
Hot Air Balloon Ride
A Hot Air Balloon Ride in Dubai is a breathtaking experience and a breathtaking view that will make this weekend even more memorable. In Dubai, heat rises with the rising sun, but not at the same time in September. Hot air balloon rides are more enjoyable in September when the weather is a little cooler. Upon arrival at the launch site, you will witness the hot air balloon being inflated. Hot air balloons are fascinating to watch, and watching this process can teach you more about them. Once the balloon is inflated, you will board the basket and take your seat. For your flight, you will be seated with other passengers in a basket that holds up to 24 people.
Tips for a Memorable September Trip
If you are visiting Dubai in the month of September, then the best time to visit is from the middle to the end of the month, when the weather is cooler and less humid.

Don't forget to spend ample time at beaches, as September month will have amazing weather in Dubai.

Have a look at some websites sharing updates of Dubai, and gather information about the cultural festivals of Dubai. There are a number of festivals and events held in Dubai in September, such as the Dubai Shopping Festival, the Dubai International Film Festival, and many more.

Make sure you are booking all the tickets and activities in advance. For example, if you are planning to visit Burj Khalifa, then you should book tickets before you take off to Dubai, or if you are planning for a Hot air balloon ride, then you also need to book your slots in advance.

Dubai is an expensive city make sure you are planning your budget accordingly.

Wrapping Up with Last Words

With a little planning, you can have a great time in Dubai during your visit in the month of September. However, there are also a number of things to do in Dubai that are just as enjoyable. Whether you're seeking to learn about the city's history, explore its natural beauty, or simply relax and enjoy the sunshine, there's something for everyone in Dubai.

You can also take a Dubai tour package from Next Holidays. We have already planned and curated the most stunning places in Dubai for the month of September. Check it out now!



Recent blogs
Share causes
Contact
Take a NEXT step towards your NEXT HOLIDAY with our easy-to-understand portal at an affordable price. Got any queries? We are here to solve everything for your adventure.
Location:
1210-1211, The Regal Tower, Business Bay Dubai, U.A.E.
Email: