Planning Tool Kit
Plan your travel most appropriately. Find out how you can make your travel time memorable.
This should depend on the visitor's availability, but according to the best, November to March, weekdays during early mornings.
Things to carry totally depend on your preferences. You should carry comfortable shoes, camera, sunscreen, sunglasses, hat, water bottle
Thrills, adventure and a few rides that are going to be disclosed in the blog. Stay tuned
Ferrari World is truly an amazing place. Located in Abu Dhabi, it's actually the biggest indoor theme park on the entire planet and one of the best places to visit near Dubai. Can you believe they built this massive park all inside?
Stepping inside is like entering another world - it's so futuristic and cool. The Park is filled with rides and attractions, all based around Formula One racing.

The incrеdiblе attention to detail in the park makes you feel like you're actually racing through city streets. However, what impressed us the most was the advanced technology that could be found throughout the park.
If you gеt a chancе to visit Abu Dhabi, Fеrrari World is one of the best place to visit in Abu Dhabi It offers visitors an immersive experience that no outdoor park could achieve.

Everything had these slick animations and sounds that transported you right onto the racetrack. So, have you started planning your trip to one of the coolest parks in the world yet?

If not, looking at a Ferrari World Abu Dhabi map might inspire you to make that plan sooner.
The attention to detail and intensity of the rides makes it world-class entertainment from start to finish. If Ferrari World Abu Dhabi is on your bucket list, then you definitely need to know these essential ferrari world facts before you go.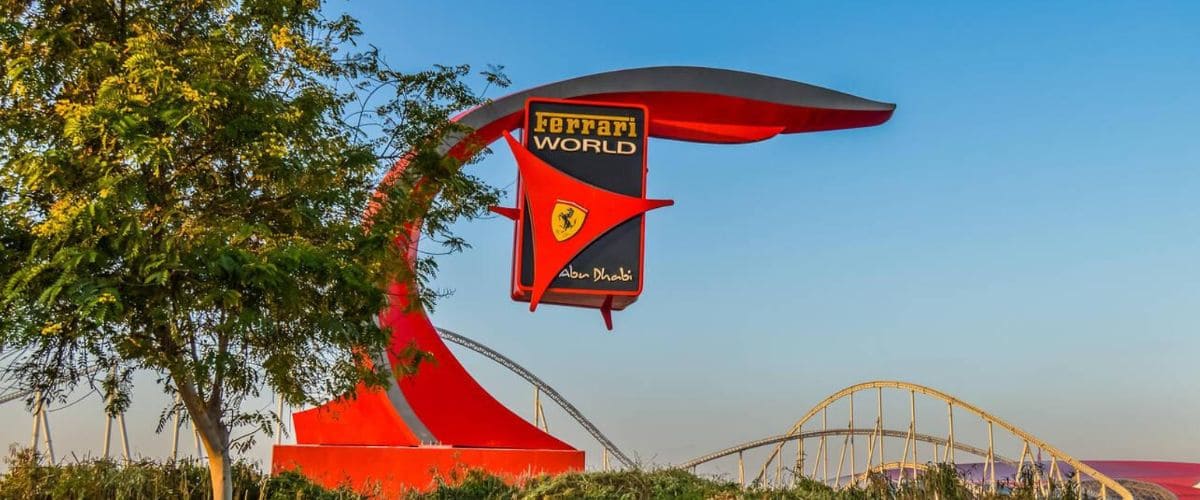 Ferrari World Facts #1 - It's Home to the World's Fastest Rollercoaster
The Formula Rossa coaster holds the Guinness World Record for the fastest rollercoaster on the planet. In just 5 seconds, it accelerates from 0 to 149 mph.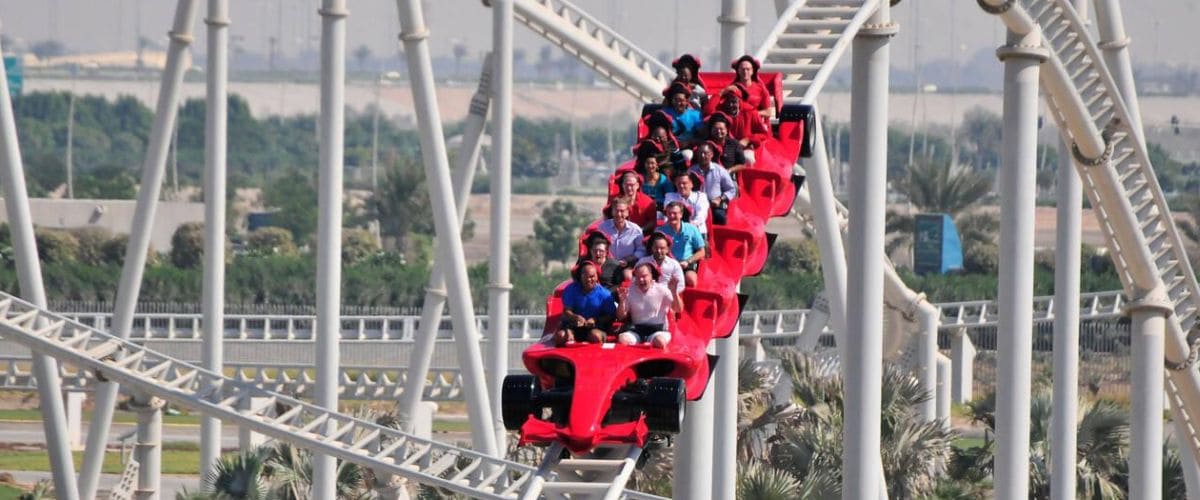 Talk about an adrenaline rush. When you're checking out the Ferrari World Abu Dhabi map, make sure this coaster is at the top of your list. But brace yourself - the speed and G-forces are absolutely insane.

The coaster mimics the exhilarating sensation of being in an F1 vehicle, and riders even have to wear protective goggles due to the sheer speed and potential of debris.
Ferrari World Facts #2 - Dedicated to Legendary Founder Enzo Ferrari
While the heart-stopping coasters and spinning rides are a blast, make sure to take some time to appreciate the historical aspects of Ferrari World, too.

Everything from the architecture to the exhibits is designed to honor the iconic brand's founder, Enzo Ferrari.
Walk through the Enzo Ferrari Museum to learn about his astonishing life and career, building Ferraris into the symbol of excellence.

You'll see replicas of his original workshop in Maranello, Italy, as well as vintage cars and memorabilia. It's really inspiring to see how one man's passion created such an epic automotive dynasty.

Ferrari World Facts #3 - Home to the Largest Ferrari Showroom on Earth
Within the theme park, as highlighted on the Ferrari World Abu Dhabi map, lies the biggest Ferrari dealership you'll ever encounter, filled with over 30 rare and coveted models.

Take a leisurely walk through the fancy showroom that's designed to make you feel like you're in Enzo's real garage.
Look closely at the super detailed Ferraris, some of which cost millions of dollars. You'll see all kinds of them, from old racing cars to the newest and coolest Ferrari models.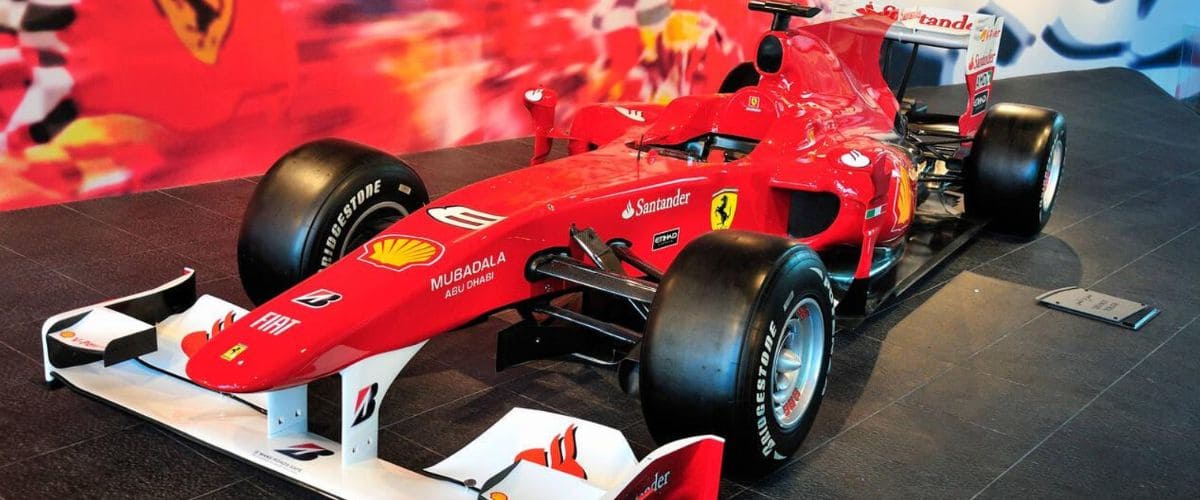 Even if you're not in the market to buy, it's fascinating to observe the artistry that goes into creating these handcrafted Italian thoroughbreds. Feel free to wander around and enjoy everything you see.

Ferrari World Facts #4: Home to Some Record-Breaking Thrills
When you think about jaw-dropping theme park rides, your mind likely goes to coasters looping upside down at neck-breaking speeds.

But if you pull out a Ferrari World Abu Dhabi map, you'll quickly realize that the high-octane attractions at Ferrari World go far beyond traditional rollercoasters.

For instance, the "Flying Aces" is a massive spinning thrill ride that revolves around riders in teams facing each other as G-forces press them back.

It has set 11 world records for being the largest, tallest, and fastest spinning ride on the planet. Riders are flung outward by centrifugal force at speeds up to 120 kph!
And that's when you might begin to understand why this park offers excitement like no other place!
Ferrari World Facts #5: Largest Indoor Theme Park
Did you know Ferrari World holds the record for the largest indoor theme park ever? And if you take a look at the Ferrari World Abu Dhabi map, you'll get a sense of its grandeur.

It's all under one giant roof too, which is nuts. The whole thing covers over a hundred acres!

They managed to fit amazing attractions like Formula Rossa and Flying Aces in there without making it feel crowded.
And the best part is that when you're inside, you don't have to worry about the weather, whether it's sunny or rainy, messing up your visit. It's a weather-proof adventure!
Ferrari World Abu Dhabi Ticket Price
Single Day Ticket Per Adult - approx AED 328
Includes access to rides and attractions
Provides complimentary shuttle bus service
Offers free parking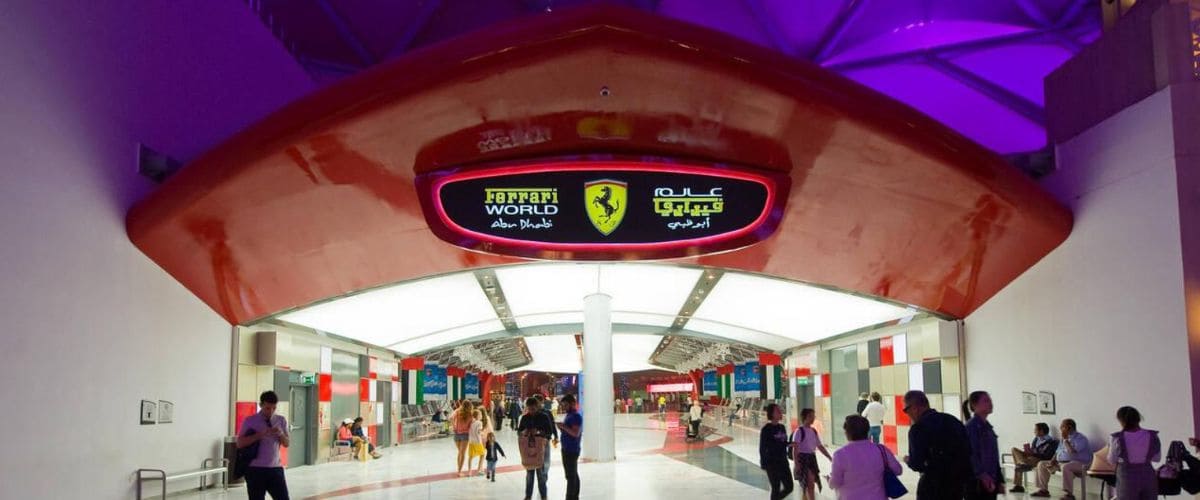 Other Places To Visit in Dubai
If you plan to go to Ferrari World, which is one of the best place to visit near Dubai in Abu Dhabi, you should also visit Dubai. And thе most amazing part is that, Dubai and Abu Dhabi arе not so far, thе two citiеs arе just a 2-hour drivе, so you can makе it a short vacation.
Hеrе arе somе amazing placеs to sее in Dubai that you should dеfinitеly chеck out:
Burj Khalifa Dubai
Burj Khalifa is thе tallеst building in thе world, standing at ovеr 828 mеtеrs tall. You can takе an еlеvator ridе up to thе 148th floor and еnjoy incrеdiblе 360-dеgrее viеws of thе wholе city. It's an amazing еxpеriеncе!

It's a true "wow" moment. Moreover, you'll have a fantastic chance to take a cool picture at Ferrari World, as you can see Abu Dhabi from there on a sunny day.
Dubai Mall
The Dubai Mall is a really big shopping center in Dubai where you can shop, eat, and do lots of fun things.
There's an aquarium, an indoor ice-skating rink, high-end shops, and the massive Dubai Fountain out front that performs to music.

Take a rest for your feet at the massive fountain and watch the lasers, lights, and water do their spectacular synchronized dance. The mall also has the world's largest candy store.
Dubai Desert Safari
Another amazing thing you shouldn't miss when you're in Dubai is the Dubai Desert Safari. You can jump into a powerful 4x4 dune buggy and ride out into the desert, passing by huge sand dunes that look like whales.

As the sun sets, the desert comes alive with captivating hues, creating the perfect setting for a traditional Arabian camp experience complete with delicious cuisine, camel rides, and mesmerizing cultural performances.

Those are just a few highlights, but there's really so much more - like the gorgeous man-made Palm Islands or go for dinner at the Infinity Pool at the Address Downtown Dubai for amazing views of the Burj Khalifa light show.

No matter what you end up doing, you'll be sure to make amazing memories. Just be sure to leave some excitement and surprise for one of the best place to visit near Dubai and that is Ferrari World!

Final Thoughts- On Ferrari World Abu Dhabi Facts
Hopefully, these intriguing Ferrari World Facts, along with a look at a Ferrari World Abu Dhabi map, will definitely spark excitement in you to visit the park!

Be sure to wear comfortable shoes, as there is a lot of ground to cover, taking in all the attractions.
Don't forget your camera either - you'll want to grab photos with the many life-size Ferrari sculptures and displays scattered throughout the park.

Don't forget to enjoy every moment in this best place to visit near Dubai. You'll have thrilling rides and see lots of things that honor Ferrari's history.

Your visit will definitely make you love fast cars and dream about driving a classic red Ferrari on the open road. What are you waiting for? Start planning your dates, and make memories to last a lifetime. Next Holidays can help you on this journey with the best deals on Dubai tour packages and activities like Ferrari world Abu Dhabi.


Recent blogs
Follow Us on :
Contact
Take a NEXT step towards your NEXT HOLIDAY with our easy-to-understand portal at an affordable price. Got any queries? We are here to solve everything for your adventure.
Location:
1210-1211, The Regal Tower, Business Bay Dubai, U.A.E.
Email: