Planning Tool Kit
Plan your travel most appropriately. Find out how you can make your travel time memorable.
April to October, during the dry season, offers sunny days and pleasant temperatures, making it ideal for exploring Bali's beaches, temples, and landscapes.
Visit iconic temples, stroll through bustling markets, explore rice terraces, and unwind on pristine beaches, all without spending a dime.
Immerse yourself in Balinese culture by attending traditional dance performances, tasting local cuisine, participating in a cooking class, and experiencing rejuvenating yoga and spa treatments.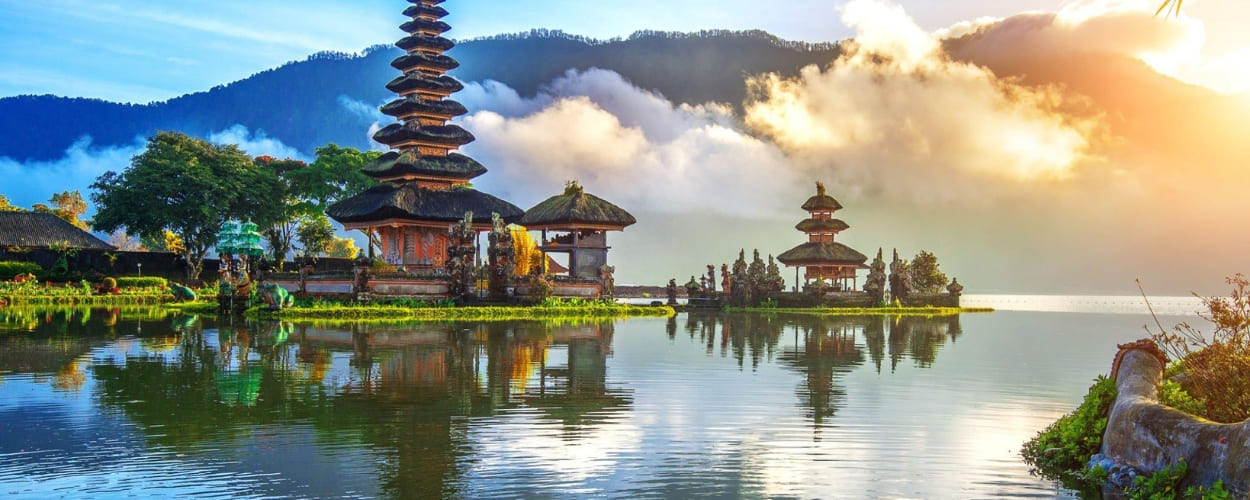 Bali, the famed Island of the Gods, has long been a popular destination for its vibrant culture, stunning natural beauty, and warm, welcoming people. With its rich heritage and diverse attractions, this Indonesian paradise has something to offer every traveller, from beach lovers to adventure seekers and wellness enthusiasts.

The purpose of this blog post is to inform and inspire you about the enchanting beauty of Bali. We will delve into the island's cultural attractions, natural wonders, delicious cuisine, thrilling activities, and accommodation options to help you plan your dream vacation. Whether you're planning your first visit or a return trip, let this guide lead you to the best experiences Bali has to offer.
The Allure of Bali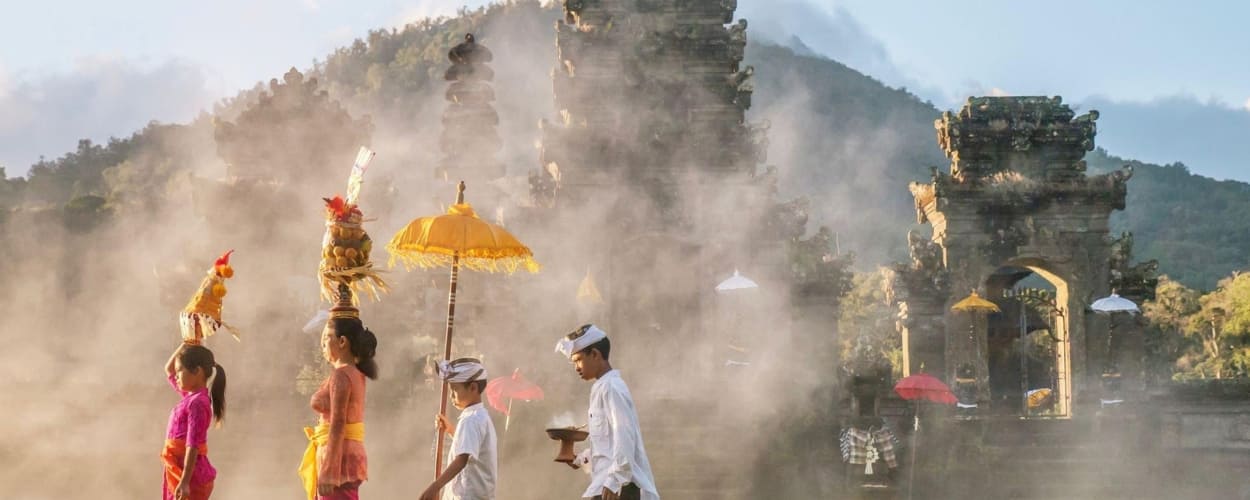 Cultural attractions
Temples and spiritual sites:
Bali is home to numerous sacred temples and spiritual sites that reflect the island's deep-rooted Hindu culture. Some of the most iconic temples to visit include Uluwatu Temple, perched atop a dramatic cliff overlooking the ocean, and Besakih Temple, the largest and holiest temple complex on the island, nestled on the slopes of Mount Agung.
These sacred structures offer a captivating insight into Bali's rich history, spiritual essence, and architectural splendour.
Traditional Balinese dance performances: The island's rich cultural heritage is showcased through traditional Balinese dance performances such as Kecak, a mesmerising fire dance, and Legong, a graceful and elegant storytelling dance. Attending one of these performances offers a unique insight into Bali's artistic traditions, and they can be found in various venues around the island, including temples and cultural centres.
Natural beauty
Pristine beaches: Bali's coastline is blessed with pristine beaches that cater to different tastes and preferences. With its lively atmosphere, Kuta Beach attracts surfers and sunbathers alike, while Seminyak offers a more sophisticated beach experience with upscale beach clubs and bars. On the other hand, Nusa Dua is known for its luxurious resorts and tranquil, crystal-clear waters, perfect for swimming and snorkelling.
Majestic landscapes: Bali's stunning landscapes extend beyond its gorgeous beaches. Lush rice terraces mark the island's interior cascading down the hillsides, creating a picturesque, verdant backdrop. Volcanoes such as Mount Batur and Mount Agung dominate the skyline, offering breathtaking views and opportunities for trekking. The island is also dotted with numerous waterfalls, like Tegenungan and Gitgit, which provide a refreshing respite from the tropical heat and a chance to connect with nature.
Balinese Cuisine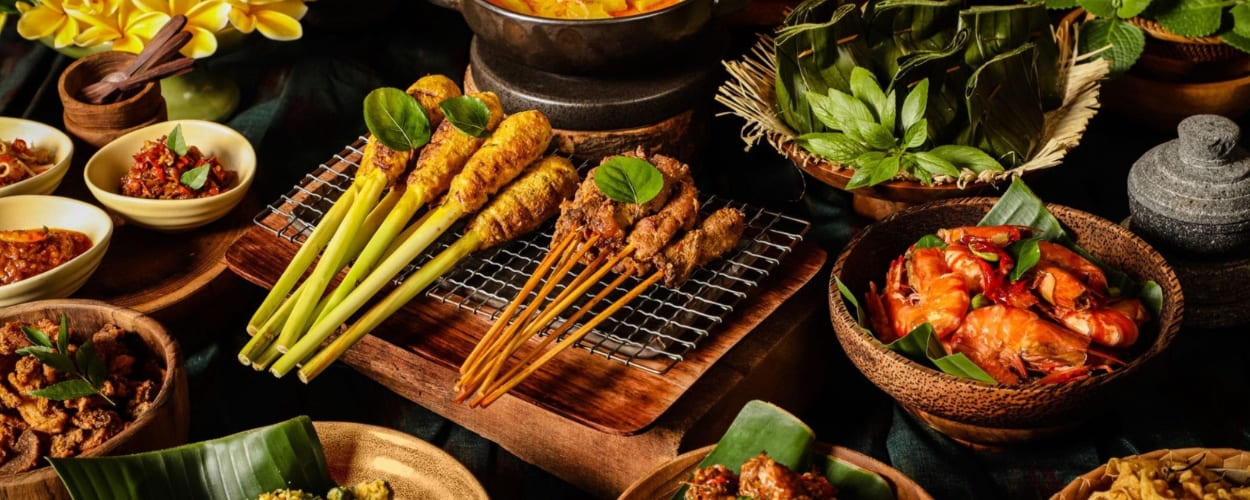 Traditional dishes: Balinese cuisine is a delightful blend of flavors, spices, and textures that reflects the island's rich cultural heritage. Some must-try dishes include Nasi Goreng, a flavorful Indonesian fried rice often served with a fried egg and vegetables, and Sate Lilit, a unique Balinese-style satay made from minced meat or fish mixed with grated coconut, spices, and served on a lemongrass skewer. Other notable dishes include Babi Guling (roasted suckling pig) and Lawar, a mix of vegetables, coconut, and minced meat.
Must-visit local restaurants and markets
: To truly experience Balinese cuisine, visit local restaurants known as "warungs" or dine at the bustling night markets where you can sample a wide variety of dishes. Some popular spots include Warung Babi Guling Ibu Oka in Ubud, famous for its delicious roasted suckling pig, and Made's Warung in Seminyak, which offers a great selection of Balinese and Indonesian dishes. For a more immersive experience, visit the Gianyar Night Market or the Kreneng Night Market in Denpasar, where you can taste authentic street food and mingle with the locals. Try some traditional Balinese desserts, like Bubur Injin (black rice pudding) and Dadar Gulung (coconut-stuffed pancakes), to complete your culinary journey.
Adventure and Wellness Activities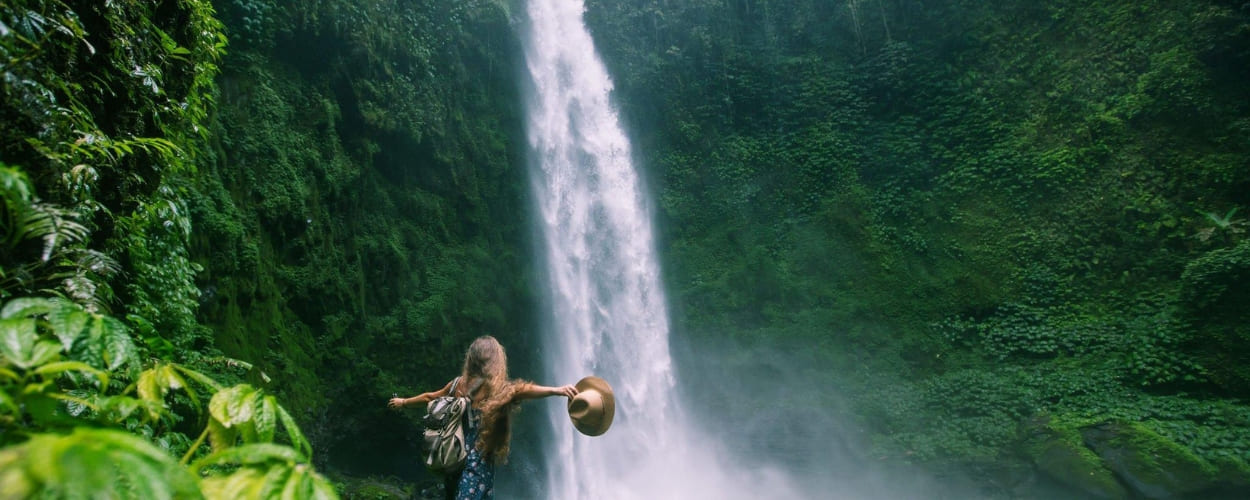 Outdoor adventures: Bali's diverse landscape offers many outdoor activities for adventure seekers. Surfing enthusiasts can catch some waves at popular surf spots like Uluwatu, Canggu, and Kuta. The crystal-clear waters of Nusa Lembongan, Nusa Penida, and Amed offer vibrant marine life and stunning coral reefs for scuba diving and snorkelling. Trekking opportunities abound on the island, with trails leading to the summit of Mount Batur or Mount Agung and through the picturesque rice fields of Tegalalang and Jatiluwih.
Yoga and Wellness retreats
: Bali is renowned for its focus on wellness and spirituality, making it an ideal destination for yoga enthusiasts and those seeking rejuvenation. Ubud, in particular, is a haven for yoga retreats and wellness centres, such as the Yoga Barn and Radiantly Alive, where visitors can attend daily classes and workshops and indulge in holistic treatments. Other notable wellness retreats can be found in the lush surroundings of Canggu, Seminyak, and Uluwatu, offering a range of activities like meditation, sound healing, and spa treatments to help you recharge and reconnect with yourself amidst Bali's serene beauty.
Discovering Bali's Magical Shopping Wonderland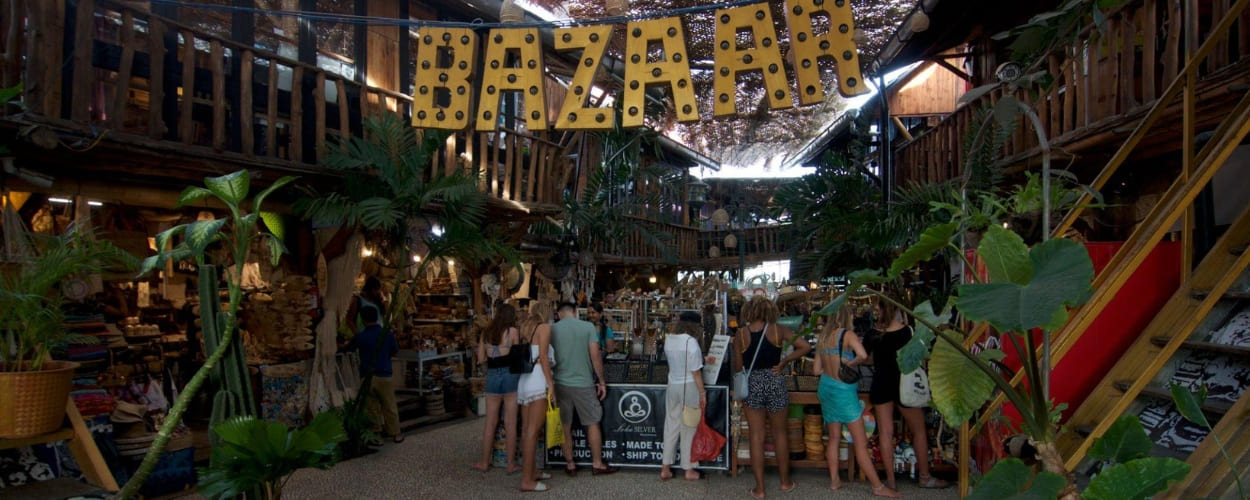 The Enchantment of Balinese Markets
Ubud Art Market: A Magical Emporium
In the heart of Ubud, the Art Market bewitches visitors with its captivating array of handmade crafts, intricate textiles, and enchanting art pieces. Strolling through this bustling bazaar, you'll find yourself spellbound by the skill and artistry of local artisans, whose work reflects the island's rich cultural heritage.
Seminyak Village: A Fashionable Haven
Seminyak Village, with its trendy boutiques and chic fashion outlets, is the perfect place to uncover the latest sartorial treasures. Here, you can weave a spell of style by selecting from a diverse range of clothing, accessories, and homeware, all imbued with a touch of Balinese charm.
The Allure of Traditional Balinese Crafts
Spellbinding Silverwork
The village of Celuk, renowned for its silver and gold craftsmanship, is a must-visit destination for those seeking to acquire bewitching jewellery. With a keen eye, you can find exquisite pieces adorned with intricate patterns and precious gemstones that seem to hold a touch of magic within.
Enchanted Wood Carvings
In the village of Mas, skilled woodcarvers bring life to their creations, imbuing each sculpture with a spirit of its own. These wooden masterpieces, ranging from mythical creatures to divine deities, hold within them the essence of Balinese mythology and tradition.
The Charm of Local Textiles
Mystical Batik Fabrics
The ancient art of batik, a wax-resist dyeing technique, has long been practised in Bali, resulting in fabrics that are both visually stunning and steeped in cultural significance. Discover the dazzling array of patterns and colours, each telling its own enchanting tale, and bring home a piece of Balinese history.
Bewitching Ikat Weavings
The island's traditional Ikat weavings are a testament to the patience and skill of local weavers. These intricate textiles, produced using a complex dyeing and weaving process, are imbued with vibrant hues and mesmerising patterns that will leave you spellbound.
The Art of Balinese Pottery
The Sorcery of Ceramic Creations
Balinese pottery, with its earthy tones and natural forms, seems to hold within it the spirit of the island itself. Explore the enchanting world of ceramic art, where skilled potters shape and mould clay into beautiful vessels, each piece a unique testament to their artistry.
A Magical Memento
As you venture through Bali's mystical landscapes, be sure to collect a piece of the island's artistic heritage. Whether it's a delicate silver pendant, a carved wooden deity, or an elegant batik sarong, these enchanting souvenirs will forever remind you of the magic that is Bali.
Accommodation Options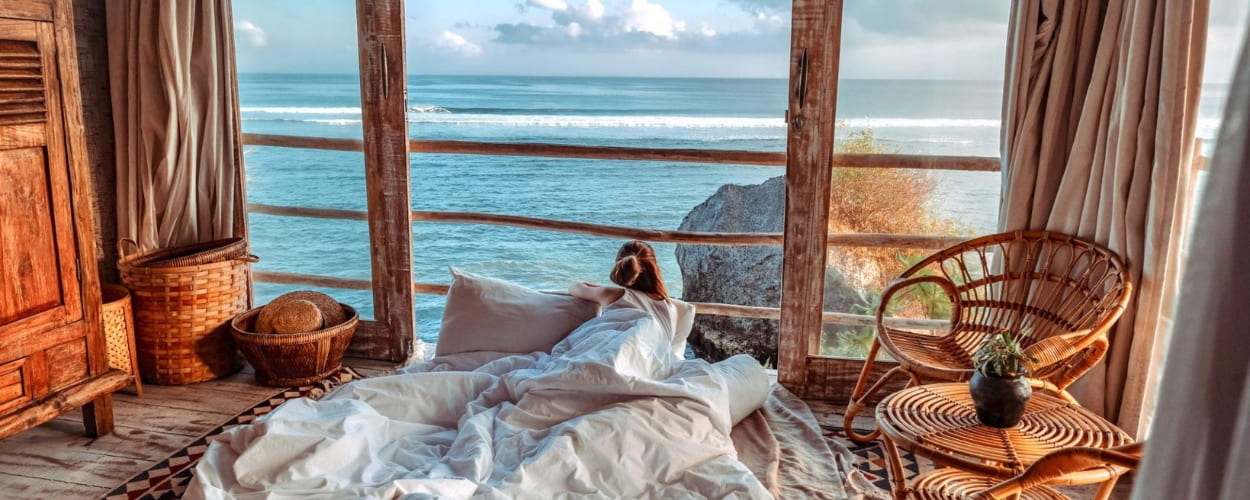 Luxury resorts and villas: Bali is home to numerous high-end resorts and villas that provide a truly indulgent and luxurious experience. These properties often boast stunning locations, such as beachfront settings, lush tropical gardens, or cliffside retreats, and offer top-notch amenities, such as private pools, fine dining, and world-class spas. Some iconic luxury resorts in Bali include The Mulia in Nusa Dua, Four Seasons Resort Bali at Jimbaran Bay, and Alila Villas Uluwatu. For a more intimate and exclusive experience, consider renting a private villa, which can be found in popular areas like Seminyak, Ubud, and Canggu.
Budget-friendly homestays and hostels:
Bali also caters to budget-conscious travellers, with a wide array of affordable homestays and hostels available throughout the island. Homestays, where you can stay with a local family, offer a unique cultural experience and an opportunity to immerse yourself in Balinese daily life. Hostels provide a pleasant and cost-effective option for backpackers and solo travellers, often featuring dormitories and shared facilities. Popular budget accommodations include Puri Garden Hostel in Ubud, Kos One Hostel in Canggu, and Kayun Downtown Hostel in Kuta. These options ensure that you can enjoy the beauty of Bali without breaking the bank.
Travel Tips and Practical Information
Best time to visit: The best time to visit Bali is during the dry season, which typically runs from April to September. The weather is sunny and warm during this period, making it ideal for outdoor activities and beach excursions. The peak tourist season is in July and August, as well as during the Christmas and New Year holidays, so if you prefer to avoid crowds, consider visiting during the shoulder months of April, May, and September.
Visa and entry requirements: Visitors from many countries are eligible for a 30-day visa-free stay in Indonesia. In contrast, others can obtain a Visa on Arrival (VoA) at the airport for a small fee, which can be extended once for 30 days. It's essential to check the visa requirements for your specific nationality before travelling. Ensure your passport has at least six months of validity from the date of your arrival, and keep in mind that proof of onward or return travel may be required.
Local customs and etiquette: When visiting Bali, being mindful of local customs and etiquette is essential. Balinese culture is deeply rooted in Hinduism, and respecting their religious beliefs and practices is essential. When visiting temples, wear modest clothing that covers your shoulders and knees, and use a sarong if required. Please refrain from using your left hand to touch or hand over items, as it is considered impure in Balinese culture. Additionally, it's polite to ask for permission before taking photographs of people or ceremonies. You'll ensure a more enjoyable and enriching travel experience by respecting and understanding local customs.
Conclusion
Bali is an enchanting destination that captivates travellers with its unique blend of cultural attractions, natural beauty, delectable cuisine, and diverse activities. From the island's sacred temples and spiritual sites to its pristine beaches and majestic landscapes, Bali offers many experiences that cater to all types of visitors. Whether you're seeking adventure, relaxation, or a taste of the local culture, this Indonesian paradise has something for everyone.
As you plan your next vacation, consider the magical island of Bali as your destination of choice. Immerse yourself in the rich heritage, breathtaking scenery, and warm hospitality that make Bali an unforgettable experience. Regardless of your interests or budget, Bali promises to deliver memories that will last a lifetime.
Recent blogs
Follow Us on :
Contact
Take a NEXT step towards your NEXT HOLIDAY with our easy-to-understand portal at an affordable price. Got any queries? We are here to solve everything for your adventure.
Location:
1210-1211, The Regal Tower, Business Bay Dubai, U.A.E.
Email: