Planning Tool Kit
Plan your travel most appropriately. Find out how you can make your travel time memorable.
Get More Info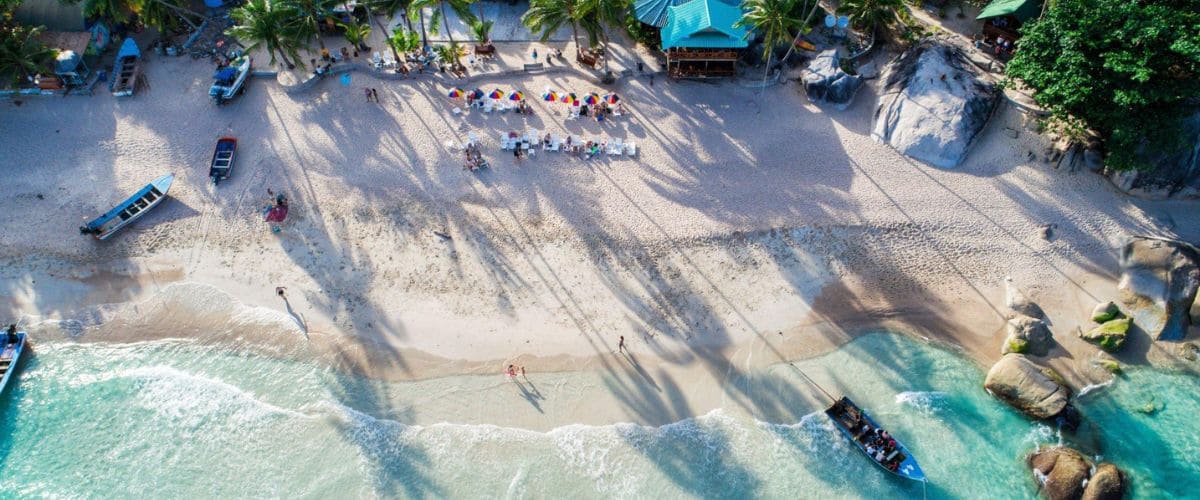 We often plan our trips, but we fail to execute them. There could be ample reasons for canceling trips but so are to make. One of the most popular states to visit and enjoy is "Goa." This place is also known as the party capital of India. Although Goa is the smallest of all Indian states, its tourism has made it the wealthiest. Every year millions of people across the globe visit this place. From fun to elements to peace, everything is right in Goa. Tourists often avoid visiting this place from March to May. Nevertheless, the breezy atmosphere near beaches in Goa can make you feel relaxed and comfortable.
Party near beaches are common in Goa. People mostly seek fun parties when they pick Goa as their holiday destination. However, many are unaware of other activities they can do to enrich their travels. Beaches here are the real attraction for tourists or visitors. You do not have to worry much about your Goa trip. If you also think this place is not for the family, you are highly mistaken, buddy. Whether alone, with your friends, or with family - Goa has everything for everyone. We are here to break the stereotypes and myths about Goa; watch out for fun!
Not just the beaches but churches, temples, water activities, museums, festivals, and more will blow your mind once you enter this state. This magical place is a great way to bring entertainment to your journey.
Chill On Beaches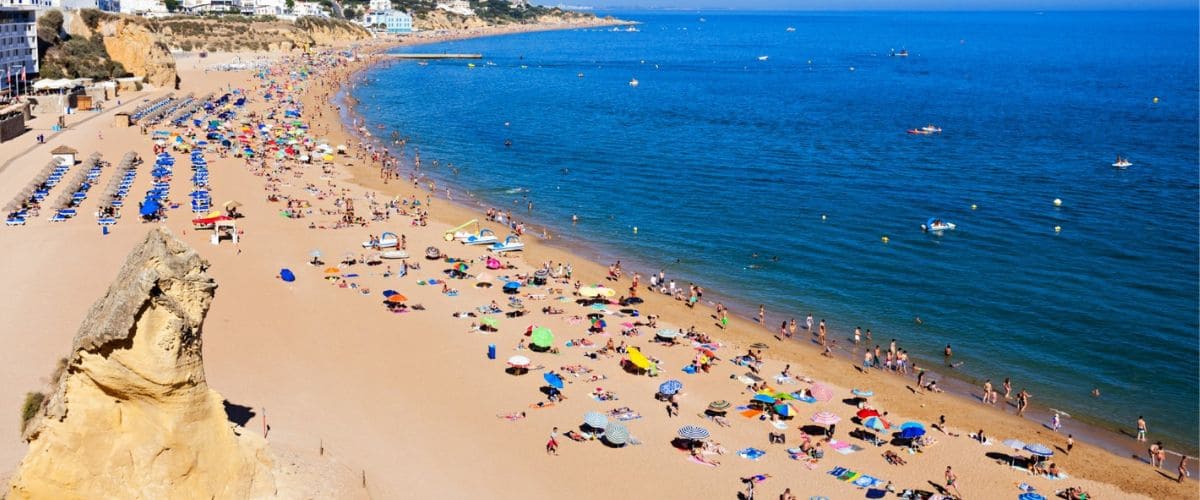 There are around 60 beaches in Goa to make your travel enlivening. Wait no more to experience the glittery blue water. Beaches here are wonderful for relaxing, partying, or going on water adventures. Shopping lovers can also go to nearby markets and shops to buy shell jewelry, shirts, tops, cashew nuts, get tattooed, and more. Explore where these beaches are located and what you can do on them to enjoy them to the fullest.
Calangute Beach
Calangute beach should not be missed by you. There is no better beach in Goa than this one, the Queen of all Goan beaches. A wide area of Calangute beach allows thousands of people to crowd together. This beach allows visitors to witness golden sand and water activities that might interest you as a traveler. Calangute Beach is typically packed during the holiday season, and modest businesses prosper.
Located In: Calangute, North Goa
Best Time To Visit: October to January
Palolem Beach
Palolem beach is not as crowded as Calangute, but it is still a place to explore. Palolem beach is a peaceful place to relax your mind and body. You can find many yoga centers, historical and cultural buildings, Ayurveda food classes, and more to cheer you up.
Located In: Canacona, South Goa
Best Time To Visit: November To March
Baga Beach
Baga beach is in north Goa. The beach is extremely famous for its nightlife. You can pick up many things to enjoy to the fullest with your friends or family. The rocking beach parties or parties at bars and clubs will make you fall in love with this place. You can also enjoy one of the best Goan food while traveling to Goa. Baga beach is well known for its water and aerial sports. From parasailing to jet skiing, you can do everything that you desire.
Located In: Baga, North Goa
Best Time To Visit: October To March
Anjuna Beach
It forms the western portion of Goa's 30-kilometer-long Arabian Sea beachfront, which begins at Fort Aguada, continues along Sinquerim Beach and Candolim Beach, and merges into Calangute Beach. Once you have seen Baga Beach, Anjuna Beach, Vagator Beach, Chapora Beach, Chapora River, and Fort, you can move on to Anjuna Beach. Anjuna Village is located between the Arabian Sea and a hill overlooking the beach, a five-square-mile community. This beach is also popular among youngsters for trance and hippie parties.
Located In: Anjuna, North Goa
Best Time To Visit: October To May
Candolim Beach
Candolim beach is located in the south of Calangute beach. This beach is the longest in Goa and elongates over 30 kms. It is popularly known for the serene beauty of nature. Travelers can rest on the beach and enjoy the waves' music while sunbathing. This place is a little crowded, just like Calangute, but it is also as beautiful. Why miss seeing the longest beach? Take your costumes and have fun at Candolim beach. Light sweaters might be required if you travel during winter, so pack wisely.
Located In: Candolim, North Goa
Best Time To Visit: November To March
Arambol Beach
Arambol beach, one of Goa's most stunning beaches, is located 50 miles from Panaji. Displaying approximately 10 kilometers of dazzling golden sand scattered by craggy rocks. Goa's primary and busiest beach, Harmal Beach, is its most northern beach. There are cafés where you may relax by the river while enjoying delectable Indian, Italian, and Goan cuisine. You may experience a range of water activities at Arambol Beach. The steep cliffs make it a great place for paragliding as well. The Hot Springs, near the main beach, are one of this area's most well-liked tourist attractions. The majority of these bungalows are situated near the beach's far end.
Located In: Arambol, North Goa
Best Time To Visit: October To February
Agonda Beach
Agonda Beach, one of Goa's most romantic beaches, is only a 15-minute drive from the well-known Palolem Beach. It stands for Goa's most lovely and romantic aspect. Agonda Beach is a three-kilometer stretch of immaculate, dazzling sand studded with palm palms and encircled by a clear ocean. This beach is the greatest spot to stay if you're searching for quiet time. You may enjoy the breathtaking beauty of nature since there is no interruption because vendors are not permitted on the beach. Boating is another tourist-drawing pastime. On the mounds, hiking is another pleasant pastime. From modest cabanas to opulent hotels and resorts, there are numerous alternatives for staying near the beach.
Located In: Agonda, South Goa
Best Time To Visit: November To March
Morjim Beach
The Morjim beach is a wonderful piece of land, especially for turtles. Few people know this beach since it's a non-popular yet beautiful beach to witness turtles. Thus, this beach is also known as the turtle beach in Goa. This village in Goa is home to many Russian emigrants, making it seem like little Russia. Observing migratory birds is also popular due to the abundance of birds in the area.
Located In: Morjim, North Goa
Best Time To Visit: November To March
We have mentioned the most popular beaches that you can visit in Goa. Though there are many unexplored beaches to explore. All these beaches serve beautiful sunrise and sunset views. In addition, travelers can go for boat rides or cruises to make travel more fun and adventurous. In a short distance of kilometers, you can explore new beaches and islands in Goa.
Let's Go Shopping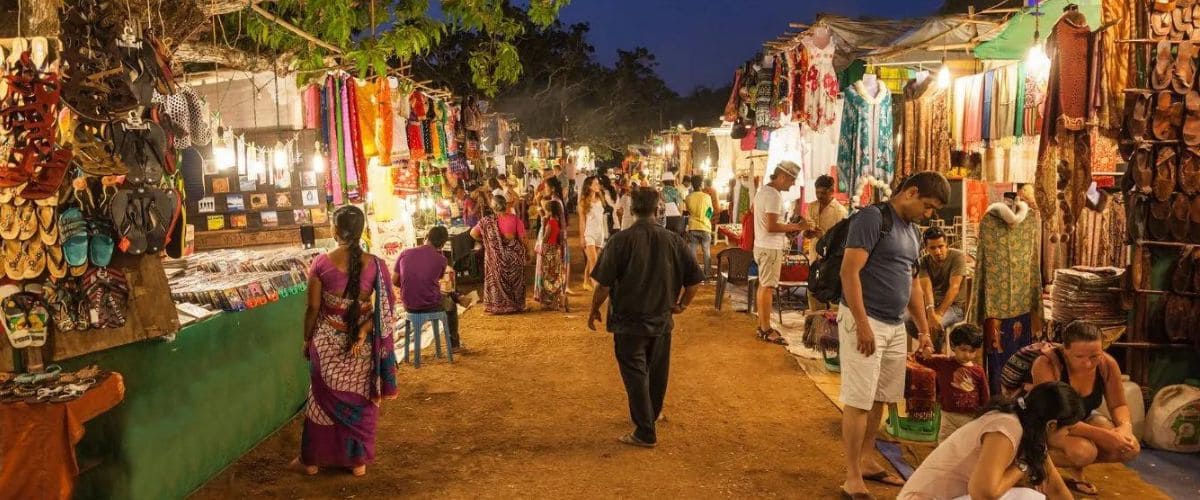 We all love shopping when we are traveling. However, sometimes we get into the trap of buying expensive stuff, which we later regret. Say no more to exorbitant shopping and start exploring the market that could save you thousands when traveling to Goa. We know how valuable money is; thus, we have come up with a few markets where travelers can buy good stuff at low prices. Travelers get the advantage of buying and bargaining for the products they wish to buy.
If you want to buy hippie clothes and junk jewelry and enjoy seafood on Wednesday night, the Anjuna flea market is just for you. This market was started back in 1960 for easy accessibility to travelers. One can find Kerala spices to Kashmiri jewelry in this market. The market is open from October to march due to heavy tourism. Enjoy the live music performances too during the shopping time.
One of the most popular markets to buy vegetables, fruits, wines, and spices is the Panjim market. This is open for visitors every day to buy modern and ethnic products. There are many other things that you can shop from this market. This place has good shopping, from fashion to kitchen spices and cashew nuts.
Mackie's Night Bazaar

The nightlife in Goa is as amazing as any party place. Even the markets in Goa are lively to enjoy. Mackie's night Bazar opens every Saturday for locals and visitors at Baga beach and runs till midnight. Buy junk jewelry, trendy beachwear, and souvenirs for your loved ones at an affordable price. Taste the deliciousness of Indian Goan food near this market. Also, enjoy the nightlife to the fullest on Baga beach.
Night Market In Arpora

The night market at Atrpora is one of the most bustling marketplaces in Goa. The wide variety of shopping stuff makes it a glamour of the town. Semi-precious stones, traditional handicrafts from Rajasthan and Kashmir, bags, carpets, and more are the things that you can find every Saturday night at Arpora, north goa. It is an overwhelming experience to shop in the market's ambiance under the glowing lights at night.
The summers in Goa are a little too hot. The scorching sun can irritate your travel. Choosing the right clothes according to the weather is a task; thus, if you are out of summer beachwear, this market is so for you. Calangute market square is widely famous for the trendy beachwear they offer to travelers. On top of that, travelers can enjoy Goan food with chilled beer to relax and enjoy the nightlife here. Trinkets and seashells are also famous in this market; go grab them!
Ashwem Beach Market
Goa is a great marketplace for junky and funky things, but have you ever thought of buying designer clothes from here? No, right? The Ashwem beach market has designer clothes to offer for the locals as well as visitors. From December to April, you can find flowy dresses, junk jewelry, and super cool signature t-shirts by Jade Jagger on the Ashwem beach in north Goa. For the visitors arriving off-season, the le souk is also a great place to go shopping. This marketplace is open throughout the year. Find glamorous designer clothes from here if you want to spend a little extra.
Mapusa Fish Market

Exploring a market that has everything in one place? Mapusa fish market is a one-stop solution to finding everything and anything. Whether you are looking for fruits, vegetables, spices, fish, coir mats, and other things at very reasonable rates. This market is open all day, but on Friday mornings, you may find more variety in addition.
Spirituality For A Peaceful Mind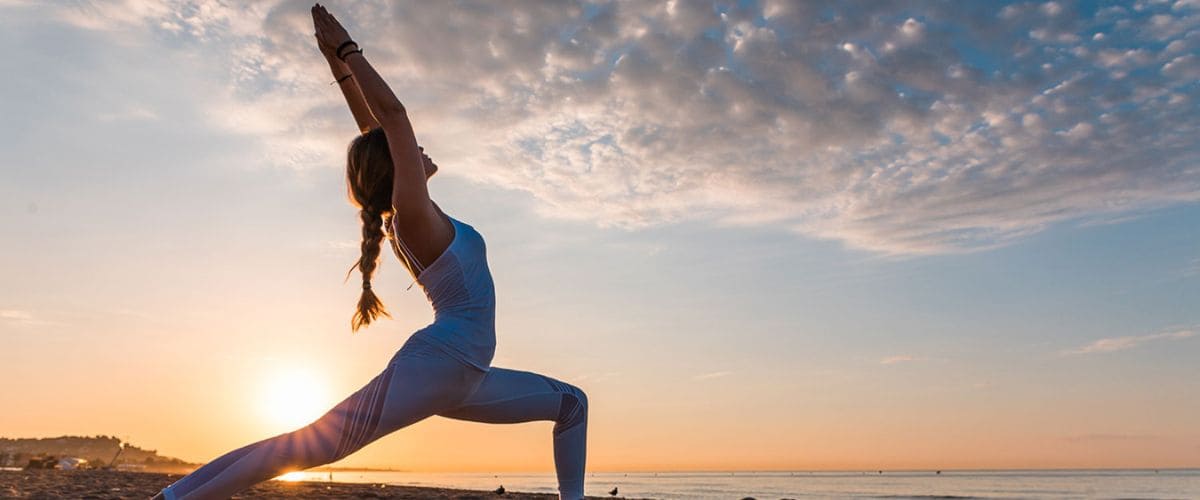 Go for a peaceful and enchanting way in Goa. Many yoga centers help you find peace with your body and mind. These yoga centers are an easy way to learn and practice yoga in Goa. Some eminent yoga centers near Palolem beach are Ruban yoga, Aranya yoga, shiv yoga, Ashok yoga, parinama yoga studio, harmony, dreamcatcher yoga, shivoham yoga school, yoga tree culture, shiv and shakti healing. All these centers include types of yoga, pilates, and reiki healing. In addition to yoga, spa centers offer massages & spa treatments to clients, providing them with additional relief.
There is also a canyoning and rappelling tour offered at Deva's Kayaks, as well as the option to hire equipment at Samson's kiosk, go scuba diving, and snorkel at Shanti Divers.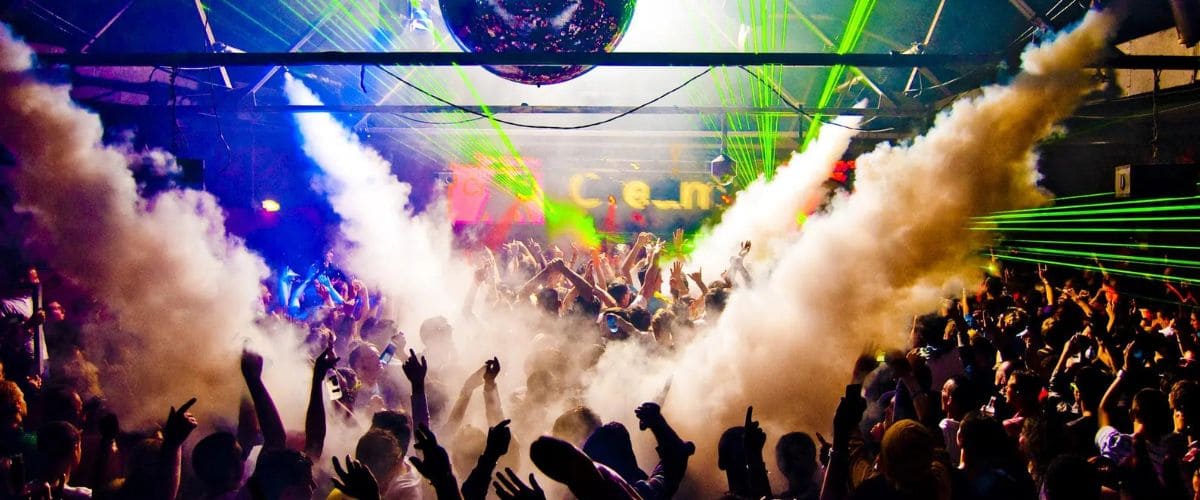 The rocking parties will make your feet move. Goa has everything from night markets to nightclubs and beach parties. The place is world-famous for its top-notch parties, events, and concerts. Goa is almost full during Christmas and new year. Find every corner with a party blast. However, even during seasons, Goa has incredible nightlife. If you love clubbing, don't miss out on these nightclubs and cafes.
Club Cubana
Tito's Bar and Club
SinQ Night Club
Cafe Mambos
Curlies
Doesn't matter where you are from; you will enjoy these wonderful rocking clubs. Buy your beverages and rock the dance floor. Make the night memorable for a lifetime.
Activities And Adventures For You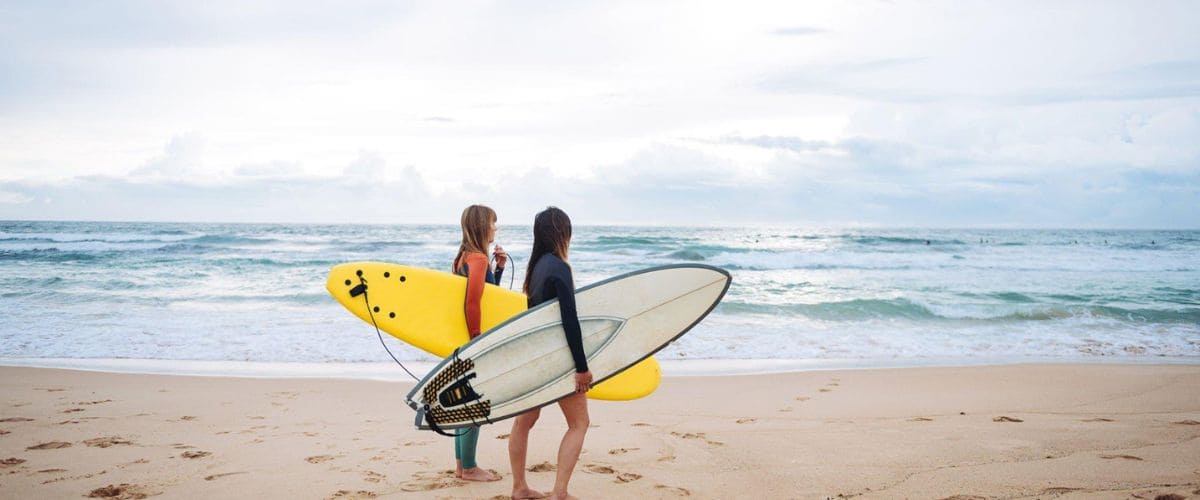 Whether you want to chill near the beaches, in the resort, or under the water - Goa serves every adventure to travelers. The weather might be humid, but near the beaches, you can chill. Still in confusion about what to do in Goa? Then, we suggest the best things to do in this wonderful land. Here we have listed a few activities you can enjoy during your Goa trip.
Hiking
Parasailing
Scuba Diving
Sunset kayaking
Flyboarding
Sunset sailing
Cruise
Snorkeling
Rafting
Trekking
These are just a few from the list; once you reach the place, you can choose various adventures and activities. So enjoy the best.
Take Blessing From These Religious Places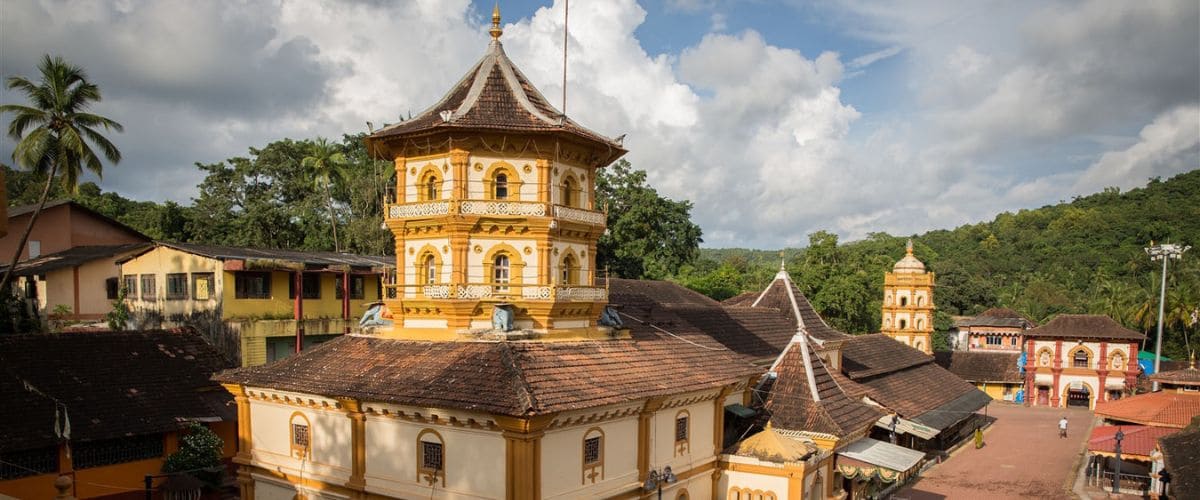 There are many myths about Goa. People often feel Goa is a place for party animals but let us tour the religious places to make you believe in reality and not what we believe. Goa is loaded with churches and temples. People around the globe visit these religious places in Goa to devote their prayers. The beauty of these temples and churches is incredible in its own way. Lets us give you a religious tour through these points mentioned. Take your family along and devote your prayers while having fun in Goa.
Ananta Temple
Savoi Verem is famous for its beautiful Hindu temple - Ananta. The wide area of this temple is full of green surroundings at its entrance which makes it look beautiful and unique in the first place. The temple is dedicated to Lord Vishnu, who is considered the main God of Hinduism. The presence of devotees in the temple varies daily, but most are there on special occasions like new moon day and other important festivals. Ananta Temple makes one feel tranquil and pure. It takes you back to ancient India when the place was at peace, and people from all over were flocking here to maintain their connection with the universe. Lord Shiva has been worshipped here for more than 1000 years now by locals and visitors worldwide. Here in this temple, Vishnu is worshipped as the Serpent Anant, represented by the images in this village.
There is no place like the Basilica of Bom Jesus Church in Goa, India. It has a fabulous extravagant design and is unique to India. Christianity spread throughout India; this church was constructed between 1594 and 1605. On the triangular roof of the church are artistic carvings that signify "Jesus, Saviour of Men," which is the symbol for the Jesuits. Located in the heart of the historic center of Portugal, the Basilica of Bom Jesus has served the public for more than 408 years. Witness the art and architecture of one of the oldest churches in Goa and devote your prayers. One must see the Statue of St Francis Xavier, the Chapel of St Francis Xavier, and the Modern art gallery.
Shantadurga Temple is a widespread worship place in Goa. Among the patron deities of Gaud Saraswat Brahmins, Goddess Durga is honored here. A goddess representing Vishnu and Shiva, Shantadurga is the mediator between the two. Travelers and locals can witness the spotlight of the temple - the golden palanquin around the festival of Mahapanchami. This temple has three sub-temples under the same roof, Shanta Durga being the main one. The temple was relocated from Keloshi to Goa due to the domination of the Portuguese over the villagers. The temple is located over an oblique hill that offers a spectacular view from above.
Goa is renowned for its religious significance, which is said to be why all three major religions are supported there: Christianity, Islam, and Hinduism. The Portuguese converted Rachel Seminary, built in 1576 as a Muslim bastion, into a church. In the sixteenth century, the Rachel Seminary in Goa was recognized as a significant site for theological study. In the year 1762, the building was converted into a diocesan seminary. The Great Hall of Rachel Seminary is decorated with Renaissance paintings. The statue of St Constantine, the first Roman Emperor to convert to Christianity, is very well carved. In addition, you will be blown away by the carved and gilded main altarpiece, which is sure to keep you coming back. As part of the seminary, a museum displayed artifacts from all over Goa, including church artifacts.
Mangueshi temple was built in the old and traditional Goan form of architecture. The unique structure of the temple attracts tourists from around the globe. It's a seven-story, octagonal lamp tower and a white exterior; the temple has a Deepastambha inside. The main altar and the lamp tower are also illuminated at night, so the temple looks beautiful then. The Sabha Griha auditorium of the temple can accommodate over 500 people at once, which is used to organize events and celebrations.
Want to witness the largest churches in Asia? Visit Se Cathedral, one of the most important churches in Goa. As the Latin Rite Roman Catholic Archdiocese of Goa and Daman's main shrine to Saint Catherine, it is located in Old Goa. It possesses Portuguese-Manueline architectural style and is a famous landmark in Goa. This church has a giant golden bell in Goa that attracts visitors. The ringing of the bell is reportedly audible throughout the state. 14 altars are elaborately carved, making them look more beautiful. However, it is the reredos that illustrates the life of St. Catherine of Alexandria that highlights the main altar.
The Sri Mahadev temple is one of Goa's oldest Hindu shiva temples. It was traditionally constructed by Hemadri, one of King Ramachandra of the Yadava Dynasty's ministers, although Kadamba Dynasty elements are also present. The temple is made with basalt rocks from the Deccan plateau. In addition, beautiful carvings and craftsmanship can also be seen in the structure of the monument. An altar on a raised pedestal houses the Shiva Linga at Sri Mahadeva Temple. On the mandap of the temple, surrounded by four columns, is a statue of a headless Nandi (Lord Shiva's vehicle). It is believed that there is a giant king cobra on the premises, sitting next to shiva linga.
There are many other temples and churches one can find in Goa. They are all located in a range of a few kilometers away from each other. However, every single of them is a blissful and peaceful place to seek blessings from god. Visit religious places to make sure you get the blessings you deserve.
Fascinating Waterfalls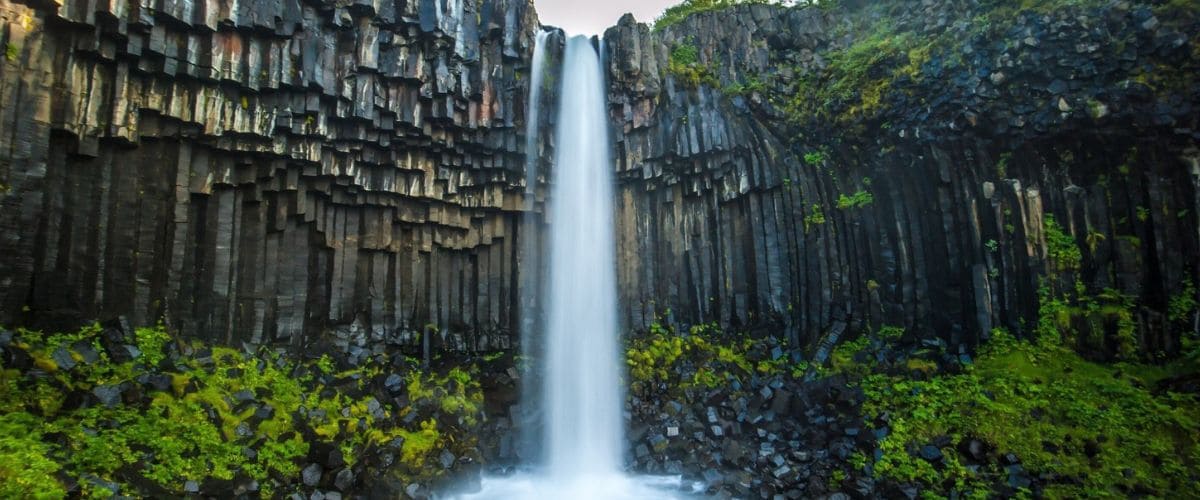 Imagine a place situated at the heights of mountains, surrounded by green forests and water pouring down; fascinating, right? Trust us, Goa has such beautiful waterfalls for visitors worldwide. The natural foamy water with the birds chirping around will make you fall in love with this place. Check out the three most popular waterfalls in Goa mentioned below.
Bamanbudo Waterfalls
One of the best waterfalls in Goa is the Bamanbudo waterfalls. The ever-gorgeous natural cascade will blow your mind. The scenic view will melt your heart and keep you stunned. The greenery around this Waterfall adds more beauty to it. One can see clear and foamy water downfall this cascade. Enjoy with your partner the charming waterfall paradise. October to May is the best month to visit this place.
Harlem Waterfalls
Harlem Falls is another cascade that you must visit in Goa. This Waterfall is surrounded by green forests, which makes it look perfect from all sides. You can also visit Rudreshwar temple nearby this Waterfall to get the blessings of lord Shiva. The beautiful Arvalem waterfalls are located just next to the temple. Lord Rudreshwar's image directly faces the Waterfall, which makes it look more unique. June to November is when you can find this place at its best.
Dudhsagar Waterfalls

Do you know Dudhsagar waterfalls is the fifth largest Waterfall in India? Well, it is. The term Dudhsagar means "sea of milk." But why do we call it a sea of milk? The water pouring down the fall looks as white and foamy as milk. This makes it the most attractive place in Goa. Many tourists see this huge Waterfall with plush green forests around it. Couples generally drive through 60 kms around the sight to have "we" time or romantic time. One can also visit a temple nearby the cascade to have an additional adventure from the trip. Dudhsagar is a fascinating place that will take your breath away.
Conclusion:

Traveling to India and missing on adding Goa to the bucket list? It is quite unfair to your travel diaries. Get ready to make a wonderful ride to Goa with us. We are here to provide everything you expect from your travel agent. We know you are looking for adventure, and we are looking for adventurous people like you. So, get in touch with us for an affordable and comfortable journey! We have everything from booking flight tickets to private airport transfers at night or day.
Contact
Take a NEXT step towards your NEXT HOLIDAY with our easy-to-understand portal at an affordable price. Got any queries? We are here to solve everything for your adventure.
Location:
1210-1211, The Regal Tower, Business Bay Dubai, U.A.E.
Email: