Planning Tool Kit
Plan your travel most appropriately. Find out how you can make your travel time memorable.
The low temperatures and ease of exploring Dubai make the winter months (November to March) the best time to visit and enjoy.
Explore Camel Museum, Attend Yoga Classes, Visit St. Mary's Catholic Church, and Visit Burj Nahar. These are few things that you can enjoy for free in Dubai.
Experience the richness of Art & Culture, or visit uniquely designed Amusement parks, Experience Adventure, Activities, Shopping, Nightlife, Sunsets, and Beaches.
Everyone knows about the rich Arabic-Islamic culture of Dubai, UAE. It's no surprise to travelers that the place is famous for its culture, rituals, and religions. Dubai is a great place to learn about the beauty of devotion and Islam. The place is loaded with many beautiful grand mosques where people can devote their love and prayers to their respective Allah. Well, not just are the prayers enough, but also the architecture of such mosques is incredibly designed to attract many people.
Talking about the detailing of the mosques in Dubai is relatively lesser than experiencing and exploring them in real. They have stunning carvings and lush gardens; of course, the calmness and peacefulness in the environment are remarkable. Travelers worldwide visit these mosques to make their trip worthwhile and experiencing. Religion is a deeply rooted part of the city's culture which is visible in their outfits, speech, greetings, and respect towards people.
Jumeirah Mosque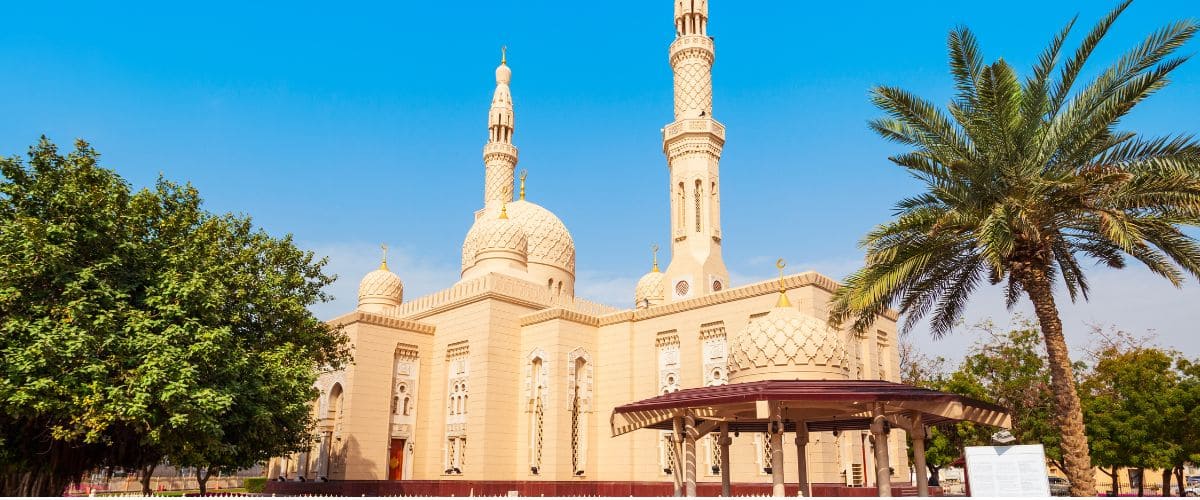 This religious building is incredibly designed in the Fatimid style, which makes it look graceful to the eyes and mind. The multicolored stone dome of the mosque is the most attractive part of the place. The dome has detailed engravings that tell much about Islam's culture, history, tradition, and culture. To educate people about - Emarti tradition and culture, this mosque also runs a learning programme called "The Sheikh Mohammed Centre for Cultural Understanding." The chandelier in the middle of the dome adds more spark and glitter to its beauty.

Along with the tour, the travelers are always welcome to taste the cultural breakfast and dine with some dates and Arabic coffee served in an Emarti manner at Jumeirah Mosque. Travelers can take as many pictures as they want. So, store some traditional memories in your travel diary.
Al Farooq Omar Bin Khattab Mosque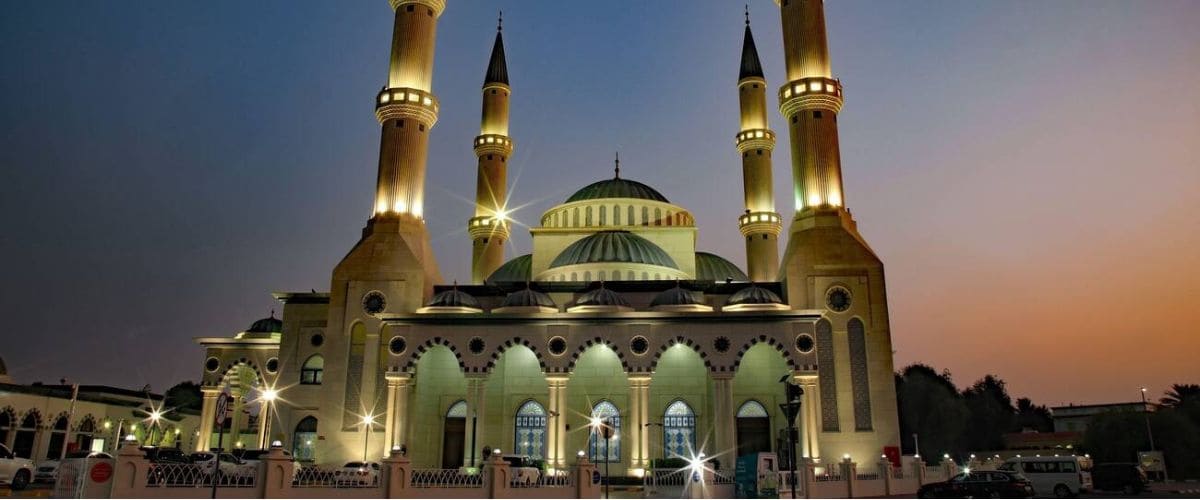 Also known as the Blue Mosque, Al Farooq Omar Bin Khattab Mosque is another beautiful and largest mosque in Dubai. This place is a must-visit when you are traveling to Dubai city. The Blue mosque inspired the mosque's exterior in Turkey, and the interiors for the thousands of Iznik tiles color its interior walls and arches, making it a beautiful place from the inside out. Another attractive spot is its entrance, which has colorful and vibrant tiles. It also has a traditional-style fountain to look at. Four minarets 65m rising high, adding as a traditional mosque.

Furthermore, there are 15 smaller domes surrounding the central dome and four additional half domes. The Al Farooq Omar Bin Khattab Mosque can accommodate 2000 worshippers. In addition, this place also has a lecture room, ClassroomYouth Club, Lecture Hall, Classroom, Administration, and Housing for Imam and Mu'azin. So there should be no way you are missing out on visiting this Dubai mosque.
Al Salam Mosque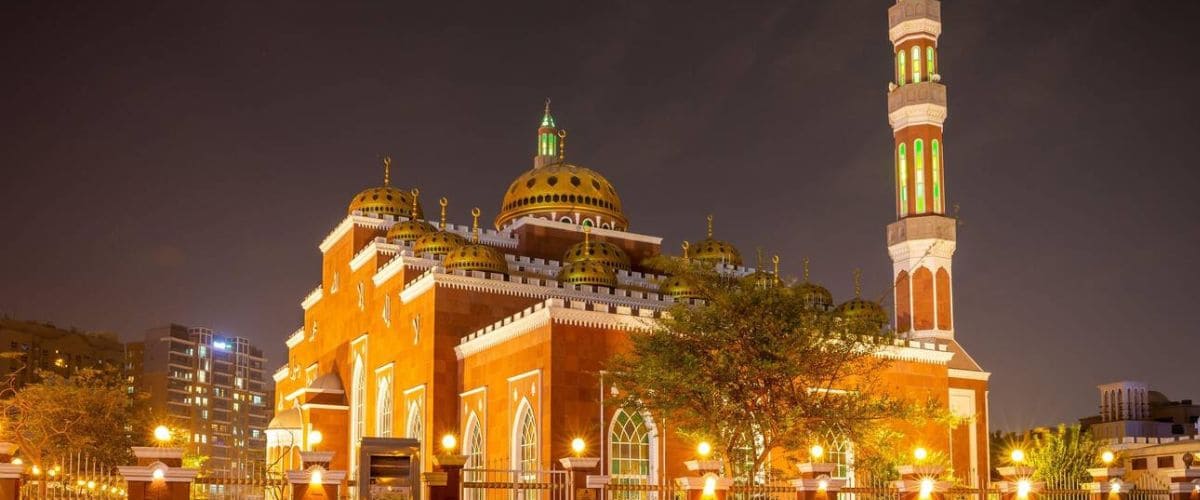 Al Salam Mosque is visible from afar since the mosque is perfectly blended with pink and gold paintwork. Al Salam Mosque is not open to the general public; however, its beauty is adorable from the outside. If you are visiting the Mall Of the Emirates, you must explore this place right behind the mall. Get a closer view of traditional yet modern architecture that tells much about Emiratis, Ottomans, and Andalusians through its structure. Unlike many other mosques, this mosque is located in an urban area rather than a waterscape; it adds a lovely touch to the city's skyline. The most beautiful thing is its "Five Pillars," each denoting "Islam in action" to admire throughout a lifetime. Give yourself some good time to adore this incredible site and soothe your mind.
Abdul Rahman Siddique Mosque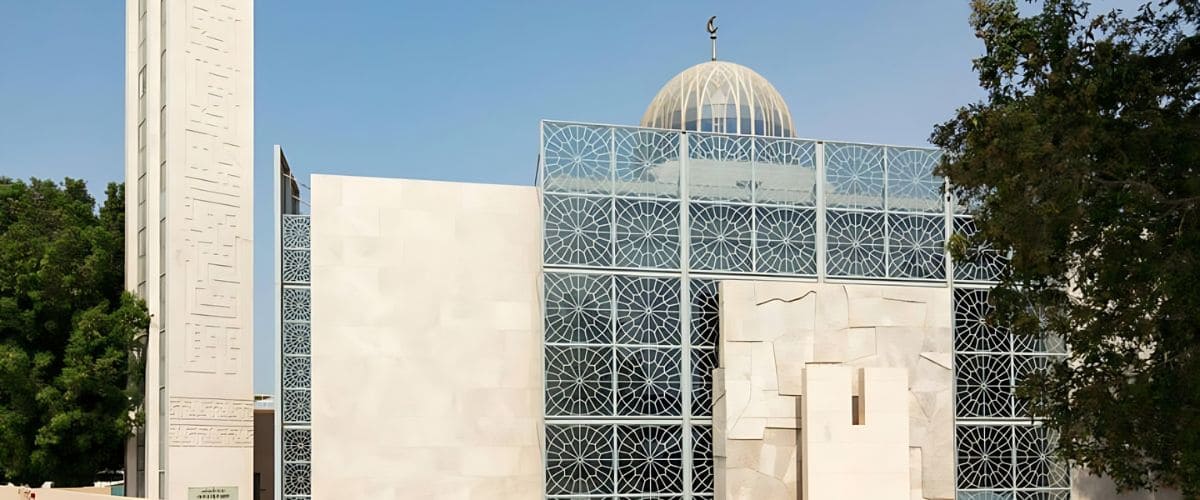 Abdul Rahman Siddique Mosque is a modern-looking religious building with a minimum and subtle look from interiors and exteriors focusing more on devotion towards God. However, its beauty is unmatchable. It's beautiful from every angle and corner. The linear minaret and the main hall are designed cubically and are their main attraction, making it different from other mosques in Dubai. Its pane glasses are made in such a way that allows natural sunlight to fall in the direction of "Al Qibla which also means Mecca-facing prayer direction. This major attraction on the Al Jumeirah Palm in Dubai is a must-visit to enhance your travel experience.
Masjid Al Rahim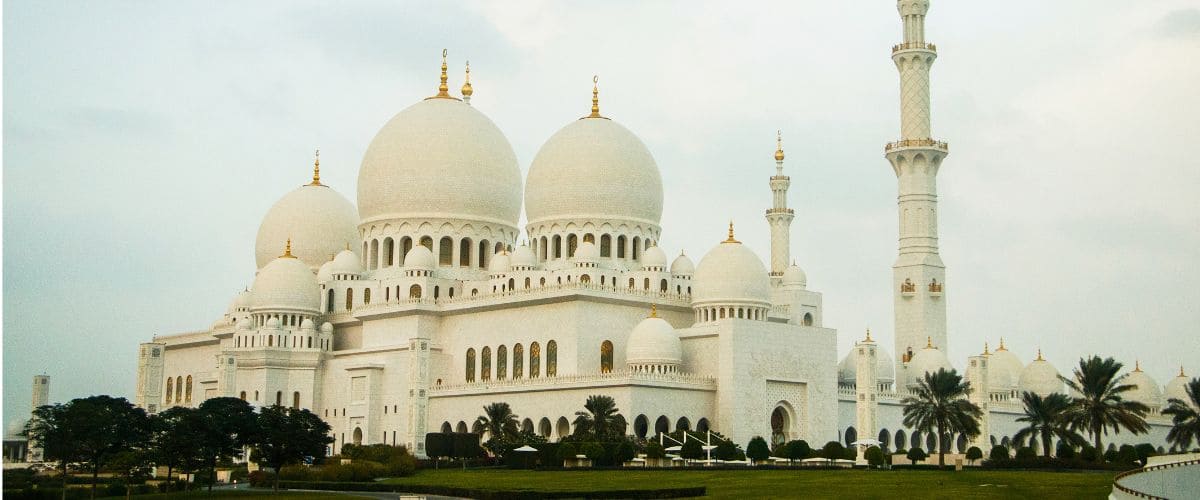 While walking through the neighborhood of the Dubai Marina, travelers can also glance at another attractive mosque in Dubai - Masjid Al Rahim. Situated in the south of Dubai Marina Walk and surrounded by a waterfall, this ever-gorgeous mosque is a stunning sight to gaze upon. The name "Masjid Al Rahim" literally means a mosque (masjid), whereas Al Rahim means being merciful or forgiving. The mosque has unimaginable Islamic architecture with a single dome, a Ziyada (a courtyard surrounded by two walls), and separate halls for men and women to pray. You can also get a chance to visit and witness their library and Koranic school. Take advantage of this one because it has more than what you expect.
Khalifa Al Tajer Mosque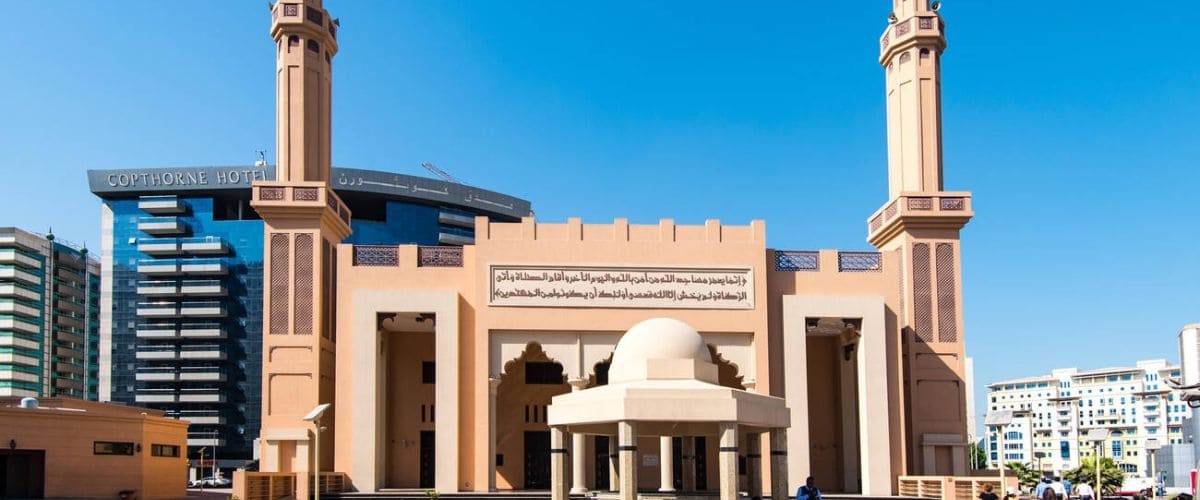 Have you ever heard of a sustainable and eco-friendly mosque in Dubai? Well, now you know. This is the first eco-friendly Islamic building where you can pray while adoring the beauty of this place. The mosque has installation of solar photovoltaic panels, as well as a water treatment unit to reuse water for irrigation and cleaning. These are very few things to get excited about; however, you will have so much to see in this mosque near Deira. Go out shopping nearby in the Gold Souks to enhance your visit.
City Walk Mosque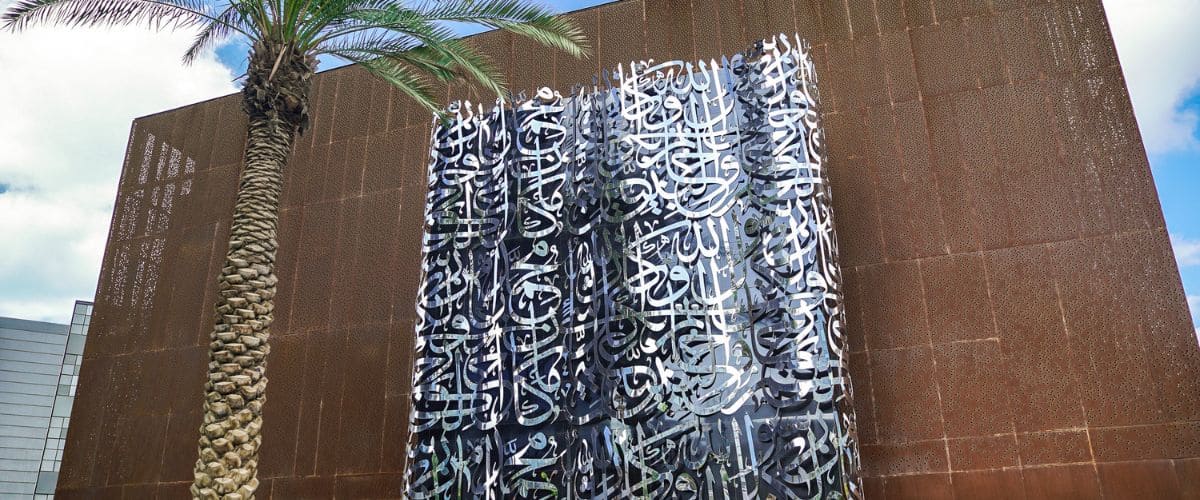 When we talk about City Walk Mosque, the aesthetic and sleek mosque in Dubai, this red-cubical-shaped mosque is unique from the traditional form of the mosque since it has no minarets or domes, yet it attracts many tourists towards it. There are rippling waves crafted out of stainless steel on the façade of the city walk mosque's classic Arabic font. Get a closer look at the beautiful building in Dubai with your family and kids, and cherish the peaceful time.
Grand Mosque Bur Dubai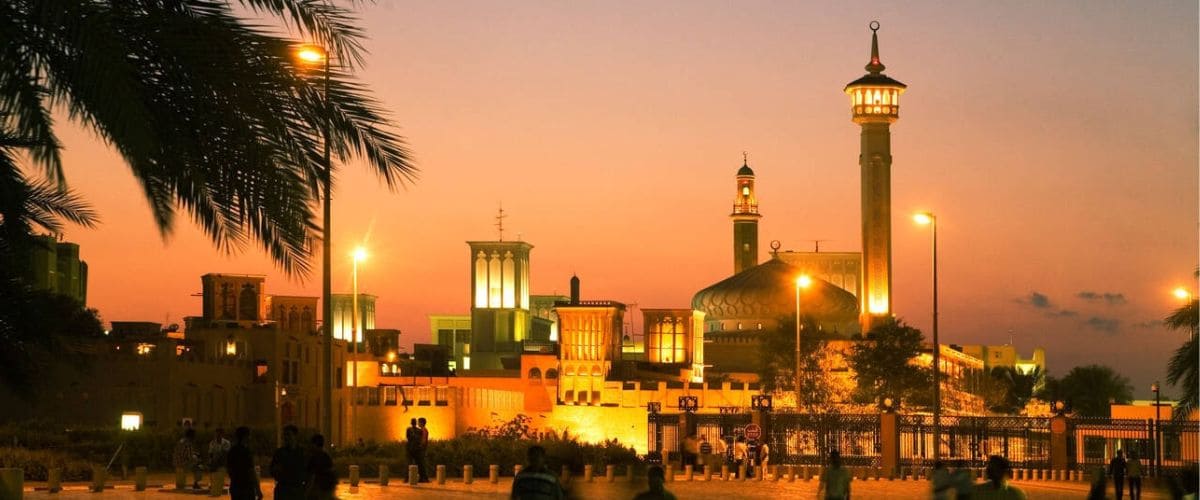 Are you visiting Dubai Museum and wondering about the attractive building located opposite? Then, my friend, this is a magnificent Grand Mosque. Even Dubai has a Grand mosque to pray and adore this religious site. Grand mosque is as grand as its name; it can accommodate 1200 people at a time. As soon as you enter the place, there are Quranic inscriptions to welcome and greet you. Dressing appropriately is a significant thing that you need to keep in mind while entering this mosque. You can't miss the opportunity to adore the beauty of its singular lighthouse-like minaret, with a plethora of domes adorning the roof and dramatic wooden windows contributing to its distinctive appeal.
Mosque of Light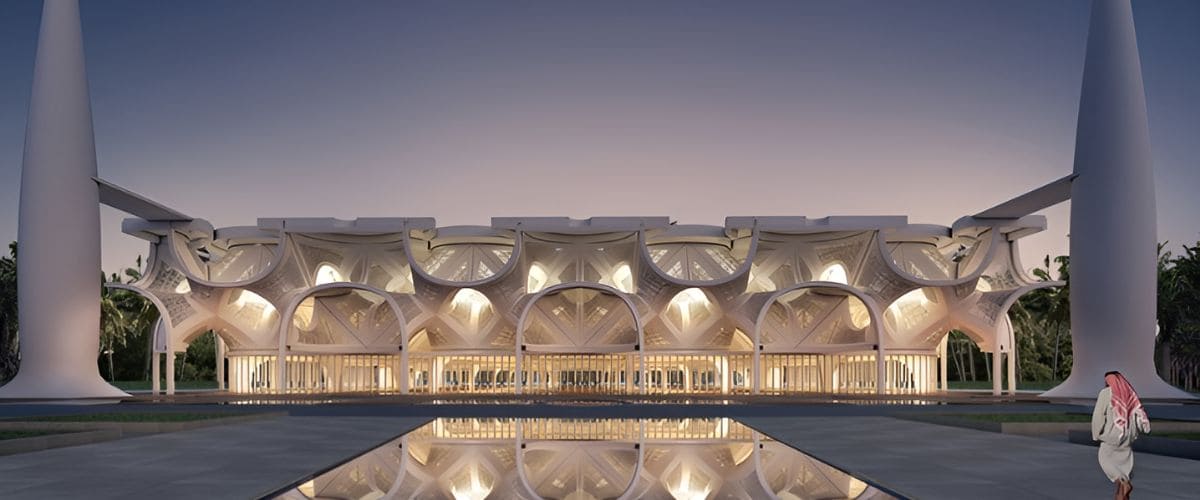 As the name says, the - Mosque of Light is a contemporary Islamic building with minimal yet gorgeous welcoming worshippers in a grateful way. People coming to this place will find peace within themselves when entering the prayer hall and other premises with its subtle- geometrically designed architecture. The direction towards Mecca is designed in triangular windows that allow natural sunlight to fall into place and light it. The place is aesthetic, with the essence of traditional art visible on the mosque walls. Soothe your eyes and visit this exemplary-designed mosque in Dubai.
Conclusion:
Dubai holds an excellent grip on its culture, tradition, and, ofcourse, religion. The respect amongst its people is tremendous; thus, you can observe the same through elegant and traditional buildings across the city. Even the people will take your heart away by welcoming you in traditional ways. So get your bags ready to visit the whole city and find peace in Dubai mosques with our hassle-free services like city tours and many other activities worldwide. Make your way and visit
https://www.nextholidays.com/
to get more information.
Recent blogs
Follow Us on :
Contact
Take a NEXT step towards your NEXT HOLIDAY with our easy-to-understand portal at an affordable price. Got any queries? We are here to solve everything for your adventure.
Location:
1210-1211, The Regal Tower, Business Bay Dubai, U.A.E.
Email: