Planning Tool Kit
Plan your travel most appropriately. Find out how you can make your travel time memorable.
Dubai Safari Park is best visited during the winter months, from November to March, when the weather is mild and pleasant. The summers in Dubai can be very hot and humid, which can make it uncomfortable to spend time outdoors
Visitors can take a safari through the African Savannah and Asian Village, where they can see animals like lions, tigers, elephants, giraffes, and zebras. They can also visit the Explorer Village, where they can take a bus ride through the wildlife enclosures.
Choosing to visit Dubai Safari Park is a great way to learn about and appreciate wildlife from around the world. The park is also a great place to spend time with family and friends.
Dubai Safari Park, a haven for wildlife, signifies a new chapter in wildlife conservation. In the center of Dubai, this park isn't just for viewing animals; it's a testament to nature conservation. Designed to be a top spot for education and entertainment, it's home to animals from all over the world, giving them a safe but natural environment to live in. The diverse species of animals, including endangered species, find a safe home here, thus supporting global conservation efforts. With its engaging and informative experiences, Safari Park invites us to witness and appreciate the natural world, hoping to inspire a more conscious approach towards wildlife conservation.
Unique Features of Dubai Safari Park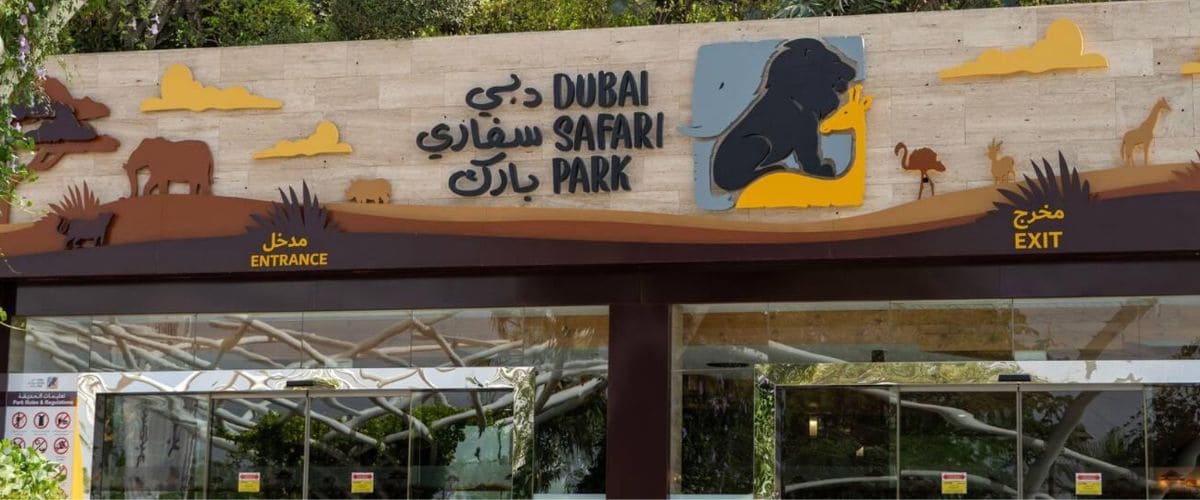 Exciting Wildlife Drives

At the heart of Dubai Safari Park is a place known as Wildlife Drive, where visitors can take a captivating safari journey, passing through areas such as the African Savannah and the Asian Village. You can watch animals like lions, giraffes, and zebras wander freely, making it feel like you're on another continent entirely.
Distinctive Themed Zones
The park is segmented into various zones, each showcasing a different part of the world. From the African Savannah, home to majestic lions and graceful giraffes, to the Asian Village with its tigers and elephants, and the Open Safari Village, every corner of Dubai Safari Park offers a unique glimpse into diverse wildlife habitats.



Interactive and Educational Experiences
This Safari Park is not just about observing animals; it's about interacting with them too! With raptor shows, feeding giraffes, or behind-the-scenes tours led by park experts, the Safari Park offers a variety of interactive and educational experiences.



Eco-friendly Initiatives
Sustainability is a big deal at Dubai Safari Park. With advanced cooling systems and misting fans ensuring the animals' comfort, alongside state-of-the-art facilities minimizing water and power usage, the park sets a benchmark in sustainable tourism, aligning with Dubai's vision for a greener tomorrow.



Fun Activities for Kids
Got kiddos tagging along? No worries! The park has a treasure trove of activities to keep the little ones engaged and educated. From wildlife quests and animal art workshops to exciting stories narrated by experts, the park makes learning about wildlife conservation fun and exciting for the young ones.
World-Class Facilities
It prides itself on its world-class facilities, including innovative veterinary labs and theaters, ensuring not only the well-being of the animals but also an enriching, educational, and entertaining experience for visitors.


Tips and Tricks to Plan Your Visit at Dubai Safari Park


Book Your Tickets in Advance
Suppose you want to avoid waiting in queues, book and pay your Dubai Safari Park ticket price online. It's a simple step that will save you time, allowing you to enter the park swiftly and start your adventure early.



Arrive Early
The park tends to get crowded as the day progresses. Arriving early not only helps you beat the crowds but also gives you a chance to see the animals when they are most active, usually during the morning hours.



Plan Your Day
To make the most of the various themed areas and activities, it's wise to plan your day ahead of time. Review the timetable for shows and feeding sessions to ensure you catch all the highlights. Typically, guests spend around 4-5 hours exploring the entire park.



Dress Appropriately
The park is an outdoor adventure, so dress comfortably and wear appropriate footwear. Due to the hot weather in Dubai, it is also advisable to apply sunscreen and wear sunglasses and hats to protect yourself.



Stay Energized
Exploring the vast park can be tiring. Keep yourself energized by having meals or snacks from the various food outlets available within the park. Remember, packed meals are not allowed on the premises, so plan accordingly.



Transportation
Know how you'll get to and from the park. If you're using public transportation, check the bus schedule in advance. The first bus to the park arrives around 08:25 from Monday to Thursday and at 08:27 on Friday.



Explore Themed Zones
Make the most of your visit by exploring the different themed zones like the African Village, Asian Village, and Safari Village, each offering a unique glimpse into various wildlife habitats.



Check for Special Safari Park Offers
Before your visit, look for any special Dubai Safari Park ticket offers or discounts available for the park to save some money.


Dubai Safari Park is a great destination for wildlife enthusiasts and families alike. Here are the details regarding the park's timings and entry prices based on the latest information:



Dubai Safari Park Ticket Price and Timing
Timing
Park timings - 9:00 am to 5:00 pm
Late Entry for ticket holders - 4:00 pm
Late Entry for ticket holders - 3:30 pm
Diverse Villages of Dubai Safari Park
Safari Village
This is the core of the Dubai Park experience. Here, visitors can get a closer look at various animals, such as oryxes, ibexes, and the Arabian wolf. The village enables a thrilling exploration of wildlife, bringing you face-to-face with the essence of the wild.
African Village




This village transports you to the African wilderness. It's home to the largest walk-in aviary in Dubai, where you can enjoy watching birds fly freely. Encounter gorillas, greater flamingos, bongos, and other magnificent African wildlife in a setting reminiscent of the vast African grasslands.
Asian Village
This village encapsulates the rich biodiversity of the Asian continent. The architecture is Asian-themed, creating an authentic ambiance. Here, you can see animals like dragons, moon bears, and gibbons, amongst others, allowing a glimpse into the unique wildlife native to Asia.



Explorer Village
A highlight of Dubai Safari, the Explorer Village takes you on a captivating journey through African and Asian wildlife. Hop on a bus and get ready to see animals like elephants, tigers, lions, and many more as you traverse through this immersive wildlife experience.



Wadi Area
Designed as a relaxation zone within the vast park, the Wadi Area in Dubai Safari Park offers a place where visitors can enjoy a picnic in the meadows or grab snacks from the pavilion. It's a serene spot to take a break and soak in the natural surroundings.



Children's Farms
This area combines elements of both farms and petting zoos, and it is a perfect place for young children and their families. Kids will interact with farm animals like cows, sheep, goats, ducks, and donkeys in this place and learn about their habitats.



Reptile House
If reptiles fascinate you, the Reptile House is a must-visit. Housing over fifty species of reptiles, including snakes, lizards, and tortoises, it's a unique space that showcases the intriguing world of reptiles.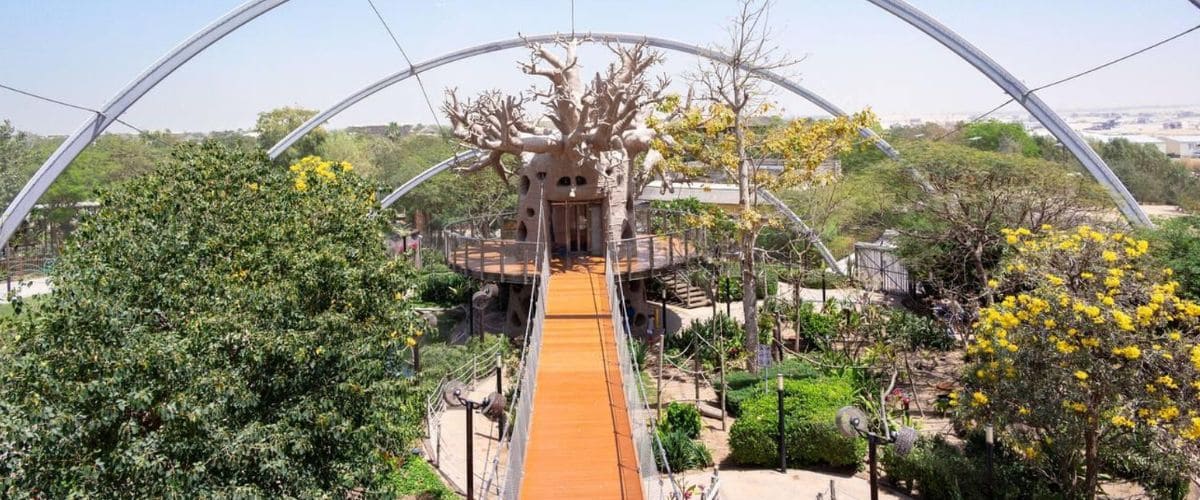 Dubai Safari Park Regulations
Dress Appropriately
Visitors are advised to adhere to the park's dress code. Comfortable clothing and shoes are recommended for a more enjoyable experience, and respectful attire (covering shoulders and knees) is required within the park premises.
Respect Animals
Feeding or teasing animals and littering within the park are strictly prohibited to ensure the well-being and comfort of the animal residents.



No Riding Gear
The use of bicycles, scooters, skateboards, and roller skates is prohibited within the park to prevent accidents and disruptions.



Limit Stressors
Items like balloons, balls, toy guns, and flash photography can stress animals; thus, they are not allowed within the park to ensure a calm and natural environment for the animals.



Designated Smoking Zones
To ensure a clean and fresh ambiance for all visitors, smoking is permitted exclusively in the specified areas.



Refreshments
Please note that outside food and drinks are not permitted within the park premises.



Pet Policy
Pets can disrupt the park's ecosystem; hence, they are not allowed inside the park to prevent any disturbances to the resident animals.
Fly Responsibly
Drones are prohibited within the park to avoid creating disturbances and ensure both privacy and security on its premises.
Final Words


Dubai Safari Park offers a special place in the heart of a busy city where people can learn about and enjoy wildlife from around the world. With different themed areas, this park offers a fun, educational journey through nature. The park has strict rules to make sure both the animals and visitors are safe and treated with respect. It also takes steps to be eco-friendly, matching Dubai's aim to be greener. Last but not least, this is not just a fun outing but a way to learn about and appreciate nature, making it a valuable part of Dubai's attractions.
Recent blogs
Follow Us on :
Contact
Take a NEXT step towards your NEXT HOLIDAY with our easy-to-understand portal at an affordable price. Got any queries? We are here to solve everything for your adventure.
Location:
1210-1211, The Regal Tower, Business Bay Dubai, U.A.E.
Email: