Planning Tool Kit
Plan your travel most appropriately. Find out how you can make your travel time memorable.
The best time to visit Armenia is during the spring (April-May) or autumn (September-October) when the weather is mild and there are fewer tourists. However, if you want to experience the snow-capped mountains of Mount Ararat, you can visit Armenia in winter (December-February).
Visit the Mother See of Holy Etchmiadzin, the world's oldest cathedral. Learn about Armenian history and culture at the Armenian Genocide Museum. Sample the local cuisine, which is influenced by both Turkish and Persian cuisine.
Visit the Republic Square in Yerevan and admire the architecture. Take a walk through the Old Town of Dilijan and enjoy the scenery. Hike to the Sevanavank Monastery and enjoy the views of Lake Sevan.
Hey travelers, if you are planning your next trip to Armenia then you'll be happy to know that you are at the right place. Here is your complete guide to Armenia tour package from Dubai for the ultimate travel experience.

Armenia, a land of breathtaking landscapes, and warm hospitality, is a destination that attracts travelers with its unique charm. From the ancient streets of Yerevan to the tranquil shores of Lake Sevan, this South Caucasus gem is a tapestry of cultural wonders and natural beauty. So let's delve deeper and have a look at these breathtaking cities of Armenia that definitely deserve a spot on your Armenia Tour package.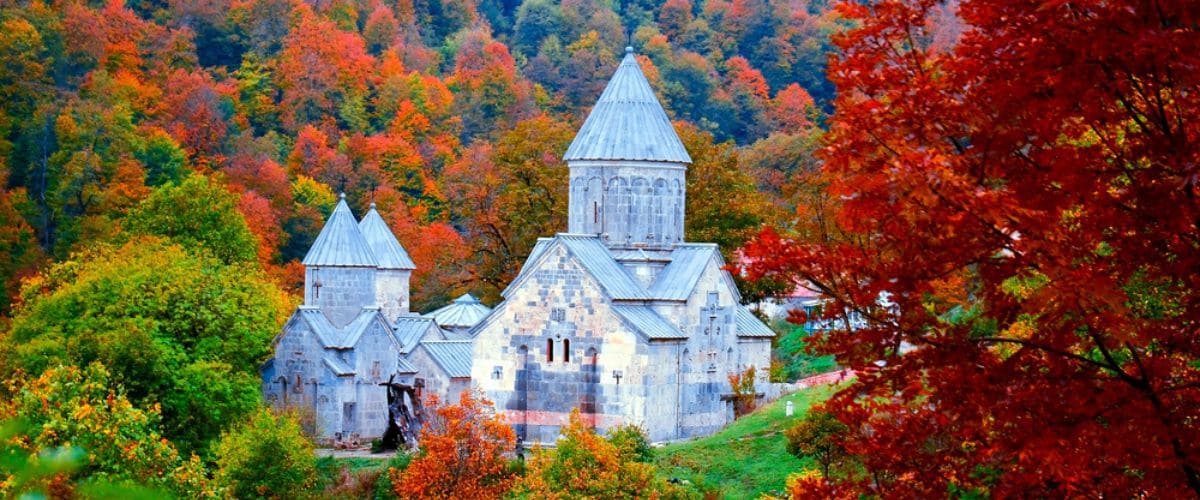 First Day of Armenia Holiday Package
Let's begin our journey with a whole lot of excitement knowing a full package of surprises is waiting for us. Flying off from Dubai to Armenia early in the morning you have the whole day to spend it well. After check-in formalities, you can explore the Yerevan city on the first day of your trip. You can roam around the city to experience closely the culture, history, and delicacies of the city. This city has a perfect blend of past and present so it's a must-visit in your Armenia tour package, Don't miss strolling around the city and vibing in with the beauty of the city. Walking around Republic Square you will appreciate the historically soothing beauty and definitely love the crowd.

If you are someone who has a huge interest in history, then you'll love to learn about the vast past of Armenia. You can head to the museum which has a collection of 400,000 artifacts. It has Ethnography, Archaeology, Numismatics, and Modern History departments.
Shopping Time in Armenia Tour
And and after the historical knowledge gained of the city, you can indulge in some happy shopping hours. You will find many things on the street side reflecting the culture of Armenia so well, have all that you like.
Jazz up a little
So when now your legs are starting to hurt and you are looking for a place to just relax and eat finding a club would be wonderful. There are plenty of options that you can go within this city and have your meal while chilling out to the music. Having little drinks wouldn't be that bad if you like!
Dilijan, a window for Nature's Haven
If you're in search of natural beauty and tranquility, Dilijan is the place to be. Often called "Armenia's Switzerland," Dilijan is surrounded by lush forests, alpine meadows, crystal-clear lakes, and verdant landscapes, Dilijan is a haven for nature enthusiasts and those seeking tranquility. This spa town is the perfect destination for relaxation and outdoor activities like hiking and horseback riding. The Old Town of Dilijan boasts well-preserved wooden architecture that transports visitors back in time. So keep it in mind while comparing the Armenia holiday packages.

Dilijan's Old Town exudes a rustic charm with its well-preserved wooden architecture. Strolling through the streets feels like stepping into a fairy tale, with each building telling a story of its own. The town's appeal extends beyond its aesthetic beauty; it offers a range of outdoor activities such as hiking, horseback riding, and birdwatching.

A visit to the Haghartsin Monastery is a must, it will give you a glimpse of inner Armenia. Including this Monastery in your Armenia package from Dubai you will find yourself surrounded by lush greenery, this medieval complex is a window to Armenian architectural prowess and spiritual dedication. It's a place of serene beauty that leaves a lasting impression.

Sevanavank and Lake Sevan

The Blue Jem, Lake Sevan has the breathtaking backdrop of Sevanavank Monestry. Did you know that Lake Sevan is the largest freshwater water body in Armenia and Caucasus region? It is a shimmering gem cradled by the surrounding mountains. The town of Sevan, situated on the lake's shores, is a popular summer destination known for its beaches and water activities. The Sevanavank Monastery atop a hill offers a mesmerizing vista of the lake and its surroundings.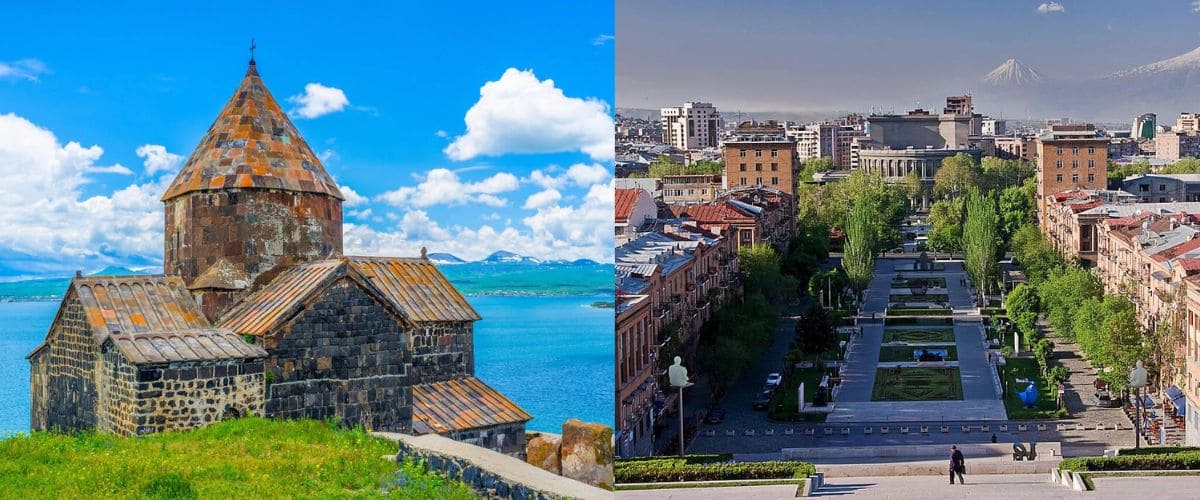 The town of Sevan, located on the lake's shores, offers a perfect summer escape with its beaches, water activities, and cool mountain air. Sevanavank Monastery, perched on a hill overlooking the lake, provides an awe-inspiring view that captures the essence of Sevan's beauty. The monastery's history and significance add a layer of depth to the experience, making it more than just a scenic viewpoint. Lake Sevan's charm extends beyond the summer months. In winter, the surrounding landscape is blanketed in snow, creating a serene and picturesque atmosphere that offers a different kind of beauty. So, just in case you are planning this trip in winter don't forget to add this to your Armenia tour package.


Khor Virap
The beautiful monastery on the backdrop of Mount Ararat amazes visitors with its breathtaking view. The underground prison in Monestry is worth visiting and it has kept Gregory illuminated for 13 years. The inside tour of the prison is a bit challenging as it is quite steep but not that big a deal as you can climb up there. This place has a value of its own as it became St. Gregory's administration for converting Armenia to Christianity. The view from the church is pleasantly stuck and the place is peaceful as it's far from the main crowd and rush of the city.

Areni Winery
This place can be a kind experience as it is one of the oldest wine-producing regions in the world, so it would be really a great experience to add this to your Armenia package from Dubai. The tour of the winery will let you know how the wines are prepared and it also includes some wine tasting, which is exciting and fun Also who doesn't like having some wine? The most exciting part of this tour is this wine-tasting session only as you can enjoy it with cheese and lavash.
In addition to the wine tasting, Areni Winery also offers a variety of other activities to enjoy, such as a traditional Armenian lunch, a cooking class, and a visit to the nearby Areni-1 cave, where the oldest winery in the world was discovered.

Vanadzor, Gateway to Northern Armenia
Nestled in the Lori Province, Vanadzor is Armenia's third-largest city and a gateway to the northern regions. This city is renowned for its green landscapes, pristine rivers, and a burgeoning cultural scene. The Vanadzor Fine Arts Museum houses an impressive collection of local and international artworks. Nature enthusiasts will find solace in the nearby Vanadzor Botanical Garden, home to a diverse range of plant species.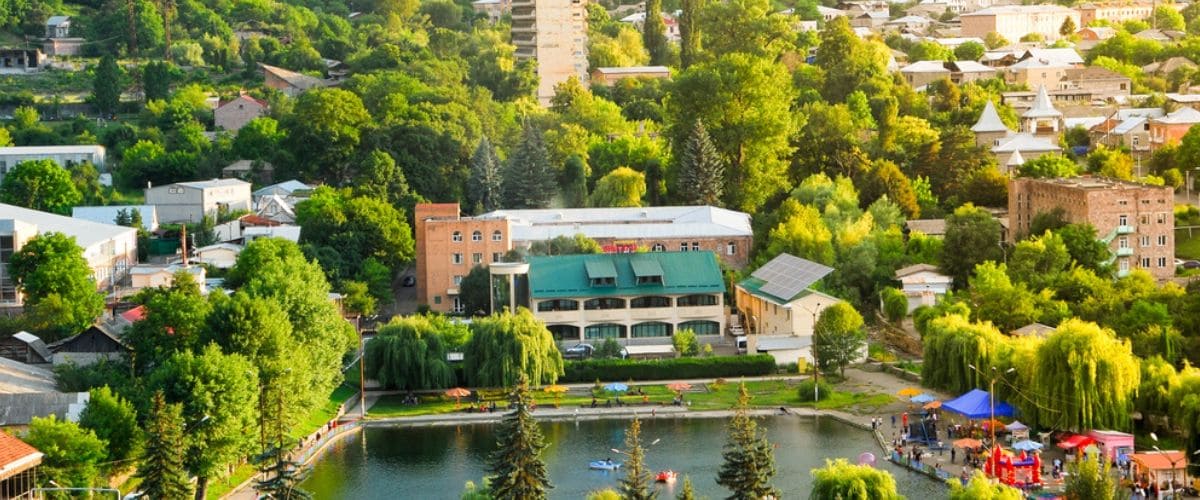 Vanadzor, located in the picturesque Lori Province, stands as a gateway to the northern regions of Armenia. Known for its lush landscapes and pristine rivers, the city offers a refreshing escape from the urban hustle. One of Vanadzor's highlights is the Vanadzor Fine Arts Museum, which houses a diverse collection of local and international artworks. The museum's exhibits provide insights into Armenia's artistic heritage, making it a cultural gem in the city's heart.

Nature enthusiasts will find solace in the Vanadzor Botanical Garden. Home to a wide range of plant species, the garden offers a tranquil environment for visitors to connect with nature and learn about Armenia's flora. This is a refreshing place that you can't miss, as it's a treat to nature lovers that leaves you spellbinding with its beauty so make sure to include this in your Armenia tour package from Dubai.
Ejmiatsin, a Spiritual Sanctuary
Ejmiatsin holds a special place in the hearts of Armenians as the spiritual center of the Armenian Apostolic Church. The Mother See of Holy Etchmiadzin, the world's oldest cathedral, is located here and serves as the hub of religious activity. The cathedral's architecture is a tribute to Armenia's deep-rooted Christian history, and visitors can witness the reverence and devotion of locals during religious festivals. Visit during major religious festivals to experience the fervor and traditions of Armenian Christianity. The city's religious significance extends beyond the cathedral; it's a place where faith and culture intertwine beautifully. To experience such deviation and different religions include this in your Armenia package from Dubai and it won't disappoint you.

It's not just all about the spirituality, you'll find Ejmiatsin's streets are alive with markets, offering a chance to engage with local artisans and purchase traditional Armenian crafts. Exploring the city's vibrant streets provides a glimpse into the daily life of its residents and their unwavering connection to their heritage.


Let's Pack
Armenia is a place that has a balance of rich heritage and enduring culture. It's a place that showcases the beauty of nature as well as heritage so well that it is an emerging tourist destination for tourists from all over the world. Whether you're interested in history, art, nature, or spirituality, each city offers a unique experience that will leave you with cherished memories. As you explore these captivating cities, you'll come to understand the soul of Armenia and its people—a land where tradition and modernity coexist in harmony.

You'll find plenty of Armenia packages from Dubai, just go with the most suitable and reliable one. You can make changes to your Armenia tour package according to your likes and dislikes. But just remember that it has something to offer everyone, a mosaic of history, culture, and natural wonders that offer an enriching travel experience.


Additional Things
There is a Visa on arrival for UAE citizens in Armenia. Keep in mind to convert your currency into Armenian Dram to avoid any trouble later on or you can do the same at the airport also in case of emergency. Another thing to remember is to dress respectfully while visiting the monasteries. And you won't have to struggle for drinking water as there are fountains installed everywhere in the country and it is safe to drink from them. You can book your Armenia Tour Package from Dubai with Next Holidays as they plan itinerary keeping in mind all your convenience and budget Plus their agent will always be a helping hand for you throughout your travel. So that's it from my end. Now it's time for you to find the most suitable travel agency and then pack your bags to experience something so majestic.

Recent blogs
Share causes
Contact
Take a NEXT step towards your NEXT HOLIDAY with our easy-to-understand portal at an affordable price. Got any queries? We are here to solve everything for your adventure.
Location:
1210-1211, The Regal Tower, Business Bay Dubai, U.A.E.
Email: