Planning Tool Kit
Plan your travel most appropriately. Find out how you can make your travel time memorable.
Wear your most creative costumes! You can do heavy or spooky makeup to give yourself a halloween touch. Try to don the darkest colors you have.
Enjoy themed attractions, shows, and treats at different places to visit in Dubai this Halloween. Get a taste of the terror, shocks, and of course the terror behind bars.
Arrive early to avoid the crowds, wear comfortable costumes, and bring a flashlight or headlamp if you're attending an outdoor event.
The Fun Things to Do in Dubai this Halloween

Get ready for a bewitching and chilling experience in Dubai's spooktacular delights for Halloween.
It's Halloween! Once only celebrated in the western world, now it's celebrated all over the world.
This year, Dubai has followed suit with similar enthusiasm and creativity during Halloween, which encompasses the whole city. Some exceptional venues are hosting events in celebration of the spooky holiday.
With so many blasts and a sip of spooky cocktails, let's make this Halloween a bit more vibrant and thrilling than ever. So if you are taking your next flight to the UAE and guessing about the top
things to do in Dubai
during Halloween 2023,
Here are the options to pick from. Dropping a list of 10 places, no matter if you are a resident or a visitor, these destinations are sure to provide you with lifelong memories!
White Dubai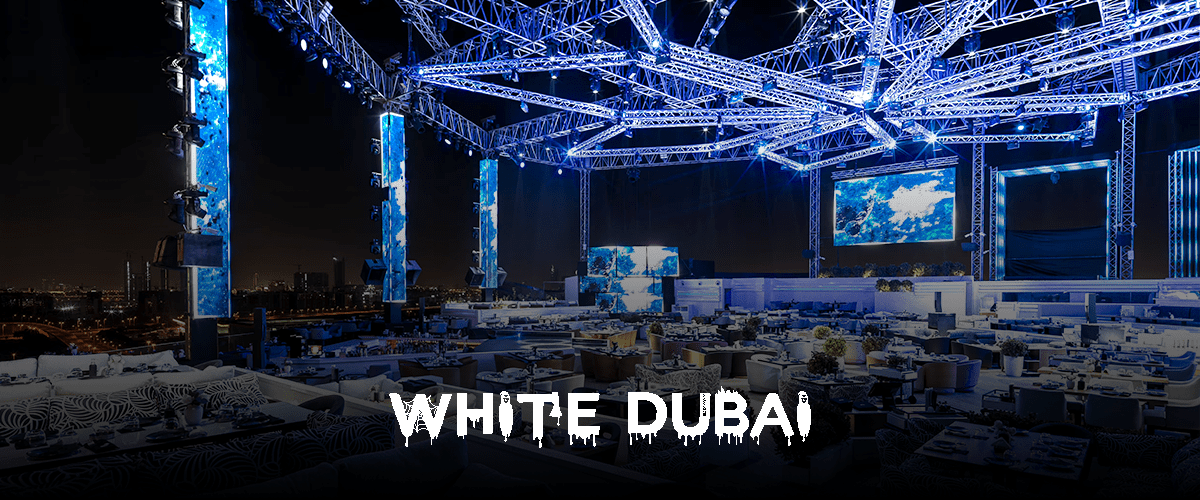 Step into White Dubai during Halloween, and you will find yourself transported into another realm entirely. Decorated with cobwebs, skeletons and other creepy visuals, it creates a haunted house feel while partygoers dress to impress in costumes that range from cute to downright terrifying!
White Dubai stands out during Halloween thanks to their roster of world-class DJs and performers from around the globe and locally. Together, these international and local talents create a musical journey that perfectly encapsulates Halloween - everything from heart pounding EDM tunes to hauntingly beautiful trance music will keep guests dancing till dawn!
Its bar joins in on the Halloween spirit with creatively named specialty cocktails to get people in the Halloween spirit. Choose between "Witch's Brew" or "Vampire's Kiss". These concoctions will have you ready for Halloween fun in no time!
IMG World of Adventure
IMG Worlds of Adventure Dubai offers
the ideal family Halloween experience, offering themed attractions, shows and treats designed specifically to bring Halloween festivities alive for younger visitors. Families looking for an exciting adventure should visit IMG World of Adventure this October to mark this unique holiday together!
IMG World of Adventure takes Halloween seriously, featuring a full Halloween transformation in its park. All aspects are decorated, from haunted lanterns to creepy cobwebs - and even staff join in on the celebration by dressing in costumes to add festive ambience!
One of the hallmarks of IMG World of Adventure's Halloween festivities is their extensive variety of themed attractions and shows, from haunted houses to special Halloween parades. There's sure to be something fun for every member of your family to enjoy at IMG World of Adventure's Halloween event! You might just spot your favorite characters decked out in costume for this festive holiday, ready to interact with youngsters.
Legoland Park Dubai

Indulge your little ones with an unforgettable Halloween-inspired experience at Legoland Park-
Dubai parks and resorts offer
a magical journey full of festive activities, decorations and costumed characters that is perfect for children of all ages.
The park goes all-out when it comes to Halloween festivities and activities for kids - featuring Lego-inspired pumpkins and scary visuals as part of its decorations and activities that create an inviting, entertaining and festive environment for visitors of all ages. Even staff are dressed up in Halloween attire to add even more festive spirit.
Legoland Park Dubai makes Halloween celebrations memorable for children through an abundance of themed activities and shows, like Halloween Lego building challenges and special Halloween shows featuring Lego characters dressed up as superheroes! Kids can also interact with LEGO characters dressed up as Halloween characters while participating in our costumed character meet and greets!
Soho Garden


This venue's transformation for Halloween is truly incredible—all the space is covered with cobwebs. Jack-o'-lanterns and mood lighting that sets an eerie atmosphere; staff also wear costumes in keeping with this festive event!
One of the highlights of Soho Garden's Halloween festivities is their costume contest. Partygoers are encouraged to dress in their scariest or most creative attire in hopes of winning exciting prizes. Creating an eye-catching visual spectacle during Soho Garden's Halloween bash!
Soho Garden's Halloween party offers the ideal atmosphere to commemorate Halloween in style. Boasting modern sophistication, Soho Garden strikes a delicate balance between scary and stylish and provides you with an evening full of fantastic music, creative costumes, unforgettable experiences, and incredible moments that you won't want to miss! Don't miss it this year - sign up today at sohogarden.org/hauntedhouseparty
Zero Gravity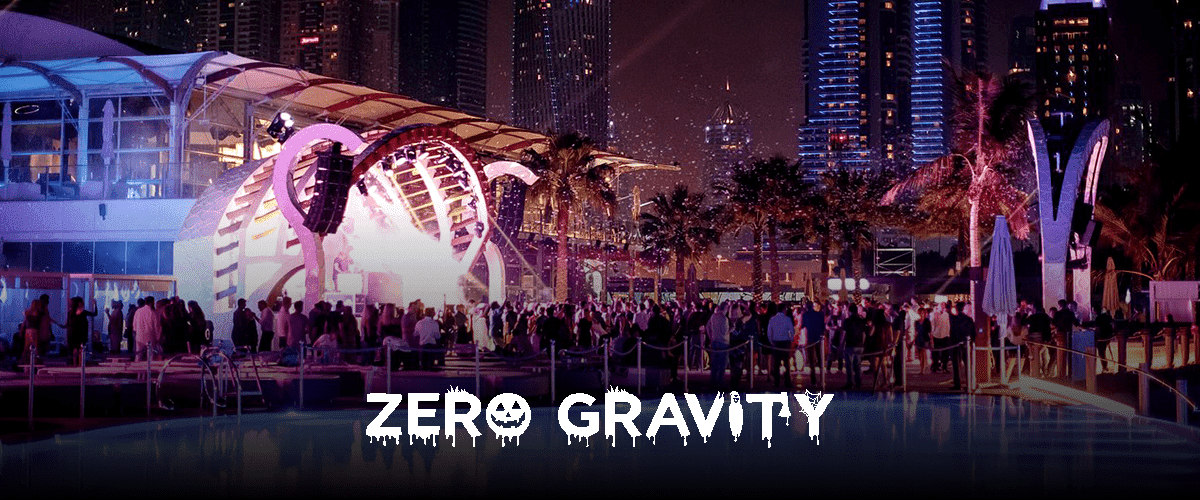 With its beach location and exciting costume party atmosphere, Zero Gravity makes Halloween unforgettable for guests. The iconic infinity pool, along with an impressive DJ lineup, ensures this Halloween will be one to remember!
Zero Gravity's costume contest is legendary; guests put their imagination to work dressing as everything from classic monsters to pop culture icons, making this competition fierce and its prizes substantial and a great incentive to go all-out with your costume creation. Don't be surprised to see yourself dancing next to zombies or sharing drinks with superheroes at this party.
The DJ lineup at Zero Gravity has been carefully chosen to offer an engaging and diverse soundtrack for the night, featuring everything from Halloween classics to new chart hits, perfectly mixed. If dancing is more your speed, head for the dance floor. For an alternative vibe, rest your feet on the beach or grab a seat on our terrace instead!
Drai's Dubai- Palm Jumeirah


Drai's Dubai on Palm Jumeirah is well known for its lively parties. For Halloween 2023, expect an evening full of menacing beats and spine-tingling ambience, guaranteed. Plus, world-class DJs will make your celebration truly extraordinary at Drai's!
Halloween transforms our venue, as decorations transform it to be one-of-a-kind and vibrantly festive. As soon as you walk in and meet staff dressed as costumed characters adorned with glow sticks or cobwebs, the Halloween spirit fills the air - creating an electric and contagious energy in an electric and festive setting!
The Penthouse- Rooftop lounge & Nightclub at Five Palm Jumeirah


Set within Dubai's bustling metropolis lies The Penthouse, offering an exquisite Halloween experience and hosting an opulent party where your best costume can be showcased! Boasting stunning views and exquisite decor, The Penthouse makes an excellent venue to host more sophisticated Halloween celebrations.
The music selection at The Penthouse has been carefully tailored to complement its elegant atmosphere. Expect sophisticated yet haunting tunes as an atmospheric soundtrack for an enjoyable night at this venue, which boasts both indoor and outdoor spaces where guests can listen while taking in stunning city views.
The Penthouse offers the ideal environment to celebrate Halloween in style and luxury. Relaxing by sipping cocktails on its terrace or dancing the night away indoors, The Penthouse ensures an exceptional Halloween experience that you won't forget!
Green Planet Dubai


Green Planet Dubai invites guests to experience an exhilarating journey during Spooky Planet's outdoor Halloween extravaganza! Running from October 6th until October 31st, 2023, their indoor rainforest (home to over 3,000 plants and animals!) will be transformed into a festive Halloween fantasyland!
Spooky Planet provides guests of all ages with an extraordinary adventure through an atmospheric, haunted rainforest environment adorned with creepy spider webs, quirky animal tombstones and whimsical pumpkins. Visitors may explore at their own pace by checking
the Green Planet Dubai ticket price
or participating in guided tours for an exclusive viewpoint into its transformation!
The Arts Club Dubai


The club will transform into an uncanny world filled with mysterious decor, wicked cocktails and live music to create a scary atmosphere.
At Halloween-themed activities like face painting, tarot card readings and a haunted photo booth, guests are invited to dress in their most imaginative costumes! A costume contest with prizes awaits those wearing original outfits.
No Halloween party would be complete without delicious food and beverages, and The Arts Club Dubai chefs have you covered for that too. Offerings from their Halloween-inspired menu will include pumpkin soup, bat wings and spider web cake, as well as cocktails like Bloody Marys, Witches Brews and Poisoned Apples from their bartenders!
The Halloween Party at the Arts Club Dubai provides the ideal atmosphere and activities to commemorate this spooky season with friends and family.
Lock, Stock and Barrel- Grand Millennium Dubai


Another fantastic Halloween venue offering live music performances as well as DJ sets. It makes for an exciting night filled with creepy surprises, perfect for live entertainment lovers!
Lock, Stock and Barrel's Halloween celebration offers an engaging and diverse experience for everyone to enjoy. The venue embraces the holiday spirit through decorations and themed elements that enhance its festive setting; think spiderwebs to Halloween visuals to find yourself immersed in festive fun!
Lock, Stock & Barrel provides an enjoyable atmosphere to celebrate Halloween festivities in any way imaginable - be it dancing to live music, enjoying DJ beats or simply hanging out with friends - making it an excellent venue to host such lively nights out!
Let This Halloween Be Extraordinary With The Best Places To Visit In Dubai

Dubai's Halloween party scene in 2023 boasts an expansive variety of options to satisfy every kind of reveler, whether they prefer luxurious parties, thrilling beach events, or family-oriented fun. These top 10
iconic places in Dubai
provide memorable Halloween experiences sure to make this Halloween truly spooky fun in Dubai. Don your scariest costume and join friends and family members as you head towards one of these destinations for a thrilling Halloween celebration like no other. Get set for one incredible Halloween experience in this dazzling city of Dubai.
Recent blogs
Follow Us on :
Contact
Take a NEXT step towards your NEXT HOLIDAY with our easy-to-understand portal at an affordable price. Got any queries? We are here to solve everything for your adventure.
Location:
1210-1211, The Regal Tower, Business Bay Dubai, U.A.E.
Email: